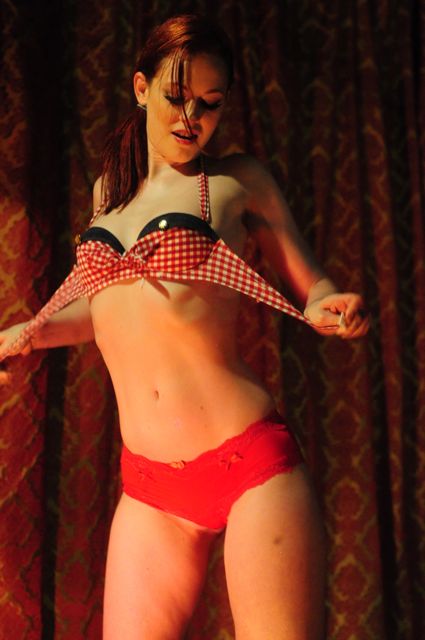 by JD Oxblood
February 23, 2012
We show up late, and pray that the Fire Marshall doesn't drop by as we're squeezing our way into a bar packed tighter than clowns in a phone booth. And there is, actually, a phone booth in the corner, which, I'm told, is actually called a "TARDIS," which is a reference to a cult-classic TV show called "Dr. Who," which I've never seen, despite the fact that I actually lived in England when I was a 12 year-old dork visiting castles, playing Dungeons and Dragons and reading Science Fiction books. Somehow I missed that one. But it's ok, because if we can get into the side room of the neighborhood bar known as the Waystation (which, incidentally, is way nicer than you'd think a Brooklyn geek hangout would be) and peer over the heads of the assembled throng, we can see Evelyn Vinyl almost unrecognizable in a grease monkey getup, oil on her face and wriggling out of blue coveralls to show us her delectable, perfectionist ass, shaking it in red fringe and exploding into "TNT" ladel pasties. Doc calls this a "Geekfest." He knows cooler geeks than I do.
Justine Joli does her chair act, and I love to see her not just to see her, but to see the fiends who come out of the woodwork to worship her. She's selling her porn "with me in it," and later in the eve she'll give away a couple issues of Penthouse that feature her and credit her work with Wasabassco in the liner notes. It's just friggin' awesome to see a bona fide porn star AND Penthouse Pet in real life and NOT be at a shitty strip club eating cheap steak and elbowing fat mooks for a better view. And I love the guy who waits patiently at the edge of the stage at the end of the show, for what must feel like hours for him, to have Justine sign her picture in a Taschen-size picture book. Justine giddily shows the book around to her friends, while the fan stands patiently, placing a piece of onionskin into the book before closing it, to protect the adjacent pages from the not-quite-dry autograph by Ms. Joli. You just have to love this shit—it's hero worship at its finest, and it's elevated to parlor-level entertainment by Joli's always-exquisite charm.
But back to the tits.
Mischief Molly is new to the grind and is turning stage-kittening into performance art. She's got what we used to call a Tigger body—no, not the boylesque superstar, but that manic friend of Winnie the Pooh's—she's "bouncy, bouncy, bouncy, bouncy, fun fun fun fun fun!" You know, you just want to get her into bed, and you don't care how it happens. She's grinding on the stage, ostensibly picking up clothes, but more practically upstaging the host. Which Doc seems to enjoy, and continually steps aside, laughing, to let us get a better view of this taut creature enjoying herself for our benefit. Watch out for this nutjob in the not-too-distant science fiction future.
But speaking of watching out for newbies, many of us are here to see the debut of a regular. I'm not a regular of this bar, but I have been a regular of my local for over a decade, and I can only imagine the scene if one of the barflies decided to take her clothes off for the rest of us drunks. Granted, the girls at this bar are much better looking than the regulars at mine, but still. Imagine the anticipation—half the people in this room have already imagined her naked on many drunken evenings. And here we go—Firefly.  In a Dr. Who-inspired number, she steps out in big boots and a nice smile, taking simple steps and pulling off her gloves one finger at a time. By the time she puts her bow tie in her teeth and flashes us her ass beneath the coattails, the crowd is howling in unison, like some multi-bodied beast you see on a geeky science fiction teevee show.  Some debut—this girl got a standing O from her fellow bar regulars, and that ain't nothing. Not content to debut with one act alone—and determined to weigh in with something not purely geeky, as she told me—Firefly came out again in the second act to "Toxic" with poison and a martini, smiling both sinister and deadpan, flourishing her creamy skin and shaking violet fringe.  We knew that before long she'd be wearing nothing but the martini.  If this is a debut… well, watch out.
Not that there wasn't plenty of other weirdness to go around. Cue Nasty Canasta doing a tease as Chuck E. Cheese—yes, the mouse.  I felt strangely horny, with an urge to play Whack-A-Mole.  And Stormy Leather weighed in rocking thigh-high boots and a patent leather corset, blindfolding herself, working a slow groan intensity, escalating to downright bloodthirsty before pouring candle wax over her chest as the crowd goes full-on volcanic.
It's a decent bar. You should check it out sometime.
Kiss kiss,
JDX
All photos ©2011 Melody Mudd. Please respect copyrights and contact melodymudd@gmail.com for permissions. Performers may use shots for promotional purposes, but please credit properly with photographer's full name and a link to this piece in all instances. Performers who would like hi-rez images, get in touch.