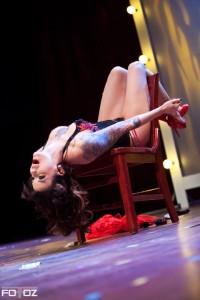 by Schmidty Says
Dallas Burlesque Festival 2012
(Producers: Ginger Valentine, Missy Lisa, and Black Mariah)
February 4, 2012
House of Blues, Dallas, TX
Unfortunately I arrived a little late for the Dallas Burlesque Festival due to traffic issues. Thankfully, I was in time to catch a couple towels short of a peekaboo surprise from Bazuka Joe. He twisted and turned until the final full Monty reveal, and a tiny towel package protector gave way to a thousand female squeals. His bare ass brought the broads at the House of Blues to their knees.
I was able to get semi comfortable in my expensive high chair on the second level of the House of Blue when Shelbelle Shamrock strolled on stage. This gorgeous redheaded vixen didn't incorporate her break dancing moves into this routine, but it was easy to see their influence with her flexible and graceful strides. Her red on red appearance complimented her highly sexual charisma as she intently connected with audience. But she didn't stop there, her hips couldn't keep still as the black and red fringe seemed to set on fire with hip rolling exuberance.
Grace Gotham's loony tunes added a healthy dose of bubbly goodness to this production. She evoked an elated blissful state throughout the room by projecting her flamboyant energy all around. She sang, she stripped and she showed off her butt pasties. Her burly behind truly brought this routine to a rear-end.
Melissa Meow embodied an aristocratic air as she stroked her floor length fur coat. Slow and steady she led us on a journey to a vintage era of decadence and sophistication. She kept the classic pace throughout the performance by adding black feather fans to her elegant act and finished it off with a picturesque peacock stance.
Many people shy away from fire forged devils in disguise, but not me, I welcome foxy fetish femme fatales like Athena Fatale into my everyday life. Maybe this is why her vintage inspired red devil dynamite act holds a place so close to my heart. But she's not just playing with whips and chains, I know for a fact that this moonlighting dominatrix owns her fair share of torture toys. But nothing can be more painful than missing one of her sultry and saucy burlesque performances.
The Schlep Sisters always bring their own array of wacky wild escapades and this show was no exception. Blue polyester made a comeback in a big way this evening as did booby bumps and sisterly smooches. Love might keep them together but laughter will always be my first reflex when watching these two shining stars share the stage. Minni Tonka and Darlinda Just Darlinda don't just take my breath away they steal my senses and leave me with only euphoria.
Viva La Muerte may be an acquired taste for some but this small senorita is always exhilarating in my opinion. Her stance on showmanship is go big or go home. From inventive costumes, including a green goblin mask, tiny isis wings and lightning bolt tassles, to creepy melodies; this little lady knows how to deliver a one two punch of shock an awe while still maintaining her burly integrity.
The Bat City Bombshells were my happiest surprise of the evening. This Austin troupe held close to their hippie roots by offering up a delicious Rastafarian dish. Jam bands be damned, we're talking about Rasta man! Their bushy bushy melody helped keep the fire in my chest ablaze. Then when they flashed their complimenting cannabis feather fans I knew I'd found
kindred spirits with these lighthearted ladies.
Angi Bee-Lovely gave us a taste of her scrumptious aerial treats. It didn't take her long for her to strip down to the bare body basics on stage then venture within the audience to climb silk scarves until she reached the chandelier. We held our breath in anticipation as she dangerously dangled off the limbs of this simple gold plated fixture. Thankfully she secured herself in the
silks once more and contorted into selected poses before unraveling herself safely back to the floor.
Ginger Valentine busted out her blue rendezvous dress and her bombshell smile for the audience as she strolled on stage tugging her boa along for the ride. As a straightforward showman she doesn't hide her intentions. She's a stripper through and through and enjoys every moment of it.
The beautiful Alia Mohamed bestowed her gift of eastern delights by bringing to life the Arabian nights. Her hips and shoulders kept pace with the ever changing music as her bejeweled bra jingled along. You would have thought the patrons paid for a belly dancing presentation for how loudly they shrieked during her earth trembling display.
I can't forget the vivacious mistress of ceremonies Violet O'Hara and her infectious laugh. She kept the crowd comically entertained throughout the duration of the show. I've watched this sweetheart shine throughout the last year and let me tell you, there's no sunshine in the world that compares to her heartfelt smile.
Black Mariah descended on the audience like a Spanish inquisition, but she didn't waste her time with wine and cheese; she came for a conquest! Her over-sized red silk fan drew out the intrigue as she side stepped her sultry strip tease.
Missy Lisa bounced on stage in the form of beach blanket Barbie and catapulted a massive beach ball into the audience before I could blink my eyes. Her top was off in no time and she rocketed across the stage spinning tassels like she was attached to a high voltage windmill.
When her tits got tired she turned to assels (which in case you didn't know are tassels for your ass). I was pleased to see such a funny and lively performance from one of our very own Dallas gals.
Lulu Houp-Garou kept the energy elevated in the room by providing a hip spinning sensation with her trusty hula hoop. I kept thinking to myself, she must sleep and eat while whirling this thing around. She's the only person I've seen who can successfully strip while still rotating her hoops. I'm not surprised she won best novelty act at the Texas Burlesque Festival, she's one of a kind whirling wonder woman.
Calamity Chang slowed the pace by recreating a scorching scene from Dusk till Dawn. She entranced the patrons with a vivid spectacle of hand gestures drawing eyes closer to her prize. This scorching sensation never disappoints; you can always expect another level of sexy when in the presence of the Asian Sexation.
Tami True proves some people never lose their vavavoom. She was overflowing with sexual energy as she shook her tail feather in sheer lingerie. The slow tempo transitioned into a banging new beat and she didn't miss the cue. Her hands flew up and I swear she almost took flight over the crowd. Things were starting to really get wild when the song abruptly ended and the audience sighed as this legend took her leave and left them wanting more.
Angelic Deville positioned herself as a timeless ballerina holding a pose like hands on a tick tock clock. But when she awoke from her slumber this exquisite dancer started pop lock and dropping while black rose petals fell from her bosom. It proved to be one of those most beautiful and artistic performances of the evening.
The Schlep Sisters revisited the stage individually, but both still embodied a strong sense of the 70's. While swaggering to some Lionel Richie, Minnie Tonka had an unfortunate accident with her pasty; it decided to end the show early and stage dive into the audience. But Ms. Tonka didn't flinch; she kept her cool and continued on with her act while cupping one breast. That night I found it takes a true professional to keep a show afloat once your ship springs a leak, and there were nothing but smooth sailing from this Schlep Sister. Darlinda didn't pop a pasty but she sure did blow the roof off the place with her outrageously untamed hair. I'll be honest I was laughing too hard to detail the intricacies of this act, but I can tell you that the whole room gasped and then laughed when in the final moments she revealed her gigantic muff wig. There was just hair everywhere; I chuckled till I cried.
Michelle L'amour is deemed the most naked woman and is revered by some to be one of the top burlesque names of our time. I'd heard wonderful things about her performances but nothing could have prepared me for her display at the Dallas Burlesque Festival. I guess I expected her to put on a more classical show. So when she morphed into limber tigress climbing a 20 foot cage I guess you could say I was a little taken back. The first thing that popped into my mind was, "Damn, this is the kind of performance I expected from Dita Von Teese and never received!" Michelle was completely unpredictable as she mounted the cage and crisscross crawled along the top. She then busted through a trap door and swung inside the enclosure. Her tight full body suit gave her a cat woman kind of vibe as she flexed and stretched in every which direction. Then my heart nearly beat out of my chest when she vaulted through the bars and stripped down to her paw print pasties. The sheer magnitude and dynamism of this act created an overly climactic climate to satisfy the senses for days to come.
After waking up from my dreamlike state I found some friends and discovered a whole new adventure within the after party. The details from that event are here.
All photos provided by Jarrod Fresquez of Fresquez Fotoz.
Schmidty Says is an uncensored Sexy Bitch who covers underground events in the Dallas/Fort Worth area. Find all Schmidty's videos and photos at www.schmidtysay.com or to interact with Schmidty go to www.facebook.com/schmidtysays.
This article originally appeared here.