By Rubyyy Jones
World Burlesque Games Teaser
Friday, March 30th, 2012
Scala, Kings Cross, London
I'm at Scala, a large event venue in London's Kings Cross, which I've not yet had the pleasure to perform at. It's perfect for tonight's show with its big stage and tiered seating, they're expecting a excellent turn out and its a stacked line up of talented folks! I say "Hello" to Chaz Royal, show producer, while he hangs a World Burlesque Games (WBG) banner, I spot Persephone Rex selling WBG t-shirts and the sweet Betty D'Light, also producing the WBG event, is buzzing about backstage, keeping everyone happy and informed. There is a nice sized dressing room backstage but after I do the showgirl math, I've carved out a little spot in the ladies toilet. Sixty percent of this loo is occupied by extra stage tech and I've created a little maze of speakers into the final cubicle – this girl likes head and body space before a show! Pretty soon the lovely Scarlet Cuffs catches on to my scheme and I wink and nudge at Jolie Papillion and The Late Night Shop Cabaret ladies to do the same. A camera crew is already marching around, filming the show prep and quizzing whomever they can get to stand still long enough. I can hear the audience loudly humming on the other side of the wall and I wanna get out there to catch every minute. I shimmy into a gold sequin mini, throw on about fifteen pounds of black and gold accessories and top with a fuzzy leopard print bolero – I like to go to drag queen level and then juuust back it off a notch or two. I grab Scarlet Cuffs and we find a nice perch to take in the show…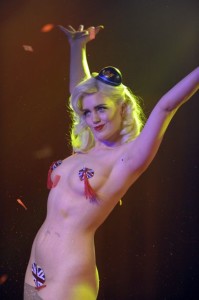 Duke DeMilo takes the stage, looking fabulous with a steam punk corset cinching and sexing up his dapper tuxedo and some hot pink blush nicely setting off his fuck off false lashes, fuchsia pout and sweet beauty spot. With a round, lovely Geordie lilt, Duke came booming over the microphone and hit about one thousand Burlesque enthusiasts with "Welcome to the World Burlesque Games 2012!" There was a massive roar from the eager audience and Scarlet Cuffs and I grinned at each other, feeling a little Sondheimian – excited AND scared! I can fully own getting nerves before performances but it's more of a 'Let me on that stage!' nerves than 'I can't get on that stage!' nerves. Duke DeMilo schooled the audience on some Geordie lingo (Alllrite?!) and made sure everyone knew the 'Burlesque audience rules' and promised to cheer and whoop for flesh, so he brought on the opening act, the effervescent Tabitha Taboo. Winner of last year's London Burlesque Week Newcomer category Tabitha's energy is positively infectious and she got us started with a little kitty ditty. Hot and elegant in black corset and, pretty soon, just black lace and straps, Tabitha Taboo purred, pounced and pranced across the Scala stage with confidence and joy. Celebrating her kitty birthday she showed off her many gifts: catnip, giant powder puffs, feathery fans and fabulous tits – what more can a show kitten ask for? I take my tassels off to this girl, she gave it hard and sweet and the audience loved it.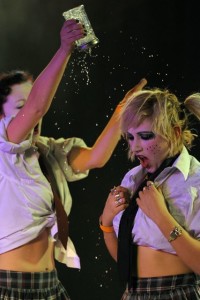 Next up, representing the British Newcomer category in May's games, two of my favourite cabaret kinksters: Allota Bounce and Dott Cotton of The Late Night Shop Cabaret. Usually a foursome including Apple Tart (previous solo WBG competitor) and Charlie Buckitt (Cabaret anarchist), this troupe specializes in performance sex education and perverted clown shock… Did I mention they're one of my favourites? Allota and Dott picnicked sweetly center stage in school girl uniforms and powdered faces until the rain came, Dott suggests an umbrella but Allota had other ideas and t.A.T.u.'s "All The Things You Said" kicked in for a wet t-shirt strip and attempted make out session. Soon the picnic gets a little frisky as their basket produces various phallic veg and the soaked school uniforms are stripped off – all the while I'm still reeling over the awesomeness of using t.A.T.u.! The ladies got a massive round of applause for their irreverent fun.
On, to change gears, was my fellow Burlesque Idol winner the dynamic dreamboat Jolie Papillion – repping Italy in the International Newcomer category. Performing a version of her 'Sing Sing Sing' act, Jolie is dressed head to toe in cream lace, pearls and glitz fringe and she's a marvel as she high kicks, tips and poses with pro dancer precision. I love Jolie Papillion's energy on stage because it's big and bright but it's also very gentle and sweet at the same time and as she peeked and popped out from her fans to finish, the crowd was indeed enchanted by this beautiful butterfly lady.
To round out the first act Duke DeMilo welcomed Mr Mistress to the stage, a competitor in the Male British/International category who I had only seen perform once before when we shared the stage at Kinky Salon but I was veryyy happy to see this artist on the WBG Teaser bill. Rufus Wainwright's "Gay Messiah" came wafting out of the sound system as the statuesque Mr Mistress floated on stage wearing cardinal red Isis wings draped over his head and shoulders. Slowly Mr Mistress revealed his crown of cocks, his crucifix pasties, corset and tiny underpants as he opened his wings and fanned our god-fearing hearts and queer loins. I delighted in the audience's audible shock and squirming as he quickly mouth fucked a scepter and anointed himself with some creamy holy-wateresque substance, then dropped to his knees and revealed with dropped jaw, a mouth full of the love of the (some) Lord. I was cheering my head off, all the way to the end when he revealed a rainbow flag loincloth and took his final crucifixion pose. Bravo Mr Mistress! Duke DeMile strutted back on stage and bid us a lovely first interval as I rushed back stage to jump into costume!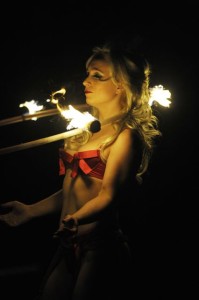 Sooo, 10ish minutes later, I'm backstage in most of my 'Futuuure Lover' costume, skinny jeans, black bra and tank top, not yet in my socks and converse waiting to hear a lovely song from our compere Duke DeMilo so I can get my tush in gear for onstage. Tucked in my toilet cubicle dressing room, I'm chatting and laughing with a few ladies and think I hear the epic music for the first act of our second interval, it's the ever popular Raven Six, also known as Tigz Rice, official photographer for the World Burlesque Games. Now, I'm super excited for Raven to be kicking ass but then I also realize 'Ummm I'm on stage after Raven Six, her act is a fierce two minutes long, I'm not even fricking dressed!' I quickly grab my MacBook and iPhone props and throw on my socks and shoes as Smokin McQueen touches up my lippy and gives me a little sobering slap across the face. I saw Raven performing the following night at the Labyrinth night run by Duchess Divine so that'll be my play-by-play reference! Representing the British Newcomer category, Raven Six is doing classic darkness with her fan dance, heavy charcoaled eyes and burgundy lippy make her pop from behind the black full feathers. With fishnets, noir briefs and a sparkling black and crystal corset, Raven has such strength in her fan whipping and voracity in her snarl and pout, which is pumped up to new rock and roll levels as she reveals skull pasties and sumptuous tits and pours streams of crimson glitter from the mouths of her skull props. Hard and hot, so good!
Then it was my turn! Whooop! I had such a good time on the Scala stage, presenting my performance essay on sex and seduction meeting modern technology to Goldfrapp's "Ooh Lah Lah"; it starts with a little sexting, moves into some phone sex dancing and finishes with an all out Skype strip, complete with nipple pasties and full bush merkin – though usually my real bush is bigger than the faux one! I think the audience was a little shocked by my hairy armpit pride and skinny jeans but I hope I won them over with my honesty and the joy of sex! I bowed and ran back stage, straight into the film crew in the hallway "How was that?!" the cameraman shouted from behind the lenses as I ran buck naked into my hideaway dressing room for my robe, I didn't want to miss the next act, the lovely Anna the Hulagan.
Anna is performing in the WBG Triple Crown, a show for burlesque-based Variety, and she gave us hell with her angel-turned-devil fire strip show. Complete with pearly gates robe, wings and innocent eyes, Anna prayed for us all but alas the devil took hold, she tossed away her angelic garments and revealed red hot lingerie. Lighting her giant halo hoop Anna the Hulagan showed us what she was made of and I prayed to Jesus for this fallen angel every time the hoop spinned burning around her neck and over her platinum tresses – I knowww she's a professional but it's part of the awesomeness of fire to be half terrified and half awed by the light show. Anna may be a Hulagan but she's also a Hoop Mistress and I enjoyed her cocky demonic dancing and the audience definitely did too. Rounding out the second act was WBG poster girlie and British Crown competitor Frankii Wilde. Totally cheesecake with a touch of glamazon, she gave us a cure for sexy scurvy with her naval British Blonde brouhaha. After some concentrated strutting and pouting she stripped off her military jacket and gave us a full English with union jack tassels, C-string and confetti cannon to 'Hail Britannia'. What a sweetheart! Duke DeMilo dashed on and dismissed us all to the bar and I ran back stage, still in my robe, to get myself together to take in the third act.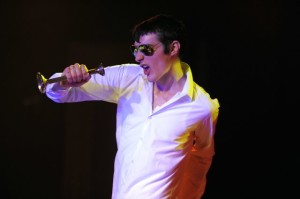 Back in my gold sequins and fuzzy leopard print, I was eagerly looking forward to the third act, someboylesque, some performers I think are lovelyyy and a few I hadn't yet had the pleasure to see in strippin' action! Back out, in a luxurious tangerine smoking jacket, Duke DeMilo made sure we were all ready for the imminent hotness and after a dozen kick-ass performers rocking their socks off, the audience was ready for that little bit more. Out came the sweet and spunky Smokin McQueen, giving us Risky Business boylesque as he slid in sport socks across the Scala stage. Kicking, strutting and thrusting up an 80's storm he stripped off the little he was wearing to reveal the tightest, tiniest glittering pink Gstring I've seen a while – GoGo Harder would be proud of this filthy fun young man. Next up! The gorgeous and slinky Scarlet Cuffs competing in the British Newcomer category, making a glam entrance in a clinging champagne gown, accented with crystal jewelry and white gloves, matching boa waiting on a coat rack next to her microphone stand. Serious and seriously sexy she broke into song, with a twist, a smoky rendition of the cute 'Bare Necessities' – complete with sing-along, which she conducted whilst prettyyy naked and still sparkling, much to the audiences delight! Then on came another Brit Newcomer, the wonderful onstage and off, Miss Amarettease, shimmering head to toe in baby blue and white, all crystals, pearls and lace, this dainty Blonde starlet gave us all the sweet and punch of Amaretto with her fan dance to the Divinyls 'I Touch Myself'. It was a nice and naughty offering and she deserved the mighty cheer she received!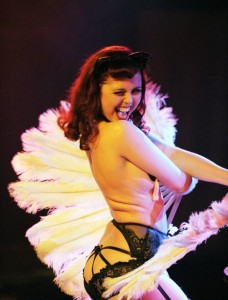 More feathers! The audience roared as the wonderful Elize DeLite took the stage in lime and champagne belted leotard with fringe and gold stars, a nice contrast to her noir hair and styling. Eliza will be competing for the Female British Crown and gave us classic fan dance with a twist as she spun and flapped to "Drum Boogie" by Swing Republic, the retro vocals and instrumentals remixed with dubsteppy pop. Eliza DeLite is a beautiful lady, that is for sure, and I loved her playful faces and graceful whip round the stage. And then, it was time for the closing act, fellow Canuck and a competitor for the Female World Crown, the radiant Marianne Cheesecake. Making a strong entrance with her beautiful and striking costume, Marianne's Dragon Lady tribute to Anna May Wong was powerful from the start; with a headdress as big as her torso, made of delicate gold wire and chains and accented with fat red jewels, a Chinese dragon head fixed the whole creation to her bobbed head. Draped in a red gown and topped with red, black and gold ornate epaulettes Marianne Cheesecake teased and played with her deliberate dancing and little paper fan. She soon revealed full silky wings, perfect for the massive Scala stage, but this little big Diva made sure all eyes were on her with her fierce and expressive gaze and cheeky, sexy grin pulling us all in. After a very graceful strip, she was left pretty starkers, embellished by her gold chain and sparkling red pasties and G-string and the audience roared! What a showww! I dashed backstage for a little curtain call and was oh so honoured to take a bow with so many talented performers – and I can't wait till May!
Chaz Royal's International World Burlesque Games takes the Big Smoke by storm May 7-13, 2012. More information here.
Rubyyy Jones is a performer, writer and muse specializing in love lust and light. 
All photos ©Barry Goodwin Lipstick Inc, and used here with permission. Please respect photography copyrights and do not use images without obtaining explicit permission.