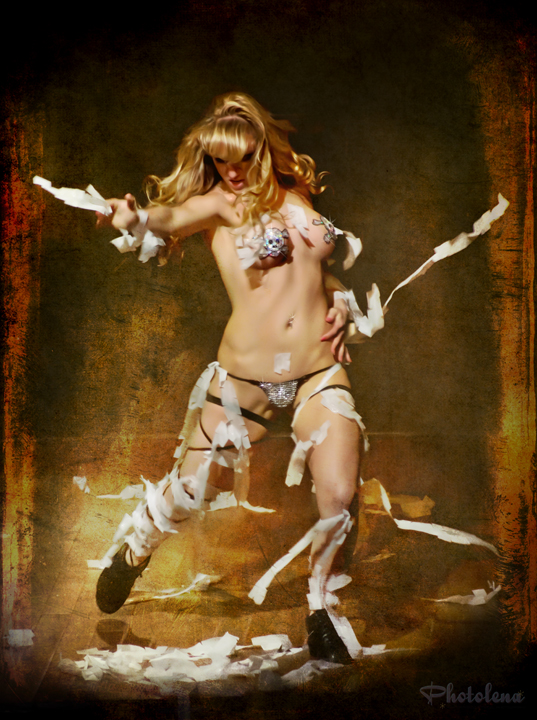 by Photolena
April 1, 2012
April Fool's Day brought out the burlesque community for a unique fundraiser that only the Toronto Burlesque Festival could throw – Strip Search 2012!
Twelve contestants gathered at the Revival Bar in Toronto's Little Italy to compete for a chance at performing in the upcoming festival in July – now in its 5th glorious year. Judging was fierce and included industry icon and first inductee into the Canadian Burlesque Hall of Fame Tanya Cheex, past co-winner Dew Lily of Boylesque T.O., Legend of Canadian Burlesque Irish Mist, and celebrity judge Naked Toni from the Naked News.
This year, I was busy helping with fundraising for the festival in my own way with my new Glaminista Photo Booth – getting audience members involved in the energy and glamour of the evening with on-the-spot portraits complete with feather boas, fascinators, and bling. Thanks to the shoutouts from our emcees Great Canadian Wolfman and Sexy Mark Brown, we had a steady stream of eager victims…. er… models all helping us raise funds in a fun way.
Luckily, I was able to catch some of the main event during breaks and shot some of the best competitors I've ever seen. Talk about fierce! The competitors were:
• Skaii Walker the Nerdy Stripper
covered in beautiful tattoos, she performed a striptease as a Star Wars stormtrooper
• Melody Merlot
serenaded us as Marilyn Monroe with a campy "Surgeons Are a Girl's Best Friend"
• El Toro
amazed with his gender-bending hot, hot, hot striptease
• Bianca Boom Boom
brought us some fantasy with a Queen of Hearts from a burlesque Wonderland
• Eve of Destruction – Audience Choice Winner
blew everyone away with her stripping mummy
• Charlie Quinn – Runner Up
went classy with a hot jazz act
• Natalia Rose
one of the best pole dancers in the city did not disappoint
• Dr. Tease
worked backwards with his very revealing reverse strip
• Pastel Supernova – Winner
Latin striptease was never so hot
• Constance Provokes
showed that burlesque and hard rock can work in harmony
• Willy Wonder
showed some ingeniously sensual uses for masking tape
• Liv Vicariously
had some real devilish potential
All the contestants were amazing and it was a really tough vote. I'm glad I wasn't one of the judges and only had to submit my vote for the Audience Choice award! It was a fabulous night dotted with great performances by some of our favourite performers – Montreal's amazing Lady Josephine, Mysterion, Honey B. Hind, Coco Framboise, Miss Mitzy Cream, DD Starr, Sauci Calla Horra, Sexy Mark Brown with Foxy Finale and a special performance by the gents of Boylesque T.O. paying homage to their Canada's Got Talent audition. Not only was the event produced by Toronto's premier mentalist Mysterion, but he also performed his mind-blowing feats for the audience throughout the evening.
This event could not have been possible without the tireless efforts and talent of the Toronto Burlesque Festival Producters and Advisory team: see the full list of amazing talent and their bios HERE.
Looking forward to seeing the winners of the evening try top their performances at the festival in July!
Olena Sullivan (Photolena) is a Toronto-based model and performance photographer who specializes in onstage burlesque photography. All photos ©Olena Sullivan-Photolena and used here with permission by Burlesque Beat. Performers may use shots for promotional purposes, but please credit properly with photographer's full name and a link to this piece.