by Sandra O'Connell
April 28, 2012
The Wise Hall, Vancouver, BC, Canada
There's something about watching burlesque in a rickety old theatre that truly tickles my fancy. Built in 1958, the Wise Hall located on a dark, tree-lined residential street in Vancouver has all the charm of an old masonic hall where secret deeds are conducted. In other words, it's an ideal place to house a salacious burlesque show.
On April 28th, the grand hall hosted the Taboo Revue Burlesque Variety Show, a show presented by the Screaming Chicken Theatrical Association, and featuring more than 20 performers peeling their clothes off in delightfully entertaining vignettes. Note: Heaven all rolled up into two hours.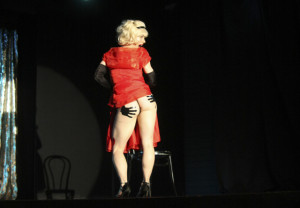 Burlesque aficionados Evil Bastard and Connie Cahoots hosted the evening, their chemistry so perfectly tuned together that one must wonder if their antics offstage rival those onstage, if you know what I mean. Their shtick for the evening was a scintillating game of strip rock, paper, scissors – a game that everyone must incorporate into their weekly date night. By the end of the evening, as we had all hoped, they were both down to their very scanty skivvies.
After a riveting duet kicking off the night featuring Ava Lure and Goldie Monroe as two jealous sisters, Sweetpea Magee charmed the crowd with her cherubic face dancing to "Somebody Touched Me," by Ruth Brown. Her body was riddled with handprints and as each article of clothing was removed, another scandalous print was revealed.
Rufflesilkskin got us in the festive spirit by prancing on stage dressed as a tiered cake, ending the performance with sizzling sparklers affixed to her nipple pasties. Daringly delicious icing on the cake for any birthdays being celebrated in the crowd.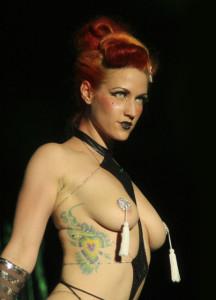 One of the highlights of the show, the performance that really got people on their feet clapping, was the Sparkle Pussies' high energy, head bop-inducing act. There was not a face in the room without a smile plastered on it throughout the show.  Boom Boom Buffet stole all attention in a gold lame bodysuit perfectly hugging her body. With a microphone in hand, devilish twinkle in her eyes, she rapped Salt n Pepa's "Shoop" better than the original trio. This burlesque beauty is clearly meant for the limelight.
And then there's Melody Mangler. No words I could use would do her justice. She is ravishing. From her brilliant red hair piled on top of her head to her icy blue eyes to her surprisingly agile 8" stilettos, she is all sex. Her music choice, "Stripped" by Shiny Toy Guns, matched the sensual and futuristic Fifth Element aura steaming off of her. One's life is never the same after seeing this enigma in the flesh.
We were treated to the rare art of Boylesque with an inaugural performance by the graduating class of Becoming Boylesque – a handsome group of boys with all the makings of great seducers. They had the crowd yelling and catcalling for more, which they certainly gave us when their pants dropped in unison to the floor.
A clear winner of the evening was the group set by the Screaming Chickens that played on Moulin Rouge's thrilling vibe. Music thumped through my veins with every beat of their hypnotic tambourines. Again, all eyes were on Melody Mangler like a magnet on precious metal.
Adding some comedy to the night was Clare Voyeur, and Buddy Studds' duet as a pretty sailor seeking her handsome merman. The creative props, costumes and backdrop (crates made believable rocks and a wheelie chair turned into an inventive boat) left no detail untouched in this quirky skit. I'm hoping mermen are real.
April O'Peel is one of those dancers with a permanent cheeky glint in her eye. You really never know what she's got up her sleeve (or under her bra). She moves like a cat raised on hip hop, each gyration and shake natural to her body. She even did the worm… enough said.
One of the hottest numbers was Blush Lane and Sweetpea Magee dressed as wild cowgirls battling it out in a gunfight and arguing over each other's clothes, each aggressively ripping the other's garments off. Every man's dream was being enacted on stage live… I hope one of them got it on video.
It was a Revue where all kinds of fantasies came to light, where voices were lost due to screaming, where hands were numb from clapping. My calendar is currently being marked in countdown until the next Taboo Revue in September.
Captivated by the world of burlesque, Sandra O'Connell is no stranger to the Vancouver scene. In addition to weaving burlesque into words, she is a freelance writer for a variety of publications covering fashion, travel, lifestyle and culture. Find Sandra on Twitter or at her personal blog.
All photos ©Baron S. Cameron, and used here with permission. Please respect photography copyrights and do not use images without obtaining explicit permission.