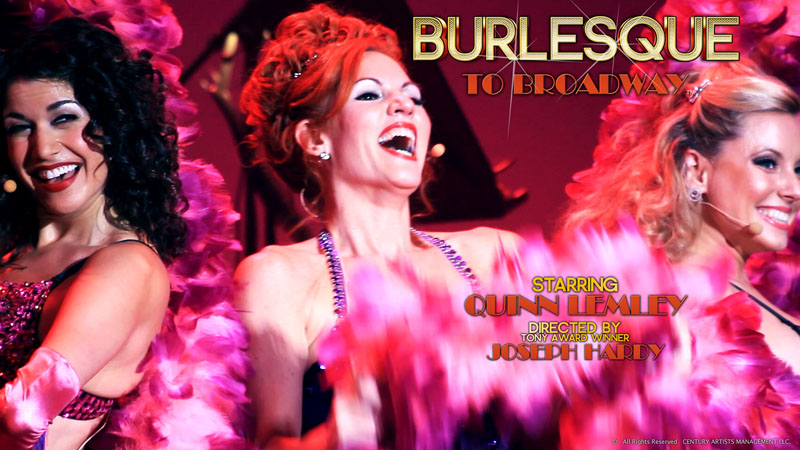 BURLESQUE TO BROADWAY has graciously offered 50% off tickets to all BurlesqueBeat readers.  That's only $35 for a giant serving of show at the stunning Millennium Theater! Word is that many of our burlesque compatriots saw the show in its Seattle run at the Triple Door, and the producers hope to bring the NYC burly folks out, too.
From the press release:
Experience the art of the tease as critically acclaimed Quinn Lemley stars in her new hit touring production, Burlesque to Broadway. 
Along with sexy sidekicks Natalie Loftin Bell and Stacey Harris — and a smoking 10-piece big band — Lemley takes audiences on a journey from the early days of underground burlesque clubs to mainstream acceptance by the Broadway establishment and beyond.
This unique theatrical concert directed by Tony award winner, Joseph Hardy, honors rule-breaking icons such as Sally Rand, Gypsy Rose Lee, and Mae West, and celebrates their ascent as they danced on the edge of the law, laid bare the double standards of the era, and fueled a movement that would influence divas for the next century.
Despite its cultural relevance, this show is no history class: Song-and-dance fun fill the theater as the as the cast belts out unforgettable hits such as 'Hey Big Spender,' ''Let Me Entertain You,' and "She's A Lady" while they dance to Merete Muenter's provocative bump-and-grind choreography. The costumes of Wendall Goings add to the experience, glittering with sequins and flowing with fans, and feathers.
THE MILLENNIUM THEATER is a 1,400-seat venue in the heart of South Brooklyn. This historic space has been outfitted with modern sound, multidimensional computerized stage lighting and giant LED screens making it an ideal venue for large-scale concerts and theatrical productions. The theater and its rich history were recently chronicled in an article in the New York Times. 
Millennium Theatre, Brighton Beach, Brooklyn
May 18 & 19th at 8pm.
Get your tickets here, and use coupon code (MYUNION) to get the 50% off discount.