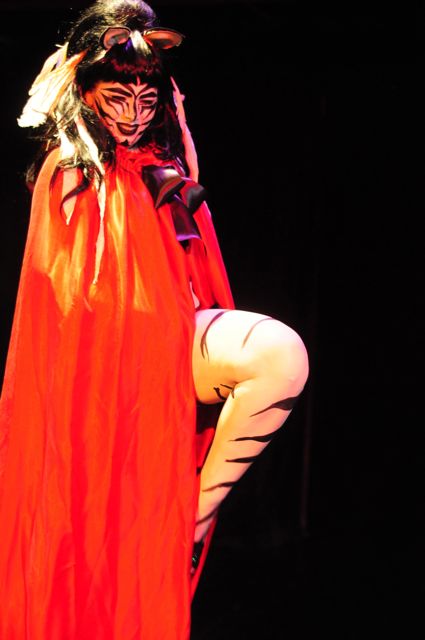 By J.D. Oxblood
Cinco de Mayo, 2012
As part of our runup to Vegas (the BHOF is right around the corner), I've been conducting some interviews, and I've noticed that I always end up asking people about the local burlesque scene in their hometowns. I think this stems from two sources—I'm legitimately curious about the scenes with which I'm unfamiliar, but I think I've also become envious of the towns who can claim to have "a burlesque scene." A long Facebook thread last year examined the difficulty Portland was having with a scene exploding at supernova speed, and the growing pains associated, and the concern truly warmed the cockles of my heart. (By the way, what's a cockle?) I've been to Portland, and while it's a cute, warm, enjoyable town, it is what us Big City folk call, well, small. And I kind of envy them. In New York, to say that we have a "burlesque scene" is betraying the truth—we have dozens of burlesque scenes, all happening on top of one another, and it's so complex, amorphous and forever-mutating that it is very possible, even if you run a burlesque website and a calendar with a global reach and are invited to shows at a rate of several per hour—it is still very possible to discover that there is a whole 'nother scene happening right under your nose that you haven't even heard about.
Which is why Melody and I, hot-off-the-presses newlyweds, went to check out Hypergender Burlesque at the WOW Café.
WOW is a righteous space, "a women's theater collective," per the WOW website, that "has been a majority lesbian woman's space. WOW welcomes the full participation of all women and transpeople in solidarity with women. WOW especially welcomes women and transpeople of color, and women and trans people who identify as lesbians, bisexual and queer." In other words, this is a great space for burlesque, and WOW is clearly supporting an independent scene, allowing artists to explore a wide range of performance, from fully-executed, sharpened performances to under-construction, hodgepodge experiments in stripper arts. This is quite possibly the warmest, friendliest place to perform that I've ever seen in New York.
My biggest complaint—which I would prefer to get out of the way, rather than saving it for the finale—would be the screamingly non-burlesque 15-minute art-school rerun by Alexander Alvina Chamberland who, according to the program, identifies as "they," which is offensive to all speakers of the English language, regardless as to gender politics. I think "they" need to study up on performance artists such as Karen Finley, Annie Sprinkle, or even Chris Burden. Seriously, if you're going to display old-school New York performance art in the East Village, it better be 1981 and you'd better be passing out free junk.
WOW is on the fourth floor, and there's now an elevator—the collective managed to purchase the building from the city for $1 and is fixing it up. It's a small blackbox, with ancient frenels in the grid, and a makeshift bar (amen) set up offstage right. Our MC, JZ Bich, opened the show with an act that ran the gamut from burka to nun's habit to McDonald's-brand pasties, and Bich described her own identity as "Balkanized," making it clear that the act was more a starting place than a finishing point. Bich has a slow-motion, unexpected charm, handling the audience fondly, like a small rabbit. I enjoyed her immensely, while at the same time aware of just how NICE this crowd was. She might get eaten alive in a different NYC venue.
But this crowd is here to watch and listen, and no one on stage can do any wrong. The night's theme is "Un-American," and all of the performers are from elsewhere. Essence Revealed presented her childhood Barbados traditions, in a loose, talking-point format as she walked us through the preparations, leading up to a fierce stall—due to technical problems—and finally a full-on booty shake to booming Calypso, complete with explanation of the term "ride my riddim," for those uninitiated in Caribbean culture. Good Bajan fun.
Paaije Flash delivered a prop-heavy (read: dildos) blend of burlesque and sexual performance art that may not have had much to do with her Jamaican heritage, Divina Gransparkle displayed some incredible bodypaint, and the Incredible, Edible Akynos showed us once again that no one can dance quite like her.
Representing quite possibly a different show altogether, or at the very least the far end of the spectrum, were the classic burlesque acts by Canadian Bettina May—lovely and charming as ever—and Finn Lou Lou D'vil, who, as the current "Best Debut" titleholder will be competing for Queen in a few short weeks at the Burlesque Hall of Fame. I was very interested to see Lou Lou in such a small space, since the major pitfall of only seeing international performers at large festivals is that you only see what they can do with a big stage to fill. I was seated in the front row, and was able to watch Lou Lou pace the room like an uncaged animal poured into a form-fitting corset. Pen locked and loaded, I was ready to be underwhelmed, but Lou Lou proved herself even more alluring on the small stage than she is behind a large, well-lit proscenium. When she worked downstage to strike a pose, I was looking her right in the eye, and she held my gaze, held it firm until her music cue sent her careering back upstage, held that gaze like a twenty-dollar lapdance floorworker mentally turning me upside-down to empty my pockets. This girl has talents we haven't quite had a chance to see, and I'm almost frightened to see what she brings us in Vegas.
Oh, and best intermission ever—free cake, courtesy of kittens Leta Lenoir and Mercedes Matilda. Watch out for WOW, which is sure to become an incubator for boundary-smashing acts.
Kiss kiss,
JDX
All photos ©2011 Melody Mudd. Please respect copyrights and contact melodymudd@gmail.com for permissions. Performers may use shots for promotional purposes, but please credit properly with photographer's full name and a link to this piece in all instances. Performers who would like hi-rez images, get in touch.