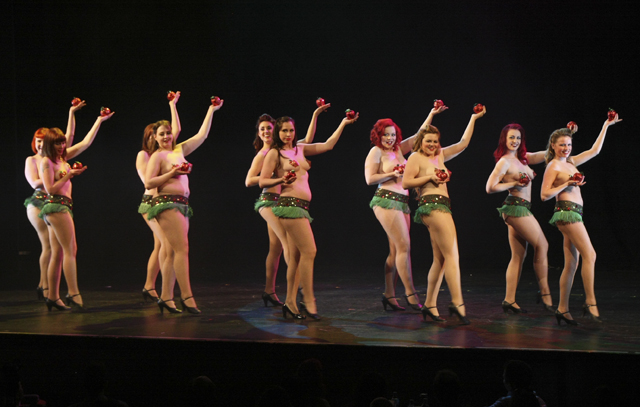 by Sandra O'Connell
May 4-5, 2012
The Vogue Theatre, Vancouver, BC, Canada
It's hard to find a better spot for a burlesque show than at such an iconic venue as the Vogue Theatre in downtown Vancouver. If her walls could talk they would whisper, yell and laugh with memories of the shadows that danced on her walls beginning in the vibrant 1940's. Performances on the second and third nights of the Vancouver International Burlesque Festival were housed within these walls, adding a layer of seduction and flirtation to the ever-growing history of the theatre.
The Queen of strip hop, Crystal Precious, hosted night two of the festival on May 4th, opening with a touching and teary-eyed speech praising the close-knit burlesque community in Vancouver. Her sass quickly returned, and throughout the evening she stunned us with costume changes that included a magnificent tulle-layered tutu fit for any soiree.
The festivities got off to an aggressively sexy start with Villainy Loveless playing cop turned dominatrix – I smell a smutty comic book series beckoning. We all cried to be arrested for our sins with each caress of her sparkly baton. Blue Morris seduced us with the first tilt of his hat and strum of his guitar, reminding all men that their shirts should be made with poppers as he swiftly ripped his off.
Luciterra, known for their fusion bellydance, performed as though they were being controlled by a snake charmer, coiling and twisting their bodies as one. Lola Frost and Cherry OnTop left us all besotted by their Egyptian bondage duet, while Spooksy DeLune scared us into a sensation that could only be described as pleasurable as she ripped her stockings off with a switchblade. Does anyone have the address of her haunted house?
One of two burlesque legends to perform at VIBF was Tiffany Carter, who wore a feline costume that was recreated from an act of the past. Having become almost deaf over the past few years, she now dances to the beats she can feel – a phenomenal talent that labels her as a true legend.
Wooing with her Lucille Ball style antics, April O'Peel paraded about in a whimsical chicken suit fashioned with yellow rubber gloves. One of the most entertaining performances of the night was Jesse Belle Jones from Seattle portraying a hobo down on his luck. Her ability to play the part of an old, drunk male was faultless and had the whole theatre laughing. Completing the night was Chicago-based Jett Adore known as the "no pants romancer," a title that he most definitely has earned. With Pavarotti setting his tone, he graced the stage as a peacock, flirting with men and women, and teasing our hungry eyes with glimpses of flesh until he was left with only a thong. What a way to end the evening…
The third night of scintillating skin was hosted by the witty Purrrfessor of Kitty Nights, who resurrected Elvis with his hilarious performance of Viva Vancouver. The final night of the festival was another sell out, and as the lights went down for the first dancer, one could practically feel the anticipation that coursed through the old theatre.
Beginning her act as a proper Asian princess, Betsy Bottom Dollar's incredibly intricate costume was slowly disrobed to reveal a gold flapper dress and her cheeky side. From Colorado, Bunny Bee's tanned dancer body hid behind the baggy clothes of an outlaw, which she removed with such sensational gusto that one wondered where the pole was.
The Rocky Horror Picture Show interpreted into burlesque by the Cheesecake Burlesque Revue was a sensational frenzy of dry humping, bad wigs, and pure ridiculousness. This group definitely had the most fun during their long hours of rehearsing. Cabaret du Passe, on the other hand, was a whirlwind of pleasure and pain. Eyes widened as troupe members broke bottles of wine and rolled around in a glass orgy. Points for originality and bravery.
Madame Mae left a maternal glow on everyone as she sensually revealed her small baby bump proving to all that pregnancy is sexy. And then there's the goddess that is Burgundy Brixx. Paying homage to Rolls Royce, she gave new meaning to Marilyn Monroe's famed subway grate scene as wind tousled her hair and blew her silky cape, all from the top of the hood of a Rolls.
Judith Stein, one of the remaining legends of this great art, proved that she's still a minx as she playfully danced around the stage. I couldn't help but think of all the hearts she must have broken in her years. Cherry OnTop and Lola Frost graced the theatre once again, this time with solo performances. Cherry OnTop played a devil that anyone would eagerly sell their soul to, and Lola Frost left us all delirious with her precise and libidinous moves.
Toronto Boylesque star, Wrong Note Rusty, delighted and shocked (literally) while unsuccessfully dodging lightning bolts until he was so charged up that he could light a bulb by sticking a cord up his ass.
Completing the weekend's smorgasbord of nudity was last year's reigning Queen of the Vegas Burlesque Hall of Fame, Indigo Blue, who classed things up with an homage to the past. There was not a heart in the theatre that wasn't pitter pattering a little faster by the end of VIBF. Each year, the festival is a bigger boost for the burlesque community, with each year producing more fans and more acts throughout the city.
For a full list of performers, see Vancouver International Burlesque Festival.
Captivated by the world of burlesque, Sandra O'Connell is no stranger to the Vancouver scene. In addition to weaving burlesque into words, she is a freelance writer for a variety of publications covering fashion, travel, lifestyle and culture. Find Sandra on Twitter or at her personal blog.
All photos ©Baron S. Cameron, and used here with permission. Please respect photography copyrights and do not use images without obtaining explicit permission.