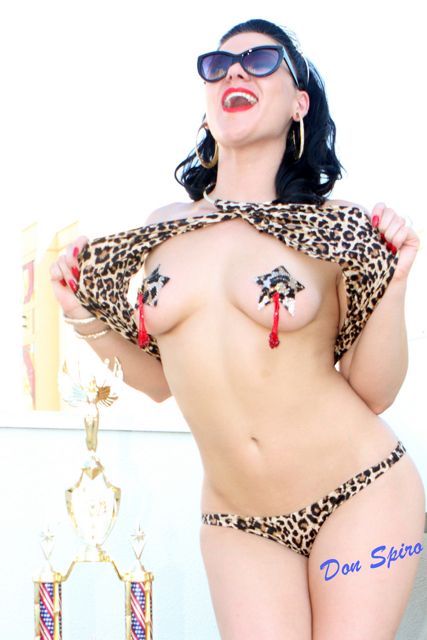 (As interviewed in Las Vegas, 2011, and thereafter via email)
by J.D. Oxblood
Standing by the bar at the pool at the Orleans Casino in Las Vegas, Nevada, Roxi Dlite is resplendent before me in a royal blue bikini, bathing in the mist being cast down over her buxom frame by the oscillating fans above us.  We're literally standing around the water cooler, me, Roxi—who just stepped down as the reigning Queen of Burlesque—and Diablo, who is wearing a shark headpiece, a massive foam construction that frames her face behind ragged, bloody teeth.  I'm wearing that blue bathing suit that Daniel Craig wore walking out of the ocean in "Casino Royale," which is to say that I'm not carrying a notebook, let alone a tape recorder.  But this is how recording the history of burlesque gets done—living it, Gonzo all the way. What I do remember is that Roxi looked amazing, that she seemed almost relieved to have her year as Queen come to an end, and that she said that her phone didn't exactly ring off the hook when she was crowned Queen.
It took me a little time to track her down and get her to spill it on the record, but here's what our 2010 Queen had to say after it was all said and done:
JDX: At the BHOF, you told me how your phone didn't exactly ring off the hook after you were crowned queen.  How did your experience contrast with your expectations?
RD:  Well, I didn't really know what to expect after being crowned Queen of Burlesque. Perhaps I thought I'd be cutting ribbons for openings of strip clubs or something, ha ha ha, just kidding. It was slow at first and I was wondering what exactly comes with being a burlesque queen. I decided that perhaps I could use my crown to raise awareness about the condition of modern strip clubs and perhaps open some minds a bit. It always bothered me when modern burlesque dancers put themselves on a pedestal in comparison to modern day strippers. It's such a slap in the face to the art form of burlesque because our legends were pushing boundaries just like modern dancers. Most strippers I know are mothers, students and career women. I think that burlesque performers and modern strippers can learn a lot from each other.
JDX: You also told me that while you were waiting for the new Queen to be crowned you said, "This is what it's all about." Can you elaborate? 
RD:  There was a moment backstage when I was holding the crown, and my breath, waiting to hear who will be crowned Queen of Burlesque 2011. Everything paused for a second and I was thinking to myself that at that moment, that was what it was all about, passing on the tradition of burlesque and the memory of Jenny Lee, Dixie Evans and the Burlesque Hall of Fame.
JDX: Do you think you will continue to perform burlesque indefinitely?  
RD:  Of course! I may be The Reigning Queen of Burlsque 2010 but just because it's 2011, that doesn't mean I'm washed up, not yet anyway! ha ha ha. I have lot's going on and I'm still pretty young and I have a long future of striptease ahead of me. I've always said that I'll continue to strip until the audience throws tomatoes at me, then, being a savvy business woman, I'll get into the ketchup business.
JDX: You've been taking more and more pictures.  How interested are you in photography and where do you see it taking you?  
RD:  I love photography. My talents for it were a bit of a shock and surprise to me, they still are sometimes as I improve with each shoot. I went to school for graphic design, started stripping to pay for my last year of college, graduated from that program, then realized I liked dancing so much more than sitting in an office starring at a computer screen with a boss breathing over my shoulders. I loved dancing so much more than graphic design that I even skipped my college graduation because I was featuring at a club in Newfoundland. I received my diploma in the mail, my mom has it in a frame in her home. There came a time in my dancing career where I needed to have promotional images taken of myself, so I found some photographers but didn't always like the way the photographer edited the images. Editing and lighting is such a big part of why an image looks the way it does. Being a graphic designer I always felt I could do a better job and so I'd ask if I can make edits myself. Most photographers were really nice and would let me. One day, I woke up and decided I wanted to do it all myself, shooting, lighting, makeup, hair styling and editing. That very same day I went out, bought some fancy photography equipment that I had no idea how to use. It was the best thing I ever did. I hope that when I eventually decide to get out of the strip tease business I will shift all of my focus on my photography business.
JDX: You don't come from a town with a huge burlesque scene.  Looking at the different epicenters of burlesque and how different London's aesthetic is from, say, Australia's or Seattle's, what's your favorite?
RD:  Every scene in every city is different but there are some similarities, For example, New York's boundary pushing, out of the box neo-burlesque scene is somewhat reflected in the Toronto scene. More neo, less classic. Places like Australia and Italy are much newer scenes and take on a more classic burlesque style, especially Italy. It's really new there and they just absolutely love burlesque and that's really exciting.  I can't really choose a favourite, I like them all for different reasons, not to mention I haven't been everywhere, not yet anyways ;). I still haven't been to London which I'm dying to visit. I love going to international festivals where performers come from all over the world and everyone gets a taste of what's going on elsewhere. I guess my style is classic, so I've been told. I never really labelled what I do as anything. I just do what I do and dance to what I like, I usually have some sort of story line or theme in my performances. I don't say, "I'm going to create a very "classic" act I just try to put things together in an appealing order for peeling and hope the audience thinks it's hot and is entertained.
JDX: Other than producing your own shows, what other interests do you consider pursuing? 
RD:  Well producing isn't something I do very often or plan to do often. Every now and then it's fun but it's a whole lot of stress and I like being able to express my creativity in other ways. I do lot's of things and have lot's of hidden talents. I love cooking and am pretty good at it, I will obviously pursue photography more seriously. Perhaps I'll look into acting again, being a part of "The Burlesque Assassins" film was a lot of fun. But who knows what the future holds, maybe I'll become a recluse or a crazy cat lady that collects porcelain figurines. Life is one big mystery, I'm just enjoying the ride.
Photo ©Don Spiro and used here with permission by Burlesque Beat. Please respect copyrights and obtain permission for use. Performers may use shots from Burlesque Beat for promotional purposes, but please credit properly with photographer's full name and a link to this piece in all instances. Performers who would like hi-rez images, get in touch.