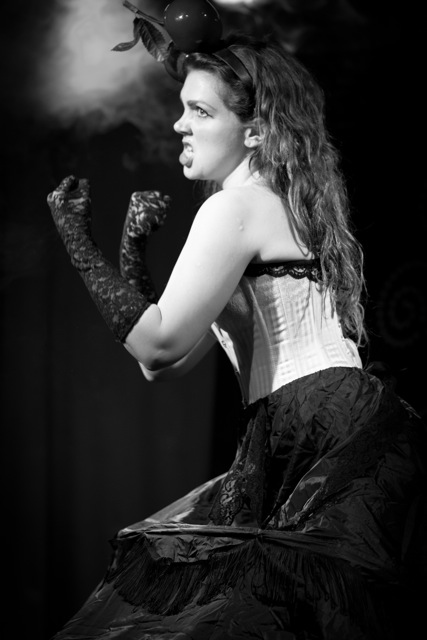 by Rubyyy Jones
Monday May 7th & Tuesday May 8th
One rainy week in May, I zipped around London from Soho to Shepherds Bush, I saw more tassels, night buses and rhinestones that I can even fathom, and I'm one hundred percent sure it's Secrets IN Lace, not Secrets WITH Lace – Thank you Benjamin Louche! What a wild and wonderful week of entertainment, art and glitz the World Burlesque Games was, with a range of unique acts, zesty fresh ideas and sexy classic homage. Created by co-coordinators Chaz Royal, Betty D'Light and assisted by a team of lingerie-clad helpers, we were presented with seven terrific shows, and though it was a competition to recognize excellence in Burlesque, it inevitably has become a showcase of many talents and a buzzing topic in the community and outside, and the impact of that is what seems most important and most exciting.
I started off my Burly marathon week at Madame Jojo's, the legendary Soho spot, for the World Burlesque Games (WBG) opening ceremonies; an evening of prancing London Burlesque Week winners and UK heavy hitters. Hosted by the wicked and witty Ivy Paige, accompanied by her showlife better half, Pete Saunders, on keyboard, it was a light and bright evening of glamour and laughs. Kicking us off was co-coordinator of The WBG, Betty D'Light, in a bubbly, bouncy showgirl routine, glittering in fringe and shimming with abandon, it was nice to see the boss lady in action. Bold in red, blue and feathers, slightly bewildering with a party girl, bottle gag, it was a playful opener and got the audience warmed up nicely. Ivy Paige, in her emerald and black Steampunk regalia, kept us in a fabulous mood with original songs, even a sing-a-long, and big laughs; I loved her cheeky wit and her kinda Bette-Midler-plays-Madame-Thénardier gutsy presence. A popular compere and a firecracker, Ivy enjoyed teasing and torturing the audience and I quite liked her raw rocky vocals, though I wouldn't have minded another song or two! Next up was the uproarious Shirley Windmill, 2011 Best Variety winner at London Burlesque Week, with a monologue and strip about love gone wrong, Tuscany style. In a simple peasant-y costume, with giant Gaby Kennedy cherries on her head, she sang of her 'Antonio' before breaking into a revenge rumble routine to 'Mambo Italiano.' I cackled through the angriest strip I've ever seen as she strangled with her corset strings and punched with a glove pull. Shirley Windmill was followed by the 2010 Newcomer Winner at LBF, Ginger Blush, in a connected and touching piece about the journey from childhood-to-womanhood which had me in tears and in stitches. A brilliant piece of theatre, I loved the sweet, wide-eyed openness of her 'girl' character and had my heart wrenched as she grew older before our eyes, learning of the limitations and expectations on women and of womanhood. A perfect slice of Burlesque pie! Ivy Paige bid us a happy interval and banished us to the bar.
After the interval, the 2011 Newcomer Winner Tabitha Taboo burst on the stage, well, actually from a coffin! Debuting her newest piece, 'Yummy Mummy,' she was beautiful, undead and loving it. Lady Cheek, founder of one of the UK's top Burlesque schools 'The Cheek Of It!', was next on the Madame Jojo's stage, a vision in chiffon, glitter and LEDs as a brand new fairy spreading her wings, complete with adolescent rebellion as she twirled wings and tassels to 'Children of the Revolution.' Best Newcomer 2009 at LBF and London Cabaret Awards Best Burlesque Winner 2012, Kiki Kaboom, took to the stage; a burlesque badass with a love of comedy, feisty stripping and strong characters, we were treated to the whole kit and kaboodle with a gleeful song about her pussy (cat) and a trailer trash bump and grind strip to 'Cherry Pie.' For the Burlesque finale of the evening, we got a dose of magical mayhem from Sarina Del Fuego and Dare Astaire in a Greek Gods gone bad pastiche; there were lightning bolts, acrobatics, crazy sexy times and disco, what more do you need? Ivy Paige and Pete Saunders sent us back out into the rain and wished us luck for the rest of the World Burlesque Games week.
Tuesday's event was at the glittering Floridita, also in Soho, for the Triple Crown and the official Press Gala. All of the week's competitors were invited, along with various international press, and the venue was heaving with show queens in their finest, drag queens in their show-stoppingest and Burlesque enthusiasts alike. After a brief word from our sponsors, Secrets In Lace, via a fashion show of stunning ladies in lingerie presented by the sparkly Agent Lynch, the Triple Crown was underway. Hosted by the fabulous and freaky Miss Behave, the event was to be a showcase of burlesque-meets-variety plus each artist's special zest. Miss Behave is a powerful and punchy compere, in her show uniform of red latex with a jaunty hat, a bit Bebe Neuwirth with her tight choreography and sharp hits, she presented us with a long stem rose before piercing, stretching and twisting her tongue with it. Shocking and saucy, she is the perfect host for our night of many talents and twists!
Anna The Hulagan (London) started us off strong with her dramatic hooping striptease, poised with a feathered hoop, smoldering behind a glittering mask, she plucked the feathers and started circling slowly, peeling the layers of her gothic costume with sexy ease. There are so many great bouncy hoop routines, it was refreshing and impressive to see this sensual spinning piece, I loved Anna's transition into 'Dog Days Are Over' as she lit her hoop on fire and got into some low bumping and grinding spinning action. Then came Kiki Lovechild (London), a quirky sexy entertainer with a sick sense of humour and many performance skills; I loved his use of puppetry, some shadow puppets and a showgirl ostrich he had peeking from feather fans and posing with attitude. I loved his hot and humorous strip, and his battery powered pasties were the icing on the cake. Clara Cupcake brought flounce and fun with her energetic hoop routine all the way from Perth, Australia in satiny peach—lots of energy, lots of hoops. Lexi Sexx (Leeds) rounded out the first act with her twisted display of sideshow specialties and mock cheesecake strip, complete with hot wax drip. A sweet twisted sex urchin, in dusty flowers, pearls and lace, putting out cigarettes on her tongue, walking on broken glass and hammering nails into her face, she finished with a demure reveal to big cheers. Miss Behave sent us off to the bar, only eight pounds for a single gin and tonic – you stateside, that's twelve dollars – so I tucked into a bottle of wine with Mr Mistress and Lolo Brow and schmoozed with all the showgirls and boys.
The second act of the Triple Crown show was kicked off by tango dancer and strip teaser duo, Tango Manga (London), who gave us a peek into their erotic life with a seductive lap dance scene that left little to the naughty imagination, though no one would have minded a little more man flesh and less leering! Switching gears into a more noir space was burlesque artist and fire performer Missy Fatale (Australia) with her dark goddess fire dance, tracing her soft curves with flaming palms and tongue-teasing flickering flames. Heavily styled with a dramatic headdress, she removed most of her glinting costume for a wet, writhing, glitterfied finish. Miss Behave took the stage once again, swallowing some serious sword with ease and bringing on next, from Knoxville, USA, Siren Santina, showing off her plethora of skills by combining operetta, tassel twirling and effortless striptease; believe me, doing Gilbert and Sullivan trills whilst swinging nipple tassels is not easy! The absolute firecracker Bunny Pistol (LA, USA) was shaking it next as our final Triple Crown contestant with a hard hitting, high flying, all tassels routine; a highly skilled mover and shaker, I was astonished by her stamina and speed, especially when it came to her marathon butt tassel finale which the audience clearly loved too!
I'm sure the judges had a difficult time with this one, as they did with most shows, it was a varied night of many talents and talented performers. After a hearty round of applause for all the performers Miss Behave announced, second runner up: Tango Manga. First runner up: Kiki Lovechild. Winner: Anna the Hulagan! Bravo All! And thank youuu for a fabulous night!
For more information visit World Burlesque Games.  
Rubyyy Jones is a performer, writer and muse specializing in love lust and light. 
All photos ©Tigz Rice Studios and used with express permission by Burlesque Beat.Performers may use shots for promotional purposes, but please credit properly with photographer's full name and a link to this piece in all instances. Performers who would like hi-rez images, get in touch.