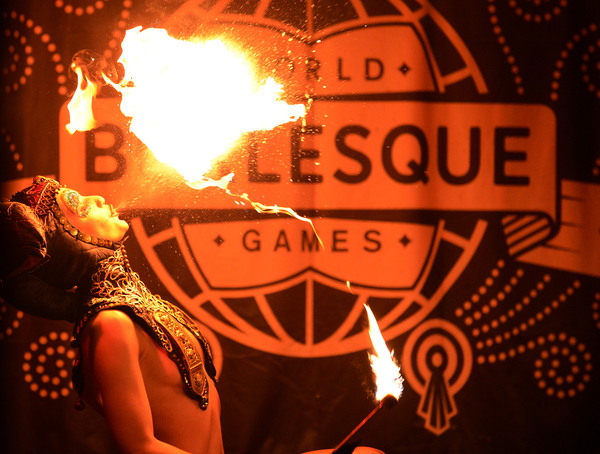 by Rubyyy Jones
Wednesday May 9th, 2012
Madame Jojo's, Soho, London
Wednesday of the World Burlesque Games week found me back at Madame Jojo's for the Twisted Crown show and I had to admit, I was a little scared! I wasn't all too sure what made something 'twisted,' but it turns out, it was all different flavours of twisted, some more revoltingly ravishing than others. I braved the seats closer to the front with the luscious Duchess Divine and I had medicinal JD and Coke* to settle my nerves.
As soon as the show began, I felt safe, as we were in the capable and creepy hands of producer and performer Benjamin Louche. He started us off with a slinky song and dance, made up marvelously in his trademark whiteout face with popping lips, etched brows and flame rhinestoned suit; he stalked and dipped with grace and grit in his pas de deux with his red telephone lover. Benjamin is the co-founder (with his better half Rose Thorne, a mysterious Madam) of one of London's most popular 'twisted' nights, The Double R Club, a Lynchian affair, which was awarded 'Best Ongoing Production' at the London Cabaret Awards 2012 – perfect choice for tonight's competition as it is all about the sublime: Performance Art, Twisted Cabaret and Neo-Burlesque.
First up was Kitty Ribbons (Gloucester) with her Victorian tale of murder and intrigue, scored to the latest Sherlock Holmes film theme, with a zombie twist. I adore a little murder and gore with my striptease, and I would love to see Ribbons take it to the next level—more blood, more fear, more nudity—but I enjoyed her fierce commitment in her monologue opening and the way she relished in her bloody, oozing pasties. Kitty Ribbons was followed by the quirky Bam Bam Blue (Leeds) with her "dog-faced girl" zany strip, making a slobbery and perky entrance as a cute pup and looking a little like Elaine Paige in "Cats." Most of the act's twist belonged to the gross lower leg prop, which she chewed, licked and humped with delight before performing a canine style strip. Her reveal was absolutely sensational.  I will not give it away, but it was a great cap to a fun and freaky routine.
On stage next was Bettina Spankenhaus (Newcastle), with a hilarious double act involving a dummy of the Phantom of the Opera.  I liked feeling goofy, turned on and freaked out at the same time, and if that's not twisted, I don't know what is! A sneaky peek into the sexy life of Christine and the Phantom, this ventriloquist burlesque was ridiculous, disconcerting and totally entertaining. There were so many things happening that were smart and naughty, but Bettina made it seem effortless, including a seemingly one handed strip; this lady was one of my favourites, for sure!
To finish the first act, another favourite, the scorching and sexily messy Lottie Kixx (Edinburgh) in a tease that was a feast for all the senses. A sort of dinner-for-one turned splosh party for one, I loved the power in Lottie's choreography and moves, she's a fabulous dancer and it was an absolute pleasure to watch her strut, thrust and strip. Showing off the twisted brains behind her striking beauty, there was lots of cheekiness in her dirty foodie dancing (see: spanking yourself with a lobster…) and her final pose, as a naked piggy writhing in cream and mess was quite unsettling and oh-so satisfying.
Our master of ceremonies welcomed us back from the bar and the gorgeous stage kittens/super heroes Tallulah Tonic and Cherry On Fire brought out an array of heavy and dangerous looking props, setting the stage for Canadian duo The Monsters Of Schlock. Boasting the elevation of 'self abuse to high art,' the twosome surely entertained with their violent comic antics and Peter Pan-esque bromance. A crowd favourite Burnaby Q Orbax (a mustachioed Penn) and Sweet Pepper Klopex (a hot Teller) are mutli-talented in their own special way: mixing comedy and pulling fierce Black Metal poses, with enduring the showbiz pain of mice/coyote traps, cinder block sledge hammer smash to the crotch, etc. The show was getting more twisted with each act and the audience was loving it.
Our first burlesquer of this act was the mental and magnificent V.J. Spankie (London) in her ode to The Goblin King. Yes, David Bowie in "Labyrinth," people! A musical mash up of soundtrack favourites, Spankie gave us the best bits of the film and so many hilarious reveals that just got weirder and more wonderful; I can't decide whether my favourite bit was when she revealed the goblin growing on her ass which then serenaded us into 'Dance Magic Dance,' or the way she whipped that dildo like a high school baton twirler, pure glee and commitment. It's the 80's kid's dream striptease and V.J. delivers with commitment and *ahem* cocky charm. Another favourite performance!
The penultimate act is the perfectly monikered BigChief RandomChaos (Dublin) whose show consisted of audience member torture, pantomime stripping to Adele, self harm with thumb tacks, spanking (self, flaming baton and audience inflicted), popcorn making, … and the list goes on! I have to admit, watching acts with audience members in them makes me uncomfortable—I can't explain it, it just makes me incrediblyyy nervous. So I was already on edge when the, commanding and slightly unnerving BigChief RandomChaos pulled a lovely but shy guy, soon renamed Jeff, onto the stage. It's hard for me to remember all that happened, as I sort of felt terrified and elated for the whole performance but was also too transfixed to write much down! I remember him scrubbing under his armpits with lit fire sticks, some interpretive dance striptease in a sort of Ophelia post-drowning dress, which revealed assless white boxer shorts and Jeff's face getter redder and redder. My notes revealed little other than phrases like 'showboat maniac' and 'HEAD ON FIRE'; I was left contently baffled and thankfully confused by this performance, in an all-senses-spent kind of way and it felt cathartic, thanks BigChief!
Our finale act was the nimble and noxious sexiness of Zora Vipera (Berne, Switzerland) in a hot Harlequin dance, she was meticulously styled with a gilded Venetian clown costume, headpiece and make up blending seamlessly. Lithe and feisty, she gave us glamorous circus and cheekiness with her precise choreography and balletic fire breathing; all I was left wanting, was more!
It had been a fantastic night of shock, surprises and many highlights.  Benjamin Louche asked us to hold on tight while the results were finalized, I had a quick dish with Duchess Divine, we did not envy the judges. They came back with big congratulations to all the performers and the results: second runner up: V.J. Spankie, first runner up: The Monsters Of Schlock and the crown went to: BigChief RandomChaos. Bravo all!
For more information visit here.
*Yanks: Read "Jack & Coke," i.e. Jack Daniels. —ED
Rubyyy Jones is a performer, writer and muse specializing in love lust and light. 
All photos ©Barry Goodwin and used with express permission by Burlesque Beat. Performers may use shots for promotional purposes, but please credit properly with photographer's full name and a link to this piece in all instances. Performers who would like hi-rez images, get in touch.