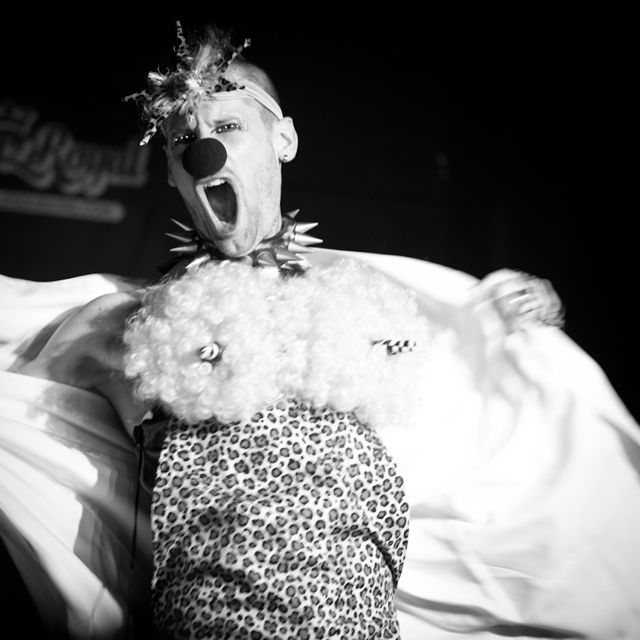 by Rubyyy Jones
Thursday May 10th
Royal Vauxhall Tavern, London
Thursday night, of the World Burlesque Games week, found us packed into The Royal Vauxall Tavern – one of my favourite London venues and a performance hotspot – for the British and International Male Crown shows. This is definitely one of the most anticipated and attended events of the festival and everyone seemed to be feeling that little bit more fabulous. I was wearing my gold sequins (Queer night out uniform) and flashy new Falbala tights, and I had to snap a picture with Duchess Divine and Smokin McQueen, both wearing gold to the max; we were a few of the dozens of attendees in head to toe sequins or drag or next to nothing – best outfit goes to Cherry Shakewell in her glittering eyepatch, platinum mod hair and buttoned-up hotness. Our judges for the evening were a mixture of London scensters: photographer Tigz Rice, ukulele diva Tricity Vogue and 'The Cheek Of It' founder Lady Cheek. Tonight would be compered by the hauntingly hot and twisted brilliance that is Joe Black.
We were serenaded straight into our first act – The Brits! Starting us off was the dapper Lord Ritz in top hat and tails, doing some posh prancing, teacup and all, to that old chestnut 'Putting On The Ritz.' I appreciated his homage to class but also the classic 90's cheesy stripper moments, delivered demurely with a kinky Union Jack finale reveal. Ritz was followed by Duke de Milo, our host for the World Burlesque Games Teaser show, who sauntered in a purple zoot suit to 'Razzle Dazzle' and teased in a gold sparkly strip. I was coveting his gilded tommy gun and it was great to see his cheeky smile, but I missed his delightful draglicious makeup from the Teaser.
Hitting the stage with glamour and gender bending glitz was our next performer, the tall drink of water (probably a sneaky G&T reallyyy) Mr Mistress, in a figure-hugging plum and black tassled gown. Peeking from behind a feather fan, switching between a provocative and alluring gaze, working curves with rising feminine furor before Mr Mistress revealed just what he is made of! Breaking down into a modern bump and grind to 'Do It Like A Dude,' two fingers in the air to male stereotypes and expectations, as this sweet and goofy glamazon embraced his masculine side.
Switching gears into the slow sensuality of loving seduction was Spencer Maybe, supported by the impossibly hot Bettsie Bon Bon, in a voyeur striptease with swagger; naughty, playful and thoughtful, Spencer's act was subtle, smart and sexy as hell. I liked his heroin chic swagger and the little wicked and witty moments as he danced for his imaginary lady love; you gotta love a guy who can sweetly smize while parting his lover's legs with gentle confidence… yeah, not many dry seats in that house. From one kind of hot to another, Hooray Henry in his ode to Britannia with a flaming baton and strip; one of the best 'Rule Britannia' endings I've ever seen and I've seen a few!
BRITish HEart rounded out our British competition with his 'Wild Clown Whore' act in a zany, sexy strip. Rambunctious and raunchy, BRITish HEart entered the stage, a kinky scientist with a quest to find the essence of male burlesque, his discovery is that it's about freedom, about play, about shaving cream being smeared over your privates after you've removed the funny face that was covering your decency and lean, muscled abs. I totally get science now! Topping his OTT look with a black round clown nose, he was vibrant in a leopard print playsuit, pink afro bra bursting with fuschia plumage and many magical zippers, and he gave us some of filthiest, flopping moves I've ever seen. Hooray for science and the British males!
The second act was our Male International show and was opened with elegance by The Great Leo (Ghent, Belgium) who was graceful whilst dancing to a gramophone. His act was charmingly specific and thoroughly delightful. A class act, his strip was natural and simply funny, complimented with magic tricks, wild fits of the Charleston and classic striptease with a debonair twist. Alan Debevoise (Milan, Italy) was grand in his masked geisha garb as he floated through a fan dance and turned it up a few notches as he stripped down to kinky goth disco solider gear and revealed his handsome visage. Redressing into full uniform, thanks to a sexy private standing by to help, it was two acts rolled into one, and his glitter cannon cooperated for the big bang finish he deserved!
Next up, from Greensboro, USA, the beguiling Smokin McQueen and his Banana Dance; a tribute but also a brand spanking new act. I love the twisted sensuality of his energetic dancing and the intensity of his absurd character. This was one talent-loaded night! Shellacked hair, charcoaled cheekbones and lips, his all-American face transformed into a mask of tormented ecstasy and determined sex, he leaped and swung his bananas with panache.
For the International Male penultimate act, from New York City, Go-Go Harder with his glittering Cowboy act; a total bonanza of cocky fierceness, perfect props and leather wit. A slice of kinky apple pie, Go-Go had us from the second he stepped on the RVT stage, bright and beaming boy-next-door hotness and frisky fun, he was as entertaining as he was sexy and definitely an evening highlight.
Our finale was Marcos (Barcelona, Spain) in a homage to Freddie Mercury in a blend of lipsynching drag, back flips, handstands and striptease, all the more impressive on the petite stage; an accomplished acrobat and aerial specialist, I would have loved to see Marcos to the max, but we got a wild and wonderful performance, whimsical mustache and all. All the men were given a massive cheer before the judge's announcement, British winners were second runner up: Spencer Maybe, first runner up: Mr Mistress and crown to: BRITish Heart. International winners were second runner up: Smokin McQueen, first runner up: Marcos and crown to: Go-Go Harder. Bravo to All!
Rubyyy Jones is a performer, writer and muse specializing in love lust and light. 
All photos ©Tigz Rice Studios and used with express permission by Burlesque Beat. Performers may use shots for promotional purposes, but please credit properly with photographer's full name and a link to this piece in all instances. Performers who would like hi-rez images, get in touch.