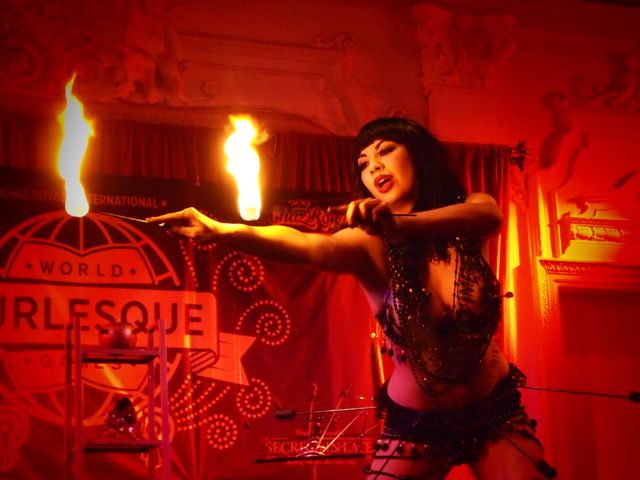 by Aurora Galore
Friday May 11th, 2012
Bush Hall, London
Friday night of the World Burlesque Games week was dominated by the spectacular level of talent present at the British Newcomers showcase; it is a real treat to see an immaculate caliber of performances coming from the up and coming artists of British Burlesque taking the stage at Bush Hall. Hosted by the satirical and self-proclaimed "alcoholic" KiKi Kaboom, this was a wonderful addition to the World Burlesque Games and a ground-breaking start to some of the performers' burlesque careers.
Kiki gave an engaging and seductive opening, teaching the audience how to react to certain levels of clothing removal, along with her protest to receive as much alcohol as she could, resulting in a warm atmosphere in the audience. Her comical songs were well thought-out and delivered to perfection. Elsie Diamond took to the stage first, presenting a witty WWII/ Patriotic act that earned her 2nd Runner Up in the competition. It was exceptionally well timed, and provoked a roaring response from the Jubilee lovers of the audience. Pinky Deville was next to be announced as she elegantly entered the stage head to toe in a lilac ensemble, stripping to an intriguing mash up of 'Sing Sing Sing' and 'Ace of Spades.' The sublime Voodoo Fury then delivered a sacramental performance with voodoo energy in an animalistic nature. Ripping the head off of a rubber snake charmed the audience, leaving her reveal in good spirits.
Ebony Silk's hula act combined traditional hula choreography with the shimmying compositions of 'WipeOut.' Through the quivering of her grass skirt and the surfer girl moves, the smile sustained on Ebony's face ensured the audience indulged in her hula fantasy. Next to take the stage was the dark and daring Raven Six who bled the stage with her dramatic fan dance. Performing to a grand track, Raven demonstrated that a macabre act has just as much of a place in the scene as the light-hearted renditions of burlesque. In contrast, Alabama Love took a comical approach, hula hooping in and out of a monkey suit, compelling the audience to spiral along with her. Aurora Starr's original fire act was ritualistic and gothic, resulting in a smoke-filled room and a need for an outdoor breather; this act also earned her 1st Runner Up.
The second half was pleasantly opened by Imogen Hoops, performing an arial routine, posing consistently in a gold frame attached to her hoop. It was composed as well as sexy; a great act all 'round. Next was my personal favourite, who put the 'bush' in Bush Hall, Rubyyy Jones. The insinuating rendition of 'I Wanna Be Loved By You' was proceeded by an erotic finale whereby Jones went completely naked! Felicity Switch's Japanese/ Kill Bill act combined the naughty schoolgirl with the grit of the Tarantino age. Her prop proved to dazzle as she swung it in conjunction with a reveal; very impressive. Emmanuelle Claire's classic striptease was a different addition to the night, sprinkling fairy dust and slinking through a large ostrich boa. Her poised moves reached the hearts of those with a love for traditional burlesque.
Peggy DeLune's winning act combined singing, Bump N Grind and a life-jacket deploy finale. The deserving winner sung about Chicago whilst dressed as a flight attendant; the rotating aeroplane bra reveal added yet another original touch to the act. Scarlet Cuffs' sexual striptease was entertaining, and granted her a grand cheer from the audience. Despite a music malfunction, Scarlet continued to stay in time, in character and tease the audience exceptionally well. The finale act of the night was delivered by Late Night Shop Cabaret. Their dual burlesque and mime approach was outlandish and creative, and a great end to a great evening. With a mix of music genres, props, blood and excellent characterization, I would say they are ones to watch out for in the future!
All in all, an enjoyable evening and a great representation of what's in store for British Burlesque.
—Aurora Galore is a burlesque and fire performer with a degree in English Literature.
All photos ©Steve Hart/Dress Me Up and Shoot Me and used with express permission by Burlesque Beat. Performers may use shots for promotional purposes, but please credit properly with photographer's full name and a link to this piece in all instances. Performers who would like hi-rez images, get in touch.