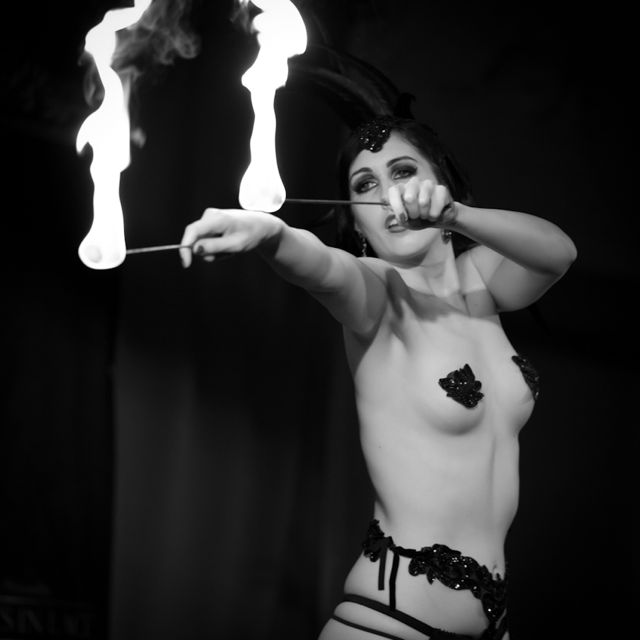 by Rubyyy Jones
Saturday May 12th, 2012
Bush Hall, London
Here we go! Coming into the final competition of the World Burlesque Games week, we were back at Bush Hall for two splendid shows and the British Queens were up first, beckoned into the spotlight by the charismatic compere, Benjamin Louche. Starting us off with a bang, Liberty Sweet (of The Folly Mixtures, London) in a zesty Grecian number, giving us the hotness in her drag-king-Hercules-turned-sparkly-Aphrodite dance. Liberty Sweet is a real pro, loads of energy, lashings of sexy and lots of fun, she was a vision in violet and a great start to the evening's festivities!
Miss Amarettease (London) popped out of a big top hat to debut a new act, looking dashing in barely-there tails, and I almost died when 'Feeling Good' came blasting over the sound system, but I liked this petite princess's light and bright energy and gently smoldering eyes. Sweetness was followed by spicyyy with the blonde bombshell Dinah Might (London), in her hot cat burglar strip. Bursting on stage to sirens, head to toe in hot pink spandex, this show-stopping showgirl gave us her signature blend of kooky and kinky topped with impeccable, innovative glamour. A devastating striptease artist, I adore Dinah Might's mix of raunchy stripper action and polished cheesecake poise. She was one of the fiercest Brit competitors of the night.
Next up was the bouncy hooper, Chi Chi Revolver (Worthing), in a frothy and frolicking striptease. The joy of watching a pretty-much-naked woman spin at least a dozen hula hoops is like no other, and Chi Chi Revolver is a bundle of joy herself, so joy overload! Pretty in pink and ink, it was like punk Barbie goes to the circus, and the speed at which she whipped off her decency was as only an experienced clown stripper can. Changing gears into a more demure space was Eliza DeLite (Leicester) in her graceful and gilded Isis wings piece. Swishing to an orchestral version of 'Like A Prayer,' she's a beautiful little lady, a stunning costume and she has a gentle serene presence. Finishing off the strong first act of the British Female crown is poster girl and Secrets In Lace rep Frankii Wilde (Newcastle) in her air raid warden cheesecake peel, and it was a banging, glittering finish.
The second act of the British Female Crown show was the lithe and lovely Suri Sumatra (London) in a vivid costume with film noir video backdrop and vamp attitude. Bold in black, red and white, I really liked her costume transition from swirling gown to isis wings and her sly character was an alluring one; not many girls can pull off boho art deco chic burlesque, but this queen does it with flair. For further decadence, Suri Sumatra was followed by the firey, and leggy, Fifi Fatale (London), in a signature noir and sheer lush costume and with a fabulous flaming finish. A green goddess took the stage next, as Bettsie Bon Bon (also The Folly Mixtures, London) smoldered and sauntered in an emerald gown, decked out in velvet, feathers, lace and fringe; a sensational costume, yes, but this sexpot powerhouse had all attention on her pout, smoldering eyes and tassel twirls. Seriouslyyy hot, people! I go to lots of shows and I've seen so many talented, entertaining and sexy performers, but very few actually turn me on — Bettsie Bon Bon is a feast of dark chocolate, champagne, cocaine and oysters, velvety Viagra, a veritable aphrodisiac and I hope her boyfriend knows how lucky he is. Uh, yesss, back to the burlesque….
The delicate beauty Billie Rae (Brighton) was next on stage and on pointe in her broken doll ballet, lovely layered costume of pearls, lace and bows, she was sweetness, decaying decadence, it was as if a fine layer of dust covered every inch of her. Pulling out tricks on her toes and pearls from her throat, she finaled with a graceful fire-eating finish.
The classic glamourousity continued as Tallulah Blue (Leicester) took to the stage in stunning crystal finery and maxed out feather action. Like her costume, her fan work was layered and luxurious.
On stage next, our penultimate performer and one of the few neo-burlesque acts of the evening, the ever-blossoming Coco Deville (Brighton), in a story of love learned, lost and lifted, interpreted in a harlequin turn delivered with depth, dignity and emotive choreography. A class act, Coco Deville gave us modern striptease to Arcade Fire that channeled the diva dancers of days gone by, absolutely scrumptious with a gold glittering final pose. Rounding out our British Female show was the scrumptious Venus Noir (Bristol) in her elaborate spider act with incredible costume and innovative transitions, her many reveals had many showgirls envious!
Massive cheers for the British Queens and the titles went to: second runner up, Bettsie Bon Bon; first runner up, Venus Noir; and the crown, Eliza DeLite.
Rubyyy Jones is a performer, writer and muse specializing in love lust and light. 
All photos ©Tigz Rice Studios and used with express permission by Burlesque Beat. Performers may use shots for promotional purposes, but please credit properly with photographer's full name and a link to this piece in all instances. Performers who would like hi-rez images, get in touch.