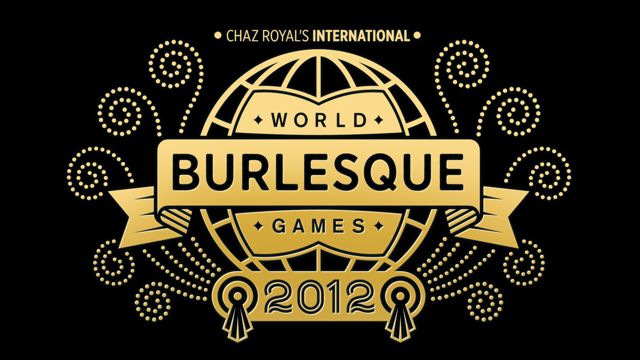 by Rubyyy Jones
Saturday May 12th, 2012
Bush Hall, London
I can't believe it's the final show and though I'm definitely working through a little burlesque burnout, the sensational costumes, bumping bodies and copious amounts of glitter (see: whiskey) are pulling me through and into the International Female crown competition!  Mastered by the marathon host-o-rama Benjamin Louche, the show started off on a sultry note with the dark and delightful Harlot Deville (Dublin, Ireland) in a 'Minnie The Moocher' strut and strip that was polished, poised and perfectly pouty. Keeping things strong and sexy was Miss Anne Thropy (Paris, France) in a fabulous, juicy bump and grind routine that I adored. She has the most delicious body, peaks and valleys of delicious ivory flesh, and with her fruity headdress and candy-apple red gown, corset, the works, I could have eaten her up in a minute. Her flashy get up was icing on cake, I loved her slow and grounded grinding, her smiling shimmys and her coy, confident striptease; putting the emphasis on tease, hot exotica striptease, oh yes please.
Stunning, confidently cool and a tasty pastie reveal led us to Cat Aclysmic (North Carolina, USA) in her innovative and saucy 'Fire and Spice' routine. I was lucky enough to see this act in Leeds at The Wet Spot, though as we were on the same bill I had to peek from the wings, so I was excited to get the whole sizzling experience. Hot and cool in a stunning sequined gown, she gave us kind eyes and hips, showing off her never-ending limbs. She turned the temperature up that much higher by stripping, eating flaming take-away nibbles and tossing fire tassels, Cat Aclysmic was red hot!  Next on show was the mini marvel Marianne Cheesecake (Toronto, Canada) in her revamped Avon routine, she was all eyes, elegance and exact glamour; not to mention the sexiest lingerie of the evening and also, quite possibly, best butt – no mean feat.
Bringing some energetic hotness to the evening was mover and shaker Cherrie A. Dorable (Tampere, Finland), one of my favourites of the night with her high voltage kicking, shimmying and flesh flaunting in a zesty bright bombshell package. Classic, energetic and looking a bit like Zsa Zsa Gabor meets "I Dream Of Jeannie" (that's a good thing!) she was fresh, electric and refreshingly fun. To end act one, some circus stripping, as Melitta Honeycup (Hungary, Budapest) performed a dizzy dance, winding above the stage on aerial silks, thrilling us with tricks and twists and some burlesque-inspired moments.
The final competitors for the Female International crown were ready to hit the stage and we started things out red hot, all the way from Chicago, USA, it was Red Hot Annie in her inventive and cheeky painted lady strip. Colourful touches, ticklish glamour and some masterful tassel work, we were off to a saucy start! Next up, was another diva, the crazy beautiful Bonnie Fox (Perth, Australia) in purples and poofy plumage with feisty moves and energetic bump and grind inspired by New Orleans. An absolutely stunning lady, an exquisite dancer and she worked her gorgeous fans with power and elegant precision
Bringing bushels of glitz, frills and whimsy, our next act was Marlene Van Steenvag (Berlin, Germany) in a celebration of springtime, with lots of costume layers and surprises. By far the coolest pasties of the evening, you'll just have to see her in action, I don't want to give away the all showgirl secrets. Strutting next, the hard-hitting Honey Cocoa Bordeauxx (Texas, USA) in a rippling and ravishing striptease filled with punch and power. All face, bump and grind, Honey gave it to us with pleasure and panache, a vision in gold and leopard print. Lada Redstar (Berlin, Germany) spread her wings, and the joy, with her signature version of the butterfly routine, complete with glamourpuss mandibles and vast vivid wings; not to be upstaged by vast fabric and ornate feathers, Lada Redstar delivered the potent and commanding performance of an accomplished pro. A gorgeous finish, sparkling green insect glamour, she took hold of the stage and the audience and let us know who was the sexy stripper boss. Our penultimate act was the shimmering Miss Orchid Mei (Denver, USA), sparkly and sensual in a pastel pink gown and moniker-encrusted stole, a mixture of shy sweet peeking and wild whipping, she closed her act with a fuschia fan dance.
Our fearless leader, Benjamin Louche returned to stage with our WBG super heroes in tow: Tallulah Tonic and Miss Cherry on Fire, the resident stage kittens who, like all the lingerie-clad helpers and merch girlies, are the unsung heroes of the World Burlesque Games! They were about to show off their showgirl sides as they became sexy servants, in Vivi Valentine's (Paris, France) gilded goddess routine; an act more about the power of feminine prowess than the power of the reveal. A tight mystical number with lots of edge, pomp and ten times more glitter! A golden statue of Vivi Valentine bowed to finale the act. What a show, those poor judges!
All the Female Crown performers were welcome back on stage, to raucous cheers and the announcement was made: second runner up, (tie) Vivi Valentine and Miss Orchid Mei; first runner up, Bonnie Fox; and the crown to Lada Redstar! Bravo all!
We wrapped up an awesome show week on Sunday with a party back at Madame Jojo's with shows from all the crown winners.
Rubyyy Jones is a performer, writer and muse specializing in love lust and light.