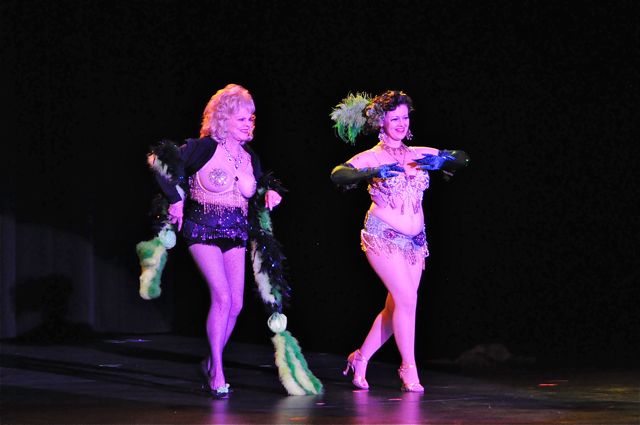 by J.D. Oxblood
Friday, June 1st
Orleans Casino Showroom, Las Vegas, Nevada
"The first time I saw stripteasers in their sixties and seventies receive huge applause at the Exotic World ranch, it changed my life. If there is one thing sexy women are not supposed to do, it's age, and if they age, they're supposed to disappear, or at least cover up appropriately." —Jo Weldon, The Burlesque Handbook
Everyone has their story that begins, "The first time I came to Burlesque Hall…" which is proof that the BHOF can be a transformative experience, that people like to brag about how long they've been coming, and that people are—by and large—fairly unoriginal. Even in our acts of defiance, we tend to migrate to the middle. On the flight to Vegas this year, I read an article by Anthony Burgess in The New Yorker, in which he said, "Even rebels against conformity find a conformity of their own—" and went on to describe the accoutrements of the hippies of his day, but could just as well have said, "fishnets, rhinestones and shades of red hair that seldom appear in nature." In a room full of outlaws, the square stands out.
The first time I came to Burlesque Hall, I realized what an idiot I had been and how little I knew about burlesque. As Tigger told me, "THEY are the reason we're here," and I shouldn't have to tell you whom he meant. They were outlaws before we were born, they've shown us how to wave our freak flags, and they exemplify a system of values that so many of us think we invented. When you see these women strip for you, in defiance of age, gravity, societal norms, history and even—at times—good taste, you know you are witness to glory. And you know that you're only strange in your own little corner of Minnesota. Here, you are alarmingly normal. Welcome home.
That's right, I'm talking about the Legends—our foremothers, our fucking heroes. We all have our favorites, but we love them all deeply. Listen to the screams as they take it off.
This year, the Walk of Fame featured Alexandra the Great 48", April March, Bic Carroll, Di Alba, Eartha Quake III, Gina Bon Bon, Kim Summers, Tai Ping, and Velvet Ice, and was emceed by Daryl the Sexquire Guy, son of the late great Joan Arline, who looked so glamorous and at ease last year it's truly shocking that we lost her. It was a rough year for our community. I hadn't heard the news that Candy "Baby" Caramelo had passed, and choked up to see her name on that screen. The Big C was rough on my generation this year, taking both Diane Naegel and Julie Vogt from us far too soon. We're here to remember, but also to celebrate those who have so far dodged said reaper, like the Great Beaver, Judith Stein, who couldn't make it to BHOF, but we trust will be back next year, fiercer than ever.
First on the list of those who ARE here, our hostess, all pink sparkle like a Hostess Snowball—only more delicious—World Famous *BOB*—you know, it was Dirty Martini who turned to me at the bar later that night to say just how perfect *BOB* is for this job, and it's so effin true. She's made for the gig, with the perfect blend of don't-muss-my-eyeliner choking back tears, sensitive encouragement to the ballsiest of heroes, and don't-fuck-with-my-house battleaxe Mom. She emcees the Legend night for everything it is and everything it's worth. Bless you, *BOB*. May I always remember your dictum that "the word 'No' bounces off of sequins."
One of my favorite Legend stories mixes tragedy and rebirth. I mean Dee Milo, who repented her stripper ways to return to the bosom of the Mormon church, and actually burned all of her costumes, her music—everything. Burned it all up. It was years later that her daughter, playing in the attic, stumbled across a particular red dress… one that had somehow escaped the fire. Enter Dee Milo, in THAT red dress, striding to the tune of a woozy trombone. She tosses off her jacket like it's nothing, and with a gentle circular movement of her hips, unzips and drops that special dress. Making up for all those lost years of hotness, Dee bumps and grinds, shakes her ass, and twists her scarf in slow motion, pulling it through her special place. Damn, and we're only getting warmed up in here.
Ellion Ness honors us with her signature stocking act, entering to a double-spot ballyhoo. Upstage with her pink boa, the bongo music gets her going and she moves downstage to get out of her pants. This is all about her chair work, after all, and it's truly amazing the way she crosses her legs, pushes the stocking down, pulls the stocking, stretching it, and then—POP!—pops it away from her hand, but holds the stocking in her toes so that it doesn't go flying. For her second stocking, she keeps stretching it, keeps stroking it suggestively. And check out THIS ending—the personal touch that the New Burlesque so seldom indulges in—she takes OFF her pasties (hidden behind her boa, of course) and GIVES them to the audience. BA-NA-NAS.
The ever-popular Haji brings us her Egyptian dream of turning into a bird, from stunning Cleopatra headpiece to more subtle moves, such as the fierce quick click of her bracelets, and an almost invisible snarl. Tammi True—whom I've been dying to see strip since she graced us with her presence on the Panel last year—proves that you don't mess with Texas, walking into a bright spot on the floor in a diaphanous black negligee that is completely see-through, and working a comely sway that reveals… just about everything. This girl is durty, and makes me miss Texas in a way I ain't proud to admit.
Holly Carroll is still a serious professional. Hair: perfect. Legs: perfect. Attitude: Fuck you. She stalls for the sound crew to get it together without missing a beat—"Every girl needs a good SOUND man," and as she sings "Fever" she takes the act right into the house. For her second number, she lip-synchs to Ray Charles in her sparkly white bra and shakes it, really dances it up, giving it her all. This woman defines "spitfire."
And Viva La Fever, who's been coming a few years now and even gogo'd with the Devilettes back in 2009, performed her first strip since 1980, and it was an absolute treat. In a long silver dress and long white cape, she began with a simple walk, letting the costume billow and hypnotize us. She hooks her ass with the cape, giving it a pull, rubbing her hands all over her body—need I say "suggestively?"—and doing that fab Marilyn hair push. She removes her fur-trimmed dress, pulling it up the center of her body, so sensually, to reveal fur-trimmed bra and g-string, and I'm reminded of the 70s slang, "hot fuzz." Opens her bra matter-of fact, and we're into a tempo change, a strut, a wiggle, and wow—her ass is fantastic, and look at that big smile! Viva Viva, that's all there is to say.
Bambi Jones is going to get us steamed with her one-liners before she starts stripping, and this girl is hilarious. She finally says, "I'm gonna take it all off, coz you rat bastards deserve it," and I've never been so elated to be called a rat bastard. About her tits, she says, "They're not very big, but they're clever," and admits that one says to the other, "Don't hang so low—people will think we're nuts." And then—bam—a black light act, as she shakes it with white gloves on her tits, and turns upstage to deep-straddle a chair with white gloves on her ass, working that lap dance for her invisible client! As she turns downstage, she's working another white glove on her best bits, and spins one big tassel before spinning her long strand of pearls all the way around her neck—filthy/gorgeous! Gets into a red robe, crazy hot in a black teddy, and almost to the wings… she lets her hair down. Exit. That's how you do it, kids.
But you can also do it like this: Splay your deliriously hot body out on the couch as the lights come up, throwing 60s-era lava light across the room as you hit a hookah to Jefferson Airplane's "White Rabbit," and move your arms suggestively in wide, sweeping gestures that become intoxicating all on their own. Get up slowly, cross-step, and pull a circular hip wiggle that's as strong as THC. Build with the climax of the song, sure as your name is Shannon Doah. For the Doors' "Hello, I Love You," rub your ass upstage, put your arms out and shake those lovelies, and unzip up your pants leg to show off that amazing derriere. Grab an orange boa as you step into your third song—one hand on your hip, now a two-handed tit rub—show them what they're missing! Arms out, a finger beckons to the crowd, all smooth and easy as you strip to your bra and panties. Arms up!
Shannon Doah, you are sex in a spoon.
Penny Starr Jr. performs a pas de deaux with her grandmother, Penny Starr Sr., which means the stage is holding 122 year-old boobs. They take turns and then dance together in what may be one of the sweetest acts seen on this stage. And in her first appearance on this stage, "the Sepia Sally Rand"—man, that tagline tells us so much about our nation's past that is just not flattering—Jean Idelle, who is so wonderfully present it just brings tears to your eyes. She's shuffling, but look at those giant sweeping gestures with her white fans! She works a clamshell to "All of Me" and walks it across the stage, unzips her skirt and drops it behind her fans, finishes with her arms raised, shaking her pasties and fringe. This gorgeous lady gets a standing ovation, and milks it, shaking it all the way stage left to exit.
That would have been enough for me, but we weren't done yet, as the consummate lady La Savona accepted this year's Legend of the Year award. Of all her travels and all her accomplishments, the thing she kept repeating, the thing she was most proud of, was her marriage to the man she loved. Not a dry eye in the house. Congratulations, La Savona, and to all of you wonderful ladies—including fab fellow performers of the evening, Gypsy Louise, Georgette Dante, Val Valentine, Gail Winns, Wild Cherry, and neo-Legend Kitten DeVille. We're looking forward to seeing all of you again next year.
The biggest of kisses,
JDX
All photos ©2012 Melody Mudd for Burlesque Beat. Please respect copyrights and contact melodymudd@gmail.com for permissions. Performers may use shots for promotional purposes, but please credit properly with photographer's full name and a link to this piece in all instances. Performers who would like hi-rez images, get in touch.