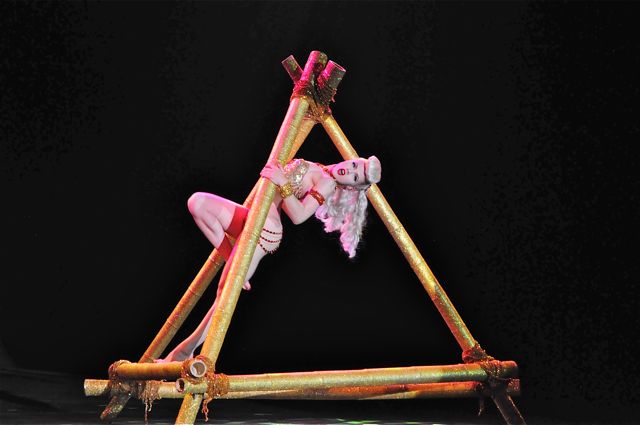 by J.D. Oxblood
22nd Annual Tournament of Tease: Best Debut
Saturday, June 2nd
Orleans Casino Showroom, Las Vegas, Nevada
Winners:
Most Comical: April O'Peel
Most Innovative: Koko La Douce
Best Debut: Ruby Joule
First post is a tough draw, be it the Belmont Stakes or the BHOF, but New Yorker Calamity Chang did us proud, setting the evening off well with her 60s lounge music, red attire and snakelike, seductive gestures sucking us in. Calamity effectively used some subtle fan feathering techniques, working the fans close to the ground, and I liked her slo-mo finger drag across her own shoulder. Minority performers like Calamity—and yes, non-white performers are still the minority in burlesque—remind us that if we really get the yen for Golden Age stereotype acts, we can at least get a performer of the proper persuasion to exploit herself.
And holy crap, NYC represented FIVE of eleven slots in this year's Best Debut, which says something about our breeding ground for hotness. That being said, I can't help but wonder if some New Yorkers cast dice against themselves by entering acts that may not be built to "scale up." (We only have a couple burlesque venues in New York with stages the size of the Orleans.)
Cleo Viper—who possesses an expressive face, just delighted in her own skin—gamely turned in a butterfly act that we can only imagine was dialed down a bit since she was performing with a broken pinky toe. You just can't keep the girls off this stage! Sadly, Gin Minsky's act suffered from sound issues—the music levels were dropped in an attempt to make her taps audible, which only made the room feel dead, since you still couldn't hear her taps unless she was dead-center, inches from the only stage mikes. I was disappointed, because I know first-hand just how amazing that act is and how terrifically Gin can sell it.
Having a great night depends on many moving pieces, some of which you ultimately cannot control.
April O'Peel, on the other wing, henpecked the entire stage into submission. In a dress made mostly out of yellow rubber gloves—with two on her tits and one on her head like a comb—and red stockings, she was every bit the sexy chicken. Stops, still; looks at audience as chickeny as can be. Moving balletic, she catches a big balloon, and spins it, bumps it, and grinds her ass on it with pure wincing delight. Then a timed routine that is majestically silly: ball bounce, nix bra strap; ball bounce, nix second strap; ball bounce, unhook bra—ending in a big pop of yellow feathers and glitter. Sheer joy. Now, April got awarded a prize for "Most Comical," which I love, but I am a bit weary of this imaginary line between "sexy" and "funny." Damnit, funny IS sexy, and April's out-of-control sense of humor is as sexy as Madeline Kahn. We're all wired to find a sense of humor attractive, as much as—if not more than—a rockin' bod. Besides, funny is DIFFICULT. If you're built like Marilyn, being hot is as easy as chewing gum, but no matter what Goddess gave you, being funny requires control, precision, timing, a third eye on the audience at all times and—most of all—a willingness to fail. Dishgloves off to you, April, you're one sexy piece of Kentucky Fried.
The more people I meet and discuss burlesque with, the more self-conscious I get about my own opinions. It's natural in an industry that is so insular and family-like—by which I mean snippy and grudge-holding as well as loving and forgiving. As a straight man, it's hard not to fear accusations like, "You like her because she's thin and Barbie-doll," sentiments I certainly brought on myself in my early days of writing about burlesque in the cattiest voice I could muster. But I like Jo Weldon's sentiment from The Burlesque Handbook, talking about the stylized look of models in fashion magazines:
"I just enjoy them along with the many other body types and appearances I enjoy. This is not because I am so enlightened, but because I want to live. I want to love life. If I'm open to all this, life is more fun."
I want to love life, I like what I like and I can articulate why, and two acts that I liked in Best Debut come from my home city's closest competition: The Big Smoke. By all reports, the scene there is more classic than New York's, but with more crossover into cabaret, and has hands-down much better venues.
Banbury Cross, using a classic musical selection and calling herself "Mini Monroe" (sigh. Taglines, people. It's a creative exercise) stormed onto the stage and got right into it, strutting her long legs in silver platforms, flouncing her boa skirt. This is a classic act that stands out to me in its sheer aggression—it happens at hyperspeed, you blink and you miss it. Bites a glove, leg on chair, waves to crowd; floorwork, leg up, nix stocking; struts downstage and teases us with her corset; once it's off she does a little "Tune in Tokyo" before moving into a boa tease, and dumps glitter from a champagne bottle. Everything done slick, quick, and exact, with an exceptional exit, giving the tiniest of kicks just before hitting the wings.
Kitty Bang Bang, whose pointe work I enjoyed at last year's Mover's & Shaker's show, chose another classic burlesque tune, Henry Mancini's "Pink Panther," and popped up out of a glittery trash can baring her pink claws. She struck a wicked pose, arched back, ass up, and moved into pointe, stepping on her glove with a toe to pull it off, and quickly moving into a drop splits. My note from shownight reads: "She HAS the crowd," by which I mean that hard-learned technique of commanding an audience exactly where to look at all times. Pulling her black boa from her waist she takes two steps and rubs it across her pert ass, waving at audience and demanding noise for her garter tease. She moves upstage. Turns to look at us. Drops the panties, shakes her ass, and turns downstage for the final reveal. Classic, with pointe, plus English good taste. I can't wait to get to London and see this darling do something nasty.
Switzerland's Koko la Deuce entered as a giant bouquet of roses with legs, and only after an assistant in the wings held the ribbon did she spin out of the paper and onto the stage, holding her roses and hiding behind a red veil. The music sent her into a tango, and in a quick 1-2-3-4 she planted her roses, took off her top, unzipped her rose skirt and whisked it off to play toreador. As the music shifts she moves her veil to her waistline, sticks a rose in her teeth and dances, taking a rose in the heart which begets a ribbon of blood. Koko is a leggy brunette with a big smile, and leans into a natural crescendo with big kicks, a back sumersault, a confetti cannon and a big bow, blowing kisses.
Another overall crowd-pleaser was the leggy blond Angeleno known only as Mosh, who strode to a fierce drum tattoo in her 40s bangs to climb a pyramid made of giant Lincoln Logs. Her "golden jungle fantasy" involved climbing, posing and stretching out on her jungle gym, displaying all her wares from tableau to tableau in what was ultimately a long… slow… tease, with a long-term spellbinding effect. In direct contrast to other, faster acts, this one worked its magic slowly, and left a lasting impression long after she'd left the stage.
—JDX
All photos ©2012 Melody Mudd for Burlesque Beat. Please respect copyrights and contact melodymudd@gmail.com for permissions. Performers may use shots for promotional purposes, but please credit properly with photographer's full name and a link to this piece in all instances. Performers who would like hi-rez images, get in touch.