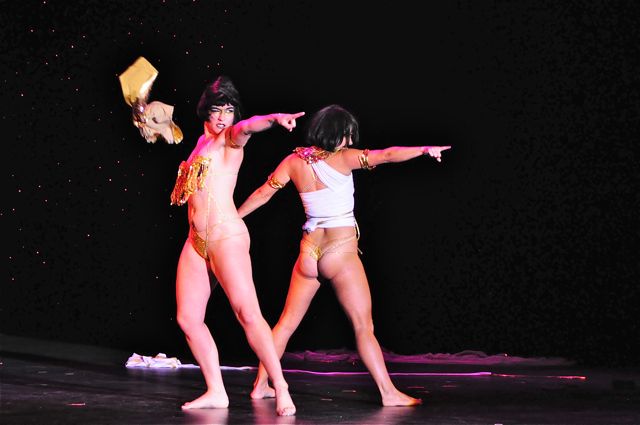 by J.D. Oxblood
22nd Annual Tournament of Tease: Best Troupe, Duo, & Boylesque
Saturday, June 2nd
Orleans Casino Showroom, Las Vegas, Nevada
Winners:
Best Group: The Peek-A-Boo Revue
Best Duo: Frenchie Kiss and Jett Adore
Best Boylesque: Russell Bruner
Then there are those "other" categories, some of which have been banned to the ether (Variety), some seem to engender nothing but good times and booming crowds (Group) and some have been known to keep the judges deliberating for hours (Boylesque). Best of all, these categories are mercifully shorter, and give a much-needed respite between the marathons of Debut and Queen.
Strangely, the East coast of the U.S. doesn't mingle the way Europe does, and we're shamefully uneducated in the average weekly scene of cities as close as Boston or Philadelphia. The Peek-A-Boo Revue, from Philly, gets points from me on the front end simply by showing up with a live band. This is pure fun stuff, top hats and tails, two bad boys who almost rhyme "finger lickin" with "stick your dick in" before submitting to good taste. This is a big old-fashioned hootenanny, with more ladies to look at than you even have time for.
Babes in Boinkland claim to be from Cambridge, Mass, which is another way of saying they're too cool to be from Boston. Laying on us their version of "The Slutcracker," they go all out with their princess in the center surrounded by a fluid curtain of legs, like synchronized swimming without the water. This is a delightfully fun act, mixing punk rock attitudes with pointe work, maypole steps with group stripping, and features some truly extraordinary-looking beauties.
The final group… aw, fuck, I can literally hear the Vancouver section of the house screaming wildly before I even type the name… the Screaming Chicken Theatrical Society. If there is any group in burlesque that does it because it's fun for THEM, no matter what you think, it's these breasts of the Northwest. I love this act—which I believe was choreographed by Melody Mangler and April O'Peel. It is 100% Busby Berkeley, and if you don't know who that is, shame on you. They filmed the act from above, and treat us to the aerial view while we're watching the side view live—so fun. AND such a wide range of types you're sure to find six of your favorites. Pure Canadian gold.
The hot-ass Chicago badasses known as Stage Door Johnnies seemed to have a monopoly on two categories this year, with compatriots Ray Gunn and Jett Adore competing for both Boylesque crown and Best Duo. What was fun about these dueling swords was seeing their individual personalities when taken out of the "Stage Door" context. Ray Gunn is a little weird, a little dark. The video backdrop for his boylesque routine was fantastically twisted, with quick cuts—close-up to wide—that was disorienting even if he weren't performing in front of it, and I salute him for bringing back that seldom-used trick of yore, the rear-screen projection, which allowed him to cast his own shadow on the screen while we watched both his act and the film. Even his duet with Jeez Loueez had a bit of rumble to it—the two were competing in a dance contest, but with ample fucking up, and more than once Jeez had to smack him. This was a fun act, and a little dangerous, since acting like you're making mistakes can sometimes be misconstrued as making mistakes. Jeez is a light-footed, sure-stepped dancer, and together she and Ray made a darling and impressive pair.
Jett Adore went more Miami with his boylesque act, all fur and vinyl, stripping to a vest and boy shorts both with criss-crossed backs of corset ties. For his duet with Frenchie Kiss, we must raise a glass to Frenchie—she's more well-known for cutesie or funny acts, and here she proves that she can do straight-up hot as well as anyone, in an office do-it session with one of the hottest boys around.
But for Duo, I gotta get down on my knees and worship at the feet of our Egyptian Queens Lola Frost and Cherry On Top, and no, it's not the whole lesbo-fantasy thing that got me going—in fact, knowing them, I had expected the lesbo-action to be more forward than it actually was. This act had the thing that gets me most hot: specificity. Every move, every movement, every pose and every reaction was timed to the music and executed to precision, from the tug-of-war tableaus to the mummy-rific spin outs, navigating their complicated costumes and negotiating every inch of the Orleans Stage. This act was gangbusters. For instance: Leg on shoulder—hair pull—both nix their shorts—arms in unison, back to back—that head-throwing!—a great spinout. Yes, I agree, my notes don't do it justice. I only hope I get to see it again.
Also competing for boylesque was the enormous and beautiful newcomer Mr. Gorgeous, who held his own against the establishment with his "Gone Fishin'" act. Tips for applicants: the Orleans does not allow the use of water on its stage, so this can be a hindrance. I think Mr. Gorgeous wrapped it up (or unwrapped it, as it were) nicely, but I was hampered by the knowledge of how his act usually ends.
It was a major upset in Boylesque this year, as the winner took all with the disadvantages of a) using old-school Vaudevillian skills and b) being straight. Russell Bruner enters looking like a mustachioed reject from a Mark Twain casting call, does a couple Buster Keaton hat tricks, and throws his hat at a hat rack, missing it. "Awww…" goes the crowd, and freshly endeared, Bruner dances with the rack, then gives it a spin which he mirrors perfectly with his body—this is some training in action! Now working his cane, he spins it and bounces it off the floor, now bending backwards, with the cane for support, to an impossible angle. He steps into the house to stretch his suspenders across the aisle and rolls out of his pants—and by this point, has the crowd in the palm of his hand and can do whatever he wants—even do the "tuck" popularized by "Silence of the Lambs" without seeming creepy. Big ups to Portland, which has created a burlesque scene in spite of having more strip clubs than gas stations, and congrats to Bruner—we can't wait to see what you do next year.
Kiss kiss,
JDX
All photos ©2012 Melody Mudd for Burlesque Beat. Please respect copyrights and contact melodymudd@gmail.com for permissions. Performers may use shots for promotional purposes, but please credit properly with photographer's full name and a link to this piece in all instances. Performers who would like hi-rez images, get in touch.