by J.D. Oxblood
Saturday, June 2nd
Orleans Casino, Las Vegas, Nevada
I've said it before: What is the most sexy part of a woman that you've never seen at a burlesque show? Her voice.
And what could be more lovely than a beautiful woman reading to you? Reading while completely naked, obviously. It's just more intimate that way. Plus you get to see her naked. Plus, you get to forget that she's naked as you get wrapped up in what she's reading, and then remember all over again that she's naked. If you haven't been to an NGR show in your home town, you're watching too much television.
A modest admission fee gets you onto the top floor of the Orleans, with nicer furniture and nicer carpet than the other hallways, and faux wrought iron buttresses leading the way to the suites. The main room of the suite is decked out in couches and chairs, enough to seat the twenty people or so gathered in anticipation, facing a full-length bar—why are there no cocktails being served?—backed with barstools that are soon occupied by the satin-robed Honey Halfpint, an alluring member of the Chicago Starlets; Rosie Bitts of Victoria, which I believe is a mythical island off the coast of Vancouver, a cute-as-a-button blonde; Miss Polly Wood, whom I'll return to in a moment; and NGR founder Michelle L'Amour.  All four remove their robes and are quickly revealed to us in all their glory as they take their seats and prepare to read. Melody Mudd leans in to me to ask of Michelle, "Are those Christian Louboutins?" The shoes, that is, the only thing Michelle is wearing. A word about the difference between men and women: I find "Sex in the City" insufferable; I only find one of the women sexually attractive (the petite brunette, natch), so when she's not on camera I can't follow the insipid storyline and change the channel. Women can't get enough of the show, because you never have to wait more than 20 seconds for a money shot of wonderful SHOES. So between the shoes and an otherwise naked Michelle, full-on live male/female porn is already in full effect. Let's start the reading.
We begin with a round robin of readings from Camille 2000's book, which is fun since Camille is sitting on a couch near the front. We learn, through lovely voices, how strip clubs put burlesque out of business just like burlesque had put vaudeville out of business. Rosie Bitts, in particular, is a pleasure to listen to, with a mid-tenor voice, almost flinty, that leans into descending endings. Polly Wood is truly very lovely, with beautiful, pert breasts, and reads simply, wide-eyed understated, and has the faintest bit of gravel in her voice, mid-tone, almost like an oboe. She draws one of the best readings, telling us about how Camille put rat poison in the food of a girl who had wronged her—so matter-of-fact—and then yelled at the girl as she was convulsing, "Get out of my house, you can't die here!" But Camille remembered, "That girl gave the best head."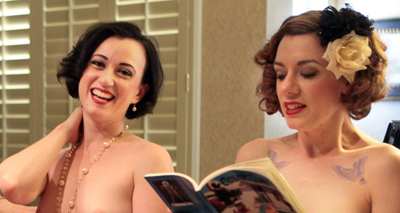 It's all about burlesque today, as Honey Halfpint reads from Dusty Summers' "The Lady is a Stripper." Polly Wood reads from Michelle Baldwin's book, and Halfpint reads from "Striptease Artists of the 1950s," attempting to answer the question, "Why do women go to striptease shows?" She offers several answers, but I think I already know: to look at the SHOES. Rosie Bitts takes us to school with "Legendary Stars of the Stage," teaching us that another name for G-string is "gadget," and to do it "Boston style" means cleaning up an act, which explains Lily Ann Rose's tagline, "Banned in Boston." Rosie Bitts reads from a play she co-wrote with others, with delicious lines like, "I like being tiny. And I like being picked up," and the delectable line, "He made love to me in that dressing room without even saying a word," sending a sexual thrill moving through the room.
Michelle L'Amour, after telling a harrowing tale of a photoshoot under a demanding mistress (um, hot), reads from Holly Carroll's "The Chosen One," which teaches us that Holly's most important prerequisites for a man are that he has to "smoke a joint and love to eat pussy!" Which by today's standards seems both easily fulfilled—who hasn't smoked a joint?—and potentially impossible: today's widely available internet porn does not teach our young men the joys of eating pussy. And no, the joy of watching a young woman eat another woman's pussy is not the same thing. I weep for the sexual fulfillment of our young ladies. If I were a fourteen year-old boy in 2012, I'd never leave the house.
But my favorite reading, and the book I'd most like to pick up, is "Candy Barr: The Small-Town Texas Runaway Who Became a Darling of the Mob and the Queen of Las Vegas Burlesque," as read by Michelle. "Juanita was a prostitute. Candy Barr was a dancer." Espionage workers call this "compartmentalization," and any of us who use more than one name in the course of our daily lives utilize it to a certain extent. I find it fascinating—how a human can occupy two spaces at once, hold two conflicting viewpoints at once, tell the truth and lie at the same time. "Compartmentalization" may well become the title of my bio after J.D. Oxblood beats the "real" me to a book deal. (And I'd always planned on calling it "Overslept.")
On a tangential note, I recently read an engaging story by Jennifer Egan, which originally appeared as Tweets, proving that Ms. Egan is unafraid of bold new moves. I've seen Jennifer read several times, and she is not only a) a great writer, but b) a fantastic reader and c) smokin' hot. 
Yo, Nasty Canasta—can you book Jennifer Egan to appear at an NYC NGR? I will pay DOUBLE for that ticket, even if she won't go full monty.
I'll hold my breath.
Kiss kiss,
JDX
All photos ©Don Spiro and used with express permission by Burlesque Beat.