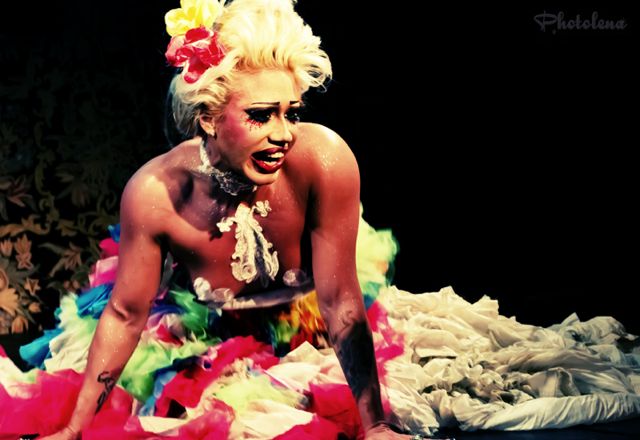 by Photolena
Friday, May 25, 2012
The Gladstone Hotel Ballroom, Toronto
It was one of the most-anticipated burlesque events of the year, put on by one of the most respected troupes in Toronto – Skin Tight Outta Sight Rebel Burlesque, one of Canada's pioneers in the Burlesque Revival – who also just happen to be the founders and organizers of Toronto's biggest annual burlesque festival  in July. And this year, I had a front row seat and media pass to shoot the fabulous acts that graced the Gladstone Hotel Ballroom stage!
For this year's event, the troupe reached out to their adoring audience via social media by way of Facebook poll. The question: Which favourite classic act would you like to see each member of the troupe perform at the show? Now that's audience engagement for you, and I have to admit that the many times I have seen them perform, there were some classics on the list that I had never had the privilege to see. Here was my chance to influence the sets, the flow of the show and the costumes. It made me feel like I was part of the production!

Our host for the evening was none other than Toronto's own Keith Cole – queer artist, performer, sometime drag queen and provocateur who ran for mayor of our great city in 2010 with the campaign slogan of "Get Over It!" How fitting for a show billed as "Outlaw". He was the perfect emcee for this event and kept the audience in stitches throughout the evening.
On to some of the highlights of the evening  –  performances that were completely new to me, some resurrected for just one night…
STOS troupe member Honey B. Hind performed two numbers – Blue Skies and Clutzy Stripper – both classics that were from her early days in burlesque and ones I had not seen before. I was completely enchanted by her Blue Skies set  –  a beautiful number that had her all dolled up as the famous Madame la Dauphine, Marie Antoinette, complete with tall blue wig and blue gown with hip bustles.  As she teased her way out of her heavy gown, we got a peak at the metal hip bustles beneath – too kinky, I need to get me a pair of those!  The final reveal had her in a very ladylike blue corset with matching pasties and sweet pretty blue and white bows on her thighs. This gorgeous gal is definitely not eating cake!
The ball was also the first time for many of to see the kickass stylings of STOS member Mena Von Fleisch who looked absolutely scrumptious after becoming a burlesque mama! Mena revived her extremely popular Reich of Fleisch routine and, decked out in army jacket, leather pleated mini and sporting a sexy eyepatch, she had the entire audience catcalling while she twirled twin German flags. Her energetic and regimented strip revealed a leather bustier with fur bra that you just wanted to reach out and pet, mrowr! With military precision, she peeled down to tight little leather bottoms and gorgeous red pasties and ended her set with another set of flag work that included not only twirling and whirling but also some creative and truly decadent ass smacking. Naughty Mena, naughty, naughty girl!
STOS partner in crime, Sauci Calla Horra, brought two of her original sets out especially for this event – Babs and Venus Rising. Although I've had the opportunity to see her Venus set before, the Babs set was a completely new treat for me. Think Yentl meets Rocky Balboa. Yeah, pretty sweet! When Sauci stepped out on stage in full Yentl (as a boy) gear, holding a candle and singing along to Papa, Can You Hear Me?, I had no idea what to expect. I love Babs as much as the next musical lover, but out of all her movies to do a burlesque routine to, I thought maybe Funny Girl. I'm not sure why I doubted – Sauci pulled it off beautifully, of course. During her reveal, we were treated to retro 70s hot shorts and mesh top, a set not truly complete until the sexy stage kitten helped Sauci put on her big red boxing gloves. Jumping and boxing her way through Eye of The Tiger, Sauci showed us a side of Babs that we'll probably never have a chance to see – the manly, sporty side, complete with full bush that came out during the final reveal (accompanied by a unanimous "Ew" from the audience).
CoCo La Crème – one of the first STOS performers I ever had the chance to see perform back in 2006 – performed two of her classic acts, Casino Wife Cocktail and Jesus Walks. One of the most physical performers of the troupe, CoCo blows me away every time I see her, putting her heart and soul into every character she creates. Her intoxicated casino wife was a perfect example. Truly bored and disinterested with life, the character came to life when she had a martini in her hand. Like a female Dean Martin – always the life of the party, stumbling around the room on uncoordinated high heeled shoes, slowly peeling her beautiful gold gown off to reveal a hot little gold go-go number beneath. That's when the party really started! Frantic dancing and much stripping ensued, bringing our emcee scrambling onto the stage to haul the rowdy drunken gal off – but not without her drink!
STOS founder, and all around kick ass burlesque diva Tanya Cheex (the first inductee in Canada's Burlesque Hall of Fame) resurrected two crowd favourites – Pony Girl and Straight to Hell. It was my first time seeing her Pony Girl act and it was so much fun. Who doesn't love beautiful curvaceous country and western girls? I mean, all that fringe and those little cowboy hats are so damn sexy, and when you throw that cute outfit onto a gorgeous blonde bombshell you've got one hot cowgirl striptease performance. Of course, Tanya loves to play with her audience – and this one was in for quite a surprise at the end… I don't think anyone expected her to reveal into a pony girl, complete with horsetail and saddle! Hot, hot, hot – and kinky!
The evening featured a special guest performance by the lovely Lady Bona, straight from the UK. The lovely stripping geisha came out in a beautiful blue and white Japanese silk robe that hid a sensual surprise – silky long white ribbons in the sleeves. She enchanted the audience with a haunting ribbon routine, her lithe arms hidden in the ample robe sleeves. It reminded me of all the sensual ribbon fights I love so much from the "art-fu" movies – Mei, the beautiful blind dancer in her stunning golden robe and pink ribbons, playing the echo game with a flick of her sleeves in Zhang Yimou's House of the Flying Dragons.
The highlight of the night for me was seeing one of my favourite Toronto performers – Lena Love. If you've never seen this performance artist – and she truly is an Artist with a capital "A" – next time you see her name listed on a poster, get a ticket, quick! This was only my second time seeing her perform, the first as a golden homage to Metropolis at Toronto Burlesque Festival two years ago. Her act was stunning and truly a Lena production – sexy, surprising, emotional, and erotic! Starting off lying demurely across the stage, draped in a cocoon of colourful flowers that made up her long flowing dress, she came alive to the music. As the seasons flow from one into another, Lena undulated in a frenzied dance, shedding her summer pageantry to reveal the delicate wintery beneath. Intricate white lace pasties matched snowflake-like accents in just the right places shining with glittery sparkles under the lights. Mesmerizing!
A big shoutout to the all the performers who came out to entertain the masses at the Outlaw Strippers Ball: Skin Tight Outta Sight troupe members Tanya Cheex, Sauci Calla Horra, Honey B Hind, CoCo La Crème, Mena Von Fleisch, Foxy Finale, and Sexy Mark Brown, as well as our emcee for the evening Keith Cole, and Toronto burlesque performers extraordinaire St. Stella, Miss Mitzy Cream, Fionna Flauntit, Mahogany Storm, and special guests Lena Love and Lady Bona. Of course we shouldn't forget our lovely stage kittens, balloon vixen Esther deVille, stage manager Larissa Palaszczuk, and all the great volunteers who not only helped make this an outstanding event but also helped raise funds for the Toronto Burlesque Festival through the silent auction. You all rock!
Olena Sullivan (Photolena) is a Toronto-based model and performance photographer who specializes in onstage burlesque photography. All photos ©Olena Sullivan-Photolena and used here with permission by Burlesque Beat. Performers may use shots for promotional purposes, but please credit properly with photographer's full name and a link to this piece.