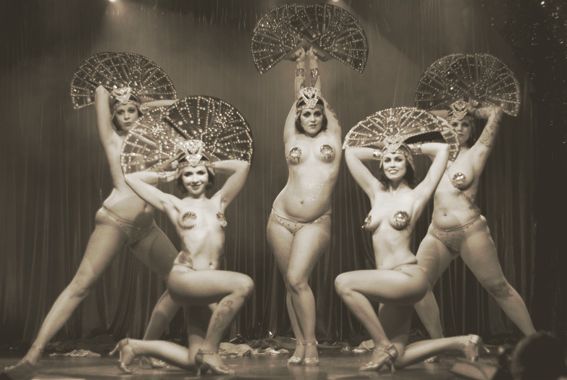 By Emiliano Melandri
February 17-18, 2012
Culture Arena Gloria, Helsinki
The Helsinki Burlesque Festival (HBF) reached its 5th edition this year.
In the spirit of burlesque and artistic expression, the queen of Finnish burlesque, Bettie Blackheart, and its king, Frank Doggenstein, have established an annual burlesque festival as international as international can be. These incredibly dedicated patrons are travelling around the world to major and not-so-major burlesque events to hand-pick the top numbers and performers to provide a magnificent spectacle for the local audience. It was one of the first burlesque festivals in Europe to introduce international burlesque numbers and it keeps charming its viewers with incredible shows ever since.
The HBF became such a main attraction in the Helsinki events calendar that this year it included two days of main performances and a warm-up party in which a captivating Satan Angel told candidly the story of her life to an audience in awe.
HBF's theme for this year was "Over the Rainbow" and it went nothing short than that thanks to a bubbly and irreverent hosting couple: a glorious Scotty the Blue Bunny in spandex costumes that found a tough cookie in Finnish burlesque celebrity Welma Jackpot. The bilingual hosting added a sparkle to the already fiery and entertaining show. Impeccable acts by burlesque royalty such as Miss Indigo Blue, Sydni Deveraux, Bettie Bottomdollar, Cleo Viper & Christopher Wonder complemented the equally-talented locals The Itty-Bitty Tease Cabaret,  LouLou D'vil and Lola Vanilla, as well as new performers in the scene such as Thee Dizzy Daisies.
HBF 2013 will be hosted on the first weekend of March, and has found a new location as popularity has grown—the organizers are prepared to amaze you once again!
All photos ©Emiliano Melandri and used with express permission by Burlesque Beat.