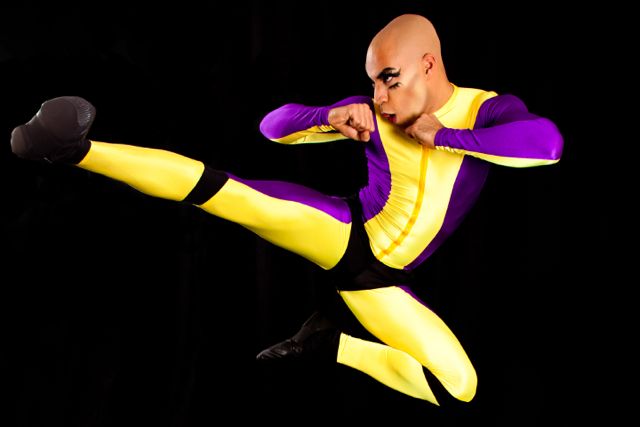 by Rubyyy Jones
Thursday June 7thth, 2012
Brickhouse, London
On this chilly night in June (yes, London is still waiting for its version of summer to arrive) you would have caught me strolling down Brick Lane with Lola "Bubblegum" Bailey, of The Triple Scooops, enjoying Long Island Iced Teas and dreaming of all the muscled hotness we were hoping to see at The Brickhouse tonight. All the way from Seattle, the Mod Carousel were bringing their special blend of fierce and funny to this East End supper club venue and then carrying on across Europe, with hopes of Global Boylesque domination. This was to be my first all-male Burlesque experience and I was hoping to be blown away, or at the very least entertained thoroughly with my ogling metre maxed out. We slipped into the venue just as hunky Trojan Original was taking the stage, flexing and posing with masculine oomph, but my stomach dropped as I realized the show must have at started 8:30, not 9:00 – bad reviewer, bad! Trojan Original was great, gorgeously goofy and I loved his act's punch line, I won't give it away but it's a real pickle! Throughout the show his meathead superhero kept us laughing and lusting and he brought a perfect balance of quirky brain to his spandex brawn.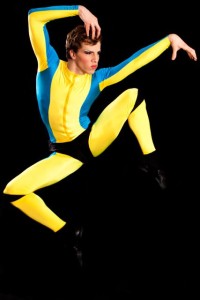 The Brickhouse is a funny old venue, not an easy one to play as a performer with three steep levels of seating quite close to the stage, and the stage itself is narrow with a bit of a drop if you shimmied over the edge, but these boys and their fearless leader lady made the most of it and if it was hard work, they never let it show. The epitome of effortless excellence was the other half of The Original Twins, the irresistible Paris Original, performing his Big Spender routine. If I didn't know they were North American prior, five seconds of his dancing told me so; flawless pirouettes, breathtaking développés and more Fosse tightness than you can shake Ann Reinking at, I was in dancer heaven watching Paris Original. His Swan ballet act was ri-dic-u-lous. I've never cried while a Burlesque performer removed their bra and knickers before and I was literally on the edge of my seat for the entire routine, tears streaming down my cheeks by the end. With the face of a babe, the skills of a young Baryshnikov and the gentle bravado of an artist at work, Paris Original is a fabulous force of nudey nature.
The show's compere, story antagonist and evil swan puppet master was Leeni and she was a frickin hoot! A native Londoner and a comedian, she was edgy, irreverent and reminded me of a good old-fashioned drag queen (wait for it) BECAUSE a) hilarious so-bad-it's-good Cher impersonating and b) was she the most incredible singer ever? No. Did she balls-out belt My Heart Will Go On like a twisted diva beast whilst Lola Bailey and I clutched on to her for the infamous 'I'm flying Jack!' moment over the railing of our private box? Oh yesss! I was buying what she was selling and her rough and ready style was the perfect compliment to the polished precision of the gents; Leeni is flash meets trash at it's funny finest.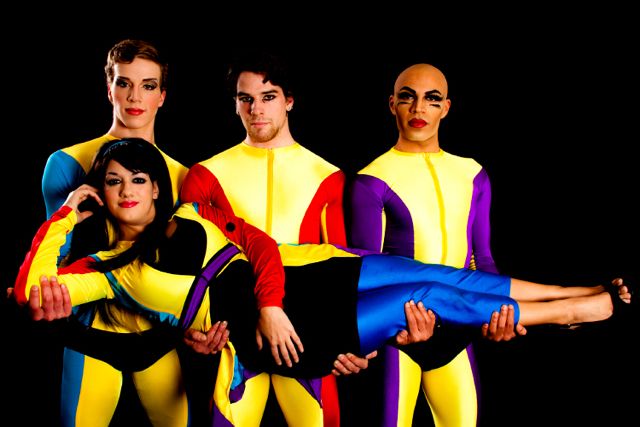 Last, but certainly not least, the sensational Luminous Pariah who was all face, moves and eleganza extravaganzaaa; a fierce performer with a grounded, glam presence, fuck off commando boots on the bottom and about six pairs of lashes on the top. Commanding and kinky, he was hot in his S&M pas de deux with Paris Original; all popping quads, hips and heels. He also brought some twisted comedy with his furry 'Ludo' act, all about animal nature, curiosity and strange trips – a fun, quirky and energetic romp! Get this Diva a one man/queen show ASAP Seattle!
The talented cast of Wham! Bam! Kaboom! are continuing their worldwide tour and I encourage you to sashay all the way to this action packed show; it's got lusty laughs, ripped dudes and more fabulousness than you can shake a tit at!
Rubyyy Jones is a performer, writer and muse specializing in love lust and light. All photos used with express permission by Burlesque Beat.