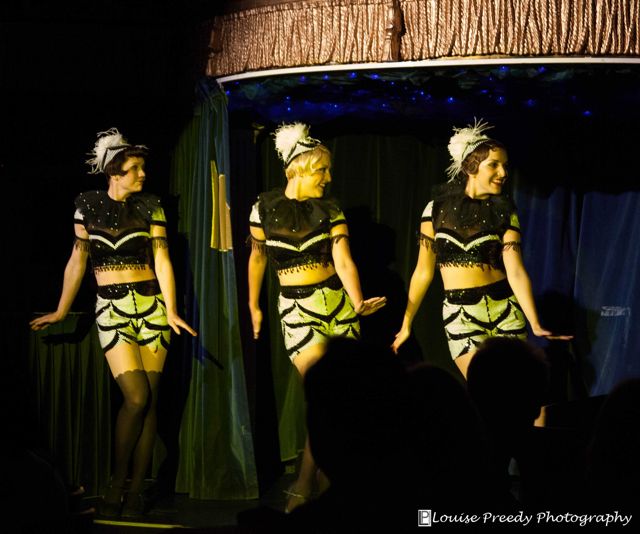 By Aurora Galore
29/06/2012
Beneath a packed, buzzing dining room, I sat basking in the decadent vintage atmosphere of Café De Paris waiting for the host to pop out and announce the show. To my surprise, The Bees Knees opened with a Charleston dance number down a spiralled staircase. Under the gorgeous yellow lighting, their black and white costumes illuminated and the three girls performed their happy routine enabling a good energy to start the evening.
Upon disappearing behind the stage curtain to their fading music, out came Laurie Hagen from the same curtain in a Teased White Wig, a French Accent and a voice that soared through the venue. In Hagen tradition, she delivered a bawdy, funny and talent-filled opener. Coming into the audience with her red glittery lipstick and Beetlejuice-esque costume, she ensured that everyone had their ears fully alert once she sang her first 30s song with Michael Ranston on Piano accompaniment. Tap dancing in the song's intermission and announcing that she wanted the crowd to go 'primal' tonight let us know we were in for a treat.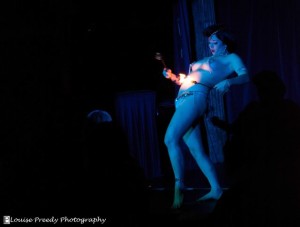 The first performer to grace the stage was the poised and beautiful Missy Fatale. She entered in a bejewelled bikini under a sheer white cover up. Under deep blue lighting, it was soon dropped to her bordello music where she promptly began her fire routine. Her well-timed act incorporated tongue transfers and body burning in addition to removing her bra to reveal her pasties and a fire-eating finale.
Announced as having fooled "Penn and Teller," next to entertain was 6 ft. 7-inch magician Lee Hathaway. The sound of ripping newspaper implied a familiar trick, yet Lee's humorous banter revealed that he was merely ripping paper! His wit and presence amped the audience, and his lewd undertones well-highlighted his balloon-swallowing performance.
After Laurie Hagen's next song in which she got a man on his hands and knees, she declared that another comedic act was about to perform. Winner of Milan's 'Best Comedic Act' 2012, Abigail Collins, executed an aggressive yet side-splitting hoop routine incorporating rock 'n' roll and striptease; a girl after my own heart! While Collins didn't speak—a rare occasion—she still managed to integrate brilliant comedic timing, skill and a wig! The dirty redneck rocker vibe left audiences howling; a perfect end to the first half of the show.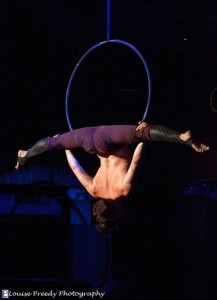 The 2nd half of the show saw Lily La Scala performing her "Little Hoe Peep Show" routine; an act that combined the familiar nursery rhyme with opera and striptease. The sheep-less singer performed in an incredible costume that was so impressive, I may have to hunt down her milliner and get them to make me something! Her sexual operatic singing saw her simultaneously singing and stripping down to her sheep pasties.
The sexual intro to Marcel Lucont was in keeping with his seductive charisma and suave jokes. He entered in a blue suit with bare feet, carrying wine and spinning anecdotal jokes in an aloof tone. In a French accent—and sex as his topic of choice—he walked the audience through several oversized cards, revealing hilarious interpretations and obscure witty analyses of familiar sexual innuendos.
Laurie Hagen's return brought with it an exuberant energy and a boozy song after which she announced the final and most incredible of all of the performers from tonight's show: Bret Pfister. His contemporary and breath-taking aerial routine merged a ragged beauteous costume with original choreography and a simplistic splendour. The irony of the song's lyrics, "don't make me sad, don't make me cry" were displaced as his incredible routine brought me to tears. An emotional and powerful performance; a truly wonderful ending to a very enjoyable show.
—Aurora Galore is a burlesque and fire performer with a degree in English Literature.
All photos ©Louise Preedy and used with express permission by Burlesque Beat.