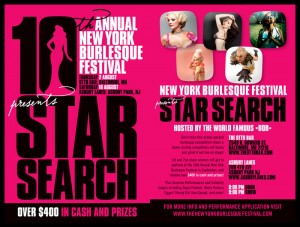 Did you miss the deadline for entry to the New York Burlesque Festival? Or would you just like a chance to preview who MIGHT be performing?
The producers of the NYBF have given aspiring performers not one, but TWO chances to break into the festival—the first is tomorrow's Star Search event in Baltimore, with another upcoming in New York later in the month. Applications are still open for the New York Star Search event, so if you'd like to compete, go here for your chance to compete for cash prizes in front of a panel of judges including producers Jen Gapay and Angie Pontani.
If you'd like to drop in and see the action in Baltimore:
"On Thursday, August 2nd over a dozen burlesque bombshells will converge onto the Otto Bar to compete in the art of bump and grind in hopes of earning a coveted performance slot at the 10th Annual New York Burlesque Festival, the nations largest burlesque event that brings 4 nights of world class burlesque and variety entertainment to NYC's hottest venues September 27th – September 30th."
New York Burlesque Festival Star Search!
Thursday, August 2nd @ The Otto Bar
2549 North Howard St. Baltimore, MD
8pm doors,10pm show
$15.00