by Patrick Hempton
Austin, Texas
Austin Texas is thriving with creativity, and locals get pretty excited about burlesque. There's a healthy, growing burlesque community here with shows just about every week of the year. With no shortage of performance venues (Live Music Capitol of the World, right?), it's easy to find a good burlesque show and there are even several monthly revues produced by well-known local troupes. There's truly something for everyone. Black Widow Burlesque
Black Widow Burlesque was started by the lovely Delia Dread, who recently went solo to produce her own shows (though she sometimes returns as a guest performer). A finer, more professional and friendly group of gals can't be found. They put on several shows a year with a style that is decidedly neo-burlesque. The six troupe members—Ginger Snaps, Betty Blue, Sailor Cherry, Lilly LaFleur, Bleu Magnolia, and Zaftigg Von Bon Bon—present a variety of dance and fashion styles from classic Hollywood glamour to punk. Ginger Snaps has an obvious love of musical theatre and frequently wows the audience by belting out showtunes during her fun numbers. Though these ladies have Broadway-inspired and classic showgirl routines in their repertoire (the lovely, leggy Lilly LaFleur recently impressed us with her superbly sophisticated fan dance), much of the Black Widows' music and choreography is contemporary. Their unique costumes are frequently a mix of classic lingerie such as corsets and stockings with current day fashion. What I really love about BWB is that the talented performers are also very down-to-earth and friendly, and they really know how to pump up the crowd for a show and keep the energy flowing with a great choice of M.C. at every event.
Bat City Bombshells
The Bat City Bombshells is another fun-loving troupe, consisting of six female dancers: Sherry Bomb, Lilly White, Mistress Charlie, Dolce Dream, Pixie Stick, and Strawberry Tart, along with Calizoria, a male performer who also acts as their M.C. Like Black Widow Burlesque, Bat City is mainly of the neo-burlesque persuasion, with a range of material from fan dances (often with a contemporary spin, such as Pixie Stick's entrancing fan dance set to "My Moon My Man" by Feist) to punk and fetish numbers. Bat City member Lilly White is a fave of mine, who has the BEST facial expressions of any performer in town. She has a classic burlesque style, and is a very busy gal who often works with other troupes in town as a stage kitten. Sherry Bomb is another versatile and talented member of the troupe who seems equally at home in a sexy contemporary number or a cheeky romp featuring her own wonderful singing, such as her recent live rendition of "Don't Tell Mama" from the musical Cabaret.
The Jigglewatts Burlesque Revue
What a befitting name! These six ladies put on a fantastic classical burlesque show. Their music selections often run to jazz or showtunes, which give the performances a timeless quality. Core members Ruby Joule and Coco Lectric are clearly dedicated and highly trained dancers with real affection for classic burlesque fashion and dances. Their partner in glamour, Jolie Ampere Goodnight, is not only a fabulous burlesque performer, but also an amazing jazz singer! These three gorgeous dames are frequently jetting off to other cities and shows, having achieved a great reputation and national notoriety. If you're in Austin and want to see a traditional tease show involving feather boas, fan dances, garters, corsets, gloves, tassel twirling, and beautiful dancers who look like they've just stepped out of the 1940s, a Jigglewatts show is for you. However, The Jigglewatts troupe is rounded out by the versatile and equally voluptuous Goldie Candela, Pearl Lux, and Ruby Lamb, who lean more towards the neo-burlesque style. This troupe puts on endlessly entertaining shows that really have something for everyone!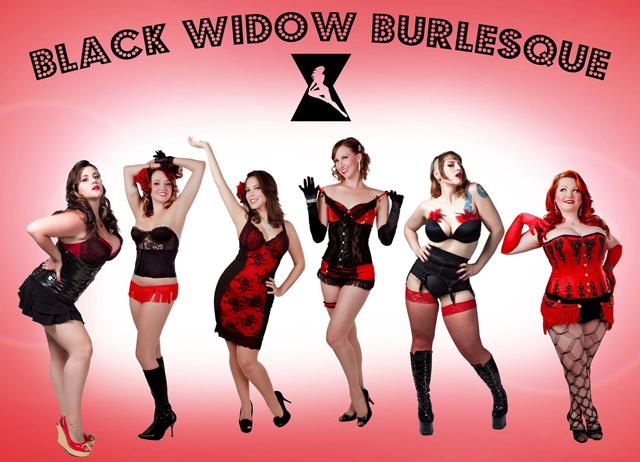 Head Over Heels Burlesque
Head Over Heels Burlesque is Austin's up and coming burlesque trio, having formed a little over a year ago. Gemmi Galactic, Merci Fa'Tale, and Norah Leans are three very talented and very pretty ladies who are definitely on their way up! We've seen various troupe members put in guest performances at both Black Widow Burlesque and Bat City Bombshells shows. Most recently, Beth and I enjoyed seeing Gemmi Galactic's uniquely sexy spin on a bowling (!) themed number set to "Just Dropped In (To See What Condition My Condition Was In)." Yeah, we were surprised, too. Keep an eye out for these Head Over Heels gals and catch one of their upcoming Austin burlesque shows.
Jasper St. James
I hadn't put much thought into boylesque until I saw a guest performance at a recent Bat City Bombshells show by Jasper St James from San Antonio, TX. He's one of those guys who has an amazingly magnetic stage presence and simply owns the crowd. He's funny and campy, and really adds to a neo-burlesque show by providing a nice break from the more serious and sultry numbers. He's definitely worth watching if you get the chance!
There's considerable "cross pollination" of dancers of the various troupes, with special guest performances at almost every show. Performers from Austin, San Antonio, Dallas and even New Orleans tend to know each other and help each other out with shows. I often see performers from Head Over Heels Burlesque, The Bat City Bombshells, and Black Widow Burlesque attending and/or performing at each other's shows.
My wife, Beth, and I run a burlesque-themed online shop based out of Austin and regularly work with many local performers as show sponsors. We love to spread the word about burlesque in our beloved Austin, as it's constantly growing and changing. We're lucky to have great burlesque with shows happening all the time. If you're planning a visit to Austin and want to catch a show, be sure to check our list of burlesque events.
Patrick Hempton is a blogger for Lingerie Unlaced and one-half of the dynamic duo behind Kuhmillion Lingerie, an online burlesque lingerie shop based in Austin, TX.