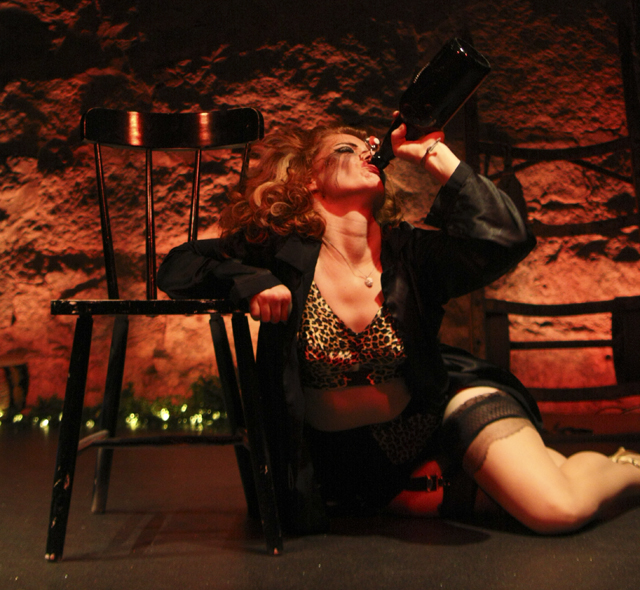 by Sandra O'Connell
July 17, 2012
Guilt and Company, Vancouver, BC, Canada
One goes to Le Cabaret du Passé knowing they will experience the occult. The vixens that comprise this night at Gastown's Guilt and Company every third Tuesday of the month aren't afraid of pushing the envelope. Scratch that. They aren't afraid of anything.
Tonight's performance was christened Farmhouse Blues – a tribute to the mystical Louisiana Bayous of the Deep South. The underground, stone-encased bar added to the eerie theme of the evening. It felt forbidden and secret. A place one may stumble upon by accident, and never want to leave. The Twilight Zone theme music is suddenly ringing in my ears.
Calio P. Cock opened the evening as an alluring swamp thing created by toxins. If this is what pollution produces, perhaps we should all dump waste into the bayou. Her fishnet top left little to the imagination as she gyrated on stage.
Melody Mangler transfixed us with an Alligator Goddess voodoo dance. I could practically envision Screamin' Jay Hawkins belting out the music behind her as she plumped and primped her brilliant green feathers. The audience gasped in awe as she dramatically crashed to her knees in a flourishing finale.
The most chilling performance of the evening went to Spooksy DeLune as a possessed bride who would give even Linda Blair the heebie jeebies. Her body had a mind of its own as it contorted and flopped in ways that just didn't seem natural. Before wrapping a noose around her neck, she drew a knife to her chest and ran the resulting droplet of blood across her forehead in the sign of a cross. Her vacant eyes still haunt me.
Lightening crashed and thunder clapped as Lil Loverock and her mass of red curls seduced us to Garth Brooks' Thunder Rolls, proving that Garth is still a crowd pleaser – particularly when mixed with partial nudity.
Between sets we were treated (and rendered speechless) to the dirty country sounds of Shirley Gnome. We hung on to each word of her steamy lyrics, not wanting to miss one raunchy line, such as "We were meant to be together unlike my thighs." She may look sweet on the outside, but she most certainly has a perverted imp living inside her.
The second set revisited Lil Loverock and Melody Mangler, who each tantalized the stage, and introduced Lola Frost as a homicidal seductress covered in her victim's blood. With wild hair and a mad look in her eyes, she meticulously and contently wiped her murder weapons clean, while dancing erotically without abandon.
Nightmares were sure to have danced across eyelids deep into the night, long after the show ended. While Le Cabaret du Passe is not for the faint of heart, it certainly suits the curious.
Captivated by the world of burlesque, Sandra O'Connell is no stranger to the Vancouver scene. In addition to weaving burlesque into words, she is a freelance writer for a variety of publications covering fashion, travel, lifestyle and culture. Find Sandra on Twitter or at her personal blog.
All photos ©Baron S. Cameron, and used here with permission. Please respect photography copyrights and do not use images without obtaining explicit permission.