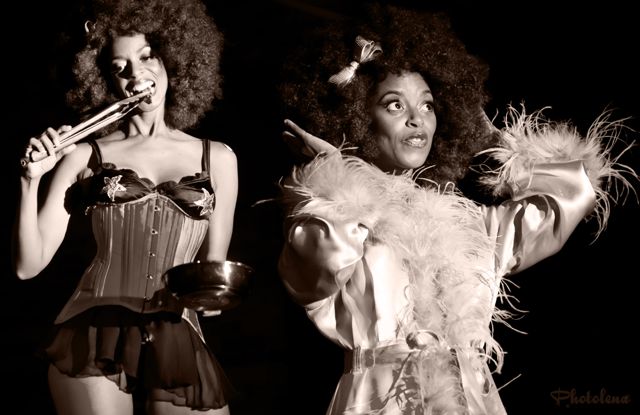 by Photolena
Thursday, July 19, 2012
Gladstone Hotel Ballroom, Toronto
You could feel the energy in the air in the packed ballroom of the Gladstone Hotel – Toronto's arts and culture temple housed in a gorgeously restored historical landmark in the heart of trendy Queen West. The house is always packed for the Headliners and Producers Showcase. They come for a glimpse at the headliners, those class acts brought in from across the globe, but they stay for the chance to see just who these gals and chaps are that put this whole shebang together! It's the festival producers' time to shine – take a break from all the craziness and just let it all go, even if only for a couple of hours.
Hosted by Seattle's own Armitage Shanks, one of the most sought after MC/performers on the international scene (and we got him!), this year's showcase had an amazing 21 performances. Some highlights from the marathon evening of titillation…
Canadian Burlesque Hall of Famer and Artistic Director of the festival, blonde bombshell Tanya Cheex brought back my absolute favourite character – a beautiful jazz age diva, dressed in a full-length hand-beaded black and silver gown, striped thigh-highs (my favourite, so sexy), her black opera gloves connected by two silver strings of beads, and a stunning Art Deco-inspired headpiece of beads and black feathers. Her striptease alternated between slow seduction and sensual frenzy to the beat of Minnie the Moocher.
Founder and Executive Producer of the festival, Sauci Calla Horra, performed an ethereal piece in a soft pink sheer gown that flowed on the air as she twirled and flittered about the stage. With large swaths of fabric embracing her form, she became a whirl of colour and soft tone. Like a modern-day Salome, her seven veils were shed as she continued her sensual dance across the stage, each erotic gyration revealing more of the treasures beneath until the final reveal of a hand-beaded pale pink bra and fringed bottoms. Such a class act!
"Particularly attracted to mirrors, shiny objects, reflective surfaces, diamonds, money, and himself," so reads the bio for the principal dancer of burlesque troupe Les Coquettes and overall nasty boy Dew Lily. His performances are the stuff of legend in this town, feasts for the senses, lingering on into the fevered wet dreams of women and men alike. How fitting then that his showcase piece was a unique twist on The Emperor's New Clothes. Where he normally builds the audience up into a sex-crazed climactic frenzy, this reverse strip tease laid everything bare right from the beginning, apparently unbeknownst to our be-wigged and be-tasseled Victorian-era Lily. With frazzled stage kittens standing by, he went through the motions of disrobing, beautifully pulling off invisible glove pulls and coquettish reveals until only a large, manly tassel remained to guard his manhood.
Coco Framboise is not only a fabulous performer, she's also a much sought after mentor and founder of the Coco Framboise School of Burlesque. She continues this tradition each festival year as headmistress of the extremely popular Burlesque University. Coco is a saucy performer, putting a lot of class and crass into the characters she creates. Although beautiful to watch and flawless in execution, there's usually a sarcastic twist to them that helps the audience connect with the character on a more personal level – it's those kinks that we love so much. This performance was a perfect example of that. When her beautifully corseted and stockinged character brought out a frying pan and tongs, you knew something hinky was going to happen. It was bacon! Tasty bacon was in that pan! And lots of it. I watched her strut back and forth on stage eating bacon in the most erotic way I have ever seen – licking and sucking it in ways that would rival the steamiest pages of Fifty Shades of Grey. I wanted to go home and have my own bacon, right there, right then.
It's hard to get back on track after such a hot display of pork love, but what better way than with a side dish of potatoes? One of my all-time comedic favourites, you can always count on Dr. Lucky to throw something completely off the wall at you. It's a classic romance novel love story – bored 70s housewife finds herself lost in her kitchen chores one day and comes to realize that there's more to her potatoes than just simple fries, there's also hot spud love and tuber affection. As she frees herself of her domestic shackles and releases her inner lace-clad diva, she covers herself in chopped up potatoes, grinding them slowly into her cleavage. She quickly becomes one with her beloved potato! As with all such fairy tale romances, she meets her prince charming potato head, they marry, and live happily ever after.
Pole dancing has become a big part of the Toronto burlesque scene with many cross-over performers coming into the fold and traditional burlesquers adding it to their long list of skills. This was my first time watching NY duo Gravity Plays Favorites, and I have to say that I was truly mesmerized by Katrina Dohl and Michelle Mynx. You can see what 7 years of working together can achieve – they are so in tune with each other that their combination of sexy burlesque and acrobatics has made them one of the top-billed acts in pole dancing all over the world. I felt like I was watching a love story unfold – two beautiful maidens floating effortlessly in the air, teasing each other and just out of reach as they chase their beloved, finally to come together in a beautiful embrace on the pole. It was a beautiful display of artistry, skill, and story.
I love anything that's out of the ordinary – anything that brings in an element of kink, contortion, freakshow, or fetish to the regular burlesque show. I found all of that in one of my new favourite performers Kristina Nekyia. Her performance was so raw and edgy, a wakeup call that just slapped everyone in the face and screamed "Look at ME!" Across a darkened stage, she slowly and painfully inched her way on fetish ballet shoes, her brace-clad legs locking her knees in place allowing for little mobility, leaving her to rely on crutches to stay upright or inch forward. Hair tousled and eyes wild, she fell to the floor and performed tumbles and splits before crawling her way to a waiting chair and much needed rest. She. Was. Awesome!!!
If you went to the Burlesque Hall of Fame or have a computer with internet access, then you've probably seen Michelle L'amour's infamous Butthoven's Fifth Symphony. I never saw the video so this performance was a treat for me. How many times do you get to see a famous classical piece of music played (so to speak) by a famous pair of butt cheeks? Exactly! There is something truly sexy about a woman dressed in classic tails, sitting bare cheeked at a piano bench, with just a black bowtie decorating her derrière. You need to have amazingly strong muscles back there to be able to do this – try it. Go on, I dare you.
Coming all the way from Australia, our big headliner for the evening was Reigning Queen of Burlesque Miss Imogen Kelly. The petite blonde looked so innocent as Little Red Riding Hood – just kicked up a notch in shiny satin and bling. We tried to warn her about the big bad wolf as his clawed arm crept up through her ruby red cloak. He finally emerged, ready to pounce on Red, but oddly enough she wasn't really scared. This Red's a little psycho, see? She loves nothing more than to carry around a big shiny meat cleaver that she uses to chop, chop, chop the wolf's head off for her trophy. Murder complete – well some say it was self defense – Red celebrated by slowly and seductively stripping off her little red cloak and red dress, peeling off her red opera gloves one by one, and pink and red corset to reveal… she's really a she-wolf in disguise (with an adorable little tail to boot)!
A big shoutout to all the other performers in the showcase that I would love to mention but have run out of space: Producers of the festival and performers – Fionna Flauntit, Mena von Fleisch, Ava Noir & Miss dd Starr, Mysterion the Mind Reader, Great Canadian Wolfman, Foxy Finale & Sexy Mark Brown – and performers Roxi D'Lite, Honey B Hind, Lilli Bubalotovitch, Mahogany Storm, Miss Mitzy Cream and Burgundy Brixx. You're all fabulous and we'll catch up with you in a later article.
Olena Sullivan (Photolena) is a Toronto-based model and performance photographer who specializes in onstage burlesque photography. All photos ©Olena Sullivan-Photolena and used here with permission by Burlesque Beat. Performers may use shots for promotional purposes, but please credit properly with photographer's full name and a link to this piece.