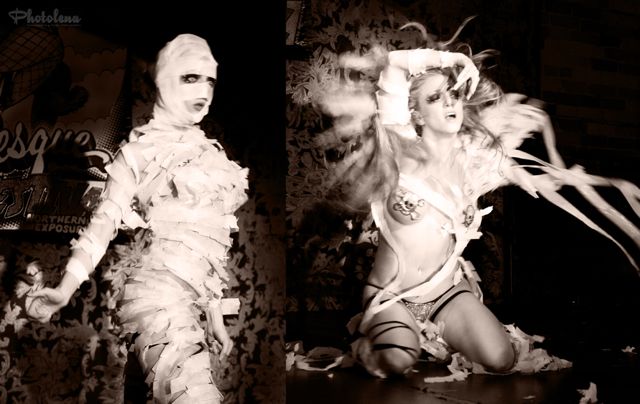 by Photolena
Friday, July 19
Gladstone Hotel Ballroom, Toronto
One of the wonderful things about the Toronto Burlesque Festival is the opportunity for up-and-coming and eager performers to not only perform, sometimes for the first time, in front of a large audience, but also to compete for awards and recognition. I love watching the fresh faces take their turn in the spotlight – they come from dance, theatre, pole dancing, burlesque, and even strip backgrounds – and all these come together in new and unique ways. Those that can blend their individual styles with the ideas of burlesque such as character development, costuming, and making  the journey more important than the destination, can go on to make it big on both local and international stages.
This year, the competition was fierce and included performers from all over North America and Australia:
Caramel Knowledge (Los Angeles)
Pandora von Kit (New England)
Gigi Vanilla (Australia)
Tiny D (NYC)
Fiery Skye (Toronto)
Charlie Quinn (Toronto)
Pastel Supernova (Toronto) – Winner of Ontario Strip Search
Eve of Destruction (Toronto) – Audience Choice of Ontario Strip Search
El Toro (Toronto)
Lulu Les Belles Mirettes (Montreal)
Aurora Black (NYC)
Francine The Lucid Dream (North Carolina)
Miss Tipsy Sips (Halifax) – Winner of Halifax Strip Search
Veronica Vex (Vancouver) – Winner of Vancouver Strip Search
While the judges – Tanya Cheex, April March, Nasty Canasta, and Michelle L'Amour – deliberated to pick the Winner, 1st Runner Up, and 2nd Runner Up, we were entertained by a few previous Strip Search Winners including:
Local favourite Percy Katt's performances are energetic, frenzied, comedic and sexually-charged pieces that are making him a big draw for shows as well as a top pick model for local photographers. What other performer comes on stage to be peeled out of a big banana? Body painted from head to toe (including hair) in golden yellow paint and glitter and wearing a belt of feathers and bananas, he danced his way into the audience's heart with his twist on Josephine Baker's famous dance. This tall, lanky man with the infectious wide grin was so much fun that he got a standing ovation, which brought Mysterion the Mind Reader out on stage to announce "Don't hate me when he doesn't win. This wasn't a competitive performance." Good to know.
If you're a child of the 80s as I am, then you'll remember the movie The Lost Boys – with Kiefer Sutherland as the head of a vampire biker clan out in California, and starring the two Coreys, Haim and Feldman, in the days before their self-destructive reality show. It was because I've seen it a gazillion times that I truly loved Lily Lemonpie's homage to this comedy horror classic. She looks much better in a bathtub, singing "Ain't Got No Home" into a scrubbrush than Corey. He just doesn't have the curves, or the pasties, in the right places. Wrapped only in a teeny towel, she steps out of the tub and as the scene shifts to the kitchen we deviate slightly from the movie. As the moody beats of "Cry Little Sister" play in the background, our character finds out that she's turning into a vampire too, complete with bat wings. I don't remember as much undulating and body groping in the movie by a hot Betty vampire with blood all over her cleavage, but I'm not complaining.
So you're probably wondering by now, who were the winners? Which act had what it takes at the International level? I don't envy the judges who had the make the decision between all the talented competitors this year. I have no idea how they score the performers – it's a closely guarded secret – but I would guess that it's a mix of character, charisma, talent, self-confidence, burlesque skills, stage presence, originality – all the qualities that I see over and over again in the performers that have been shimmying and shaking in front of the velvet curtain.
Without further delay…. Drumroll please….
Winner – Eve of Destruction
The audience choice at the Ontario Strip Search competition was the big winner at the International level, wowing the audience with her stripping mummy performance. So raw and full of energy, she threw everything she had into it, so much so that it was one of the first times I've seen a standing ovation for a strip search performance. As soon as her bandage-wrapped body starting undulating to the rhythmic music, hitting the beat in a choppy mummy style, the audience went crazy. As her dark sunken eye glared at us from her tightly wrapped head, we knew that this was something different, an electrifying new character and style. Her striptease was simple but effective – as the music beat amplified, the bandages seemed to disintegrate as they flew off her body to reveal the blonde bombshell beneath.
1st Runner Up – Pastel Supernova
The winner at the Ontario Strip Search, Pastel Supernova performed an extremely hot and sexy new routine to win the 1st Runner Up award. Poured into a purple velour short hooded onesie, she took good advantage of those signature long, gorgeous legs of hers to strut across the stage. I have seen a lot of glove pulls in my time shooting burlesque shows – over the head, behind the back, across ample cleavage – but Pastel's simple pull, between those ruby lips, with just enough teeth, slow and exaggerated, was the most sensual I have ever seen. I could have sworn you could hear her purr while doing it. Mrowr!
2nd Runner Up – Gigi Vanilla
It was the first time that I had the opportunity to see this little powerhouse from Australia perform. Sweet and petite, she wove a tale of love and passion during a socialite's brief stay at a luxury hotel. The seductress uses her feminine wiles, and a big dose of striptease, to ensnare a hapless bellboy in her sensual web. What's a boy to do but stand by and watch while a lovely – and rich – lady slowly shimmies out of her gown….?
Other truly standout numbers in the competitors' group:
Pandora von Kit's comedic performance as a young girl who keeps getting chocolate sauce all over her pretty outfit. Even when she's down to her pristine white britches, she still manages to pour the sauce all over her cleavage – but luckily she has luscious red strawberries to sop it up with. Tasty!
Tiny D's sizzling hot and fast Latin number, all decked out in pink feathers and matching pink beads. That lady can really jiggle, wiggle, and shake her behind across the stage.
Our very own El Toro and his gender-bending striptease where we watch him transform from mucho masculine Latin lover to white-tressed, fishnet stockinged Lolita.
Francine The Lucid Dream's tragic beauty queen – voted Miss Fluffer – who shows us just how a baton should be twirled.
A big shoutout to all the other competitors and non-competitors alike for putting on their best performances for the judges and the audience: Fiery Skye, Lulu Les Belles Mirettes, Charlie Quinn, Aurora Black, Caramel Knowledge, Tallulah Gin, and Natalia Rose. You're all amazingly talented!
Olena Sullivan (Photolena) is a Toronto-based model and performance photographer who specializes in onstage burlesque photography. All photos ©Olena Sullivan-Photolena and used here with permission by Burlesque Beat. Performers may use shots for promotional purposes, but please credit properly with photographer's full name and a link to this piece.