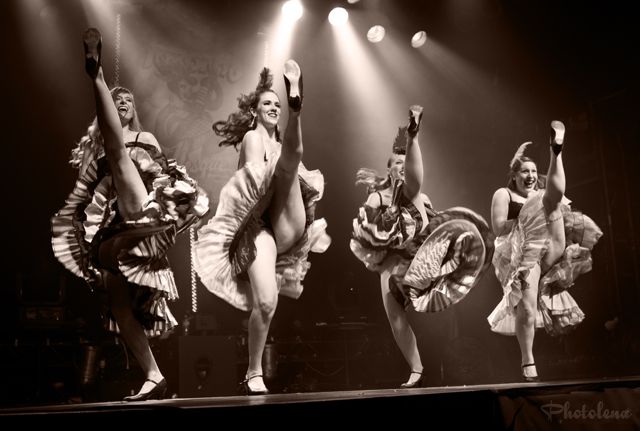 By Photolena
Saturday, July 21, 2012
Virgin Mobile MOD Club, Toronto
Quite appropriately our charismatic host Armitage Shanks was attired in full circus regalia for the annual Burlesque Ball. It was going to take all his MC skills to wrangle the 28 performances in this year's show and keep them all flowing smoothly while regaling the audience with his charming wit and, occasionally, lyrical song. With all the fantastic acts gracing the stage at the MOD Club this year, I've cut the article into two parts in order to give the most coverage possible.
Toronto's very own Glamour Puss burlesque kicked off the evening on an energetic note with a frenzied and sexually provocative French can-can. High kicks, rond de jambe and splits were all accompanied by screams and yelps from the troupe to get the audience into the act. It all ended with the traditional heaping up of the crinoline skirts for the presentation of the bottoms to the audience. How cheeky!
Billed as "homocircusextravaganza" on his website, gender-bending Olive-or-Oliver (pronounced OliverOliver) has a wonderful way of keeping the audiences guessing with his fun and quirky hula hoop act. An award-winning transgendered hoop artist, drag queen and clown burlesque performer among many other things –  this isn't the first year in the festival for the local über-talent who is an advocate for the gender neutral pronoun "they".  In a glittery silver outfit, Olive-or-Oliver shimmied across the stage performing comedic acrobatics within, through, around, over, and under undulating hula hoop – all while teasing the audience with a striptease that not only blurred the lines between genders but balked at the idea of gender, sexual orientation, or body parts defining oneself. From the metal cone bra to the slinky penis, we were reminded that we are more than the sum of our parts and the neat little categories that some people try to thrust upon us.
I often see posts on Facebook of performers complaining of tasting glitter days after a show, not being able to get it out of their clothes, hair and skin. So what would happen if you overdosed on the manna of burlesque? Miss Mitzy Cream set out to show us the consequences of glitter abuse in her truly clever performance. Being the caring and attentive burlesque mom that she is, Mitzy showers her baby (no real babies were harmed in the making of this act) with love and feeds it when it cries. Burping her little angel produces a little surprise – a long trail of glittery baby upchuck down the back of her silken jacket! When the baby makes a stinky and has to be changed, you can guess what Mitzy finds in the diaper, and it's all glittery to boot! I'm not sure what she's feeding that kid, but maybe it wouldn't be so bad to have all that glitter coming out.
The lovely St. Stella and James & The Giant Pasty regaled the audience with the story of forbidden love between a pretty young art student and a statue of David that comes to life to sweep her off her feet. This performance won the duo the award of "Most Beautiful" at the Great Burlesque Expo in 2012 and you could see why. Every time I watch this love story unfold, I find it more and more engaging. The longing in their eyes, the way that James takes her into his arms and lifts her into the air for their dance, and the way she gives up mortal life to become his partner statue. Truly beautiful.
What is there to say about Dew Lily? He came, he got naked, we got off on it. It was thing of beauty, as always. It will haunt my naughty dreams for weeks to come – he comes on stage like a supermodel; he takes it all off to reveal a fetish outfit of corset and leather briefs; much writhing ensues and a large gold fan is brought out which gets used as a shawl; he coquettishly hides behind the fan to strip down to beautiful skin but leaves us wanting as he exits the stage with an evil smile and no reveal. I die a thousand little deaths each time…
Sinfully beautiful Maria Bella showed her true colours with her black spider routine sporting long, dark, menacing appendages. Not one to be toyed with, she demonstrated her disdain for sappy tokens of affection by stripping a rose stem from tip to tip with her teeth, barbs and all – ouch! I felt compelled to watch her striptease… or else!
It isn't often that you see a performer commit suicide on stage. (Spoiler alert – it wasn't real.) Lovely Sauci Calla Horra's performance was simple yet powerful. A stage actress/performer has-been, it's her last time in the spotlight and her once bright star is fading out into oblivion. Even the roses she's received give her no comfort anymore. Back in her dressing room, filled with the memories of her glory days on the stage, she drinks and drinks to ease her pain. She cannot go on and slits her wrist and rips away the last vestiges of her past life in a drunken striptease. As her life force drains out in a red ribbon stream, she lays down on her settee to fade into nothingness.
Canada's legend of burlesque, Miss Judith Stein, is an inductee into the Burlesque Hall of Fame in Las Vegas. She's been dancing since the 70s, when she answered a help wanted ad for topless go-go girls that read "No Experience Necessary" and she's never looked back, appearing all over the US and Canada. A proud supporter of the Canadian Association of Burlesque Entertainers and the Alberta Burlesque Alliance, Miss Stein now resides out in BC where she continues her burlesque work. We were so proud and honoured to have her grace our stage with one of her classic burlesque performances. Enveloped in a gray-blue silken robe fringed in white feathers, she glided across the stage, the soft material flowing on the air as she twirled and posed like a classic Hollywood starlet. This is one class act and you could see that throughout her routine – one that was more tease than strip – and held the audience's attention right to the end.
Growing up in Montreal, I was one of the many kids that would sit wide-eyed in front of the black and white TV (that only got 3 channels) and watch The Muppet Show. With its slapstick comedy, even my grandfather, with his limited English, could really get into it. One of the characters I remember fondly to this day is mostly due to his performance, and not his look. He didn't stand out like Miss Piggie, Kermit, or Beeker, but what he did in that first episode is still stuck in my. His name was Mahna Mahna – a purple muppet with wild orange hair whose only claim to fame was signing the nonsense song Mahna Mahna with the band the Snowths. 40 years later he was brought to life again on stage by Champagne Sparkles and her big fluffy orange feather boa/muppet that was wrapped around and around her. When the boa opened its mouth, out came the addictive tune of Mahna Mahna (pa pa di-da-dum). I still find myself humming/singing the song out of the blue, at odd times of the day. Of course Champagne's little muppet was a bit more naughty – he didn't just sing – he tore her costume off until she was standing there in her pasties. Naughty muppet!
Who loves Cheezies?* I guess the better question is who doesn't love Cheezies? They're awesome – just ask Paco Fish. I think he loves them more than anyone I've ever seen – anywhere! The man has Cheezies in places that no person should have Cheezies, and the relationship he has with them can only be described as orgasmic. Personally, I would be mortified if I came home and found my man with a giant Cheezie where his manly man parts should be, but I applaud Paco for being able to reach down and deep throat (or was that chew?) his Man-Cheezie. I'm not even going to talk about his bum-Cheezies – some things are better left to the photos.
If you're a child of the 80s like I am, you probably saw, and were influenced by, the awesomeness that was the breadkdancing movie Breakin'.  I spent my high school years watching hormonal teenage displays of hand glides, head spins, turtles, flares, and windmills while I huddled in the smoking area with my goth peeps. It was a treat then to watch Lola Martinet revive one of my favourite moves – the robot dance – in her absolutely celestial performance. A very human looking robot in a lovely 50s dress, Lola struggles to break free of her robotic side by shedding all her metal parts – from her long tubular arms to her aluminum panties. As she teases her way down to her silver pasties, she realizes that there's still a part of her that wants to hang on to her automation – her remote controlled tassels! – and she hands off the remote to Tanya Cheex to give them a whirl.
A big shoutout to the other amazing, gorgeous, and fantastic performers that I didn't have room to mention (but see photos): The Harlettes with Great Canadian Wolfman, Frenchie Fatale & Carlos Caliente, and Mahogany Storm. And of course our band for the evening Tennessee Voodoo Coupe with frontman Big Rude Jake. You're all wonderful performers!
*Americans: she's talking about Cheetos. —Ed.
Olena Sullivan (Photolena) is a Toronto-based model and performance photographer who specializes in onstage burlesque photography. All photos ©Olena Sullivan-Photolena and used here with permission by Burlesque Beat. Performers may use shots for promotional purposes, but please credit properly with photographer's full name and a link to this piece.