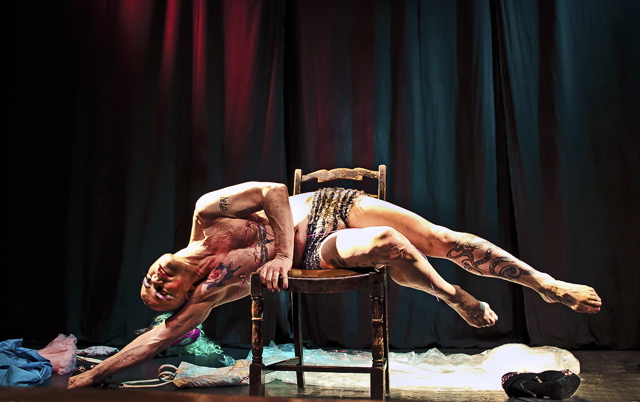 by Simone Sanguine
Friday, July 20, 2012
Burlesque at the Beach, Coney Island, Brooklyn
Ladies and gentlemen, girl-bois and pretty boys, queers and lovers, rev up your engines. But for everyone's sake, this is no Nascar gig. This is a whole new kind of fast and furious. This is World Famous *BOB*'s Coney Island Drag Race, showing this hot night in July after being delayed by the "hurricane" that hit the city last August. Apparently the rain check has had everybody antsy for the real thing, because as I run-walk to 1208 Surf Avenue and go through the entrance, I see the bleachers jam-packed with all sorts of colorful people. And there is World Famous *BOB* herself on the mic, looking stunning as ever in a ginormous blonde wig and a skin-tight, light pink, stretch lace dress which runs down to the floor. Tonight we have a line-up of five acts dedicated to the art and performance of drag, with a few burlesque tones tossed into the mix. Judging the event tonight are burlesque stars themselves: Bambi the Mermaid, creator of the Miss Coney Island pagaent; Glenn Marla, the very first Mr. Coney Island; and Dusty Childers, fashion and lifestyle icon. Without much delay, we segue right into the meat of the show: "Your hands may actually hurt from clapping. They're that good," our hostess warns. I say bring it on.
First up is Dr. Flux, walking out in what mostly appears to be a traditional doctor's get-up, complete with white lab-coat and flat men's shoes. Her make-up is asymmetrical, and as she strips to a remix of "I Feel Pretty," she pulls a more intriguing, a more "off" outfit out of her bag of doctor goodies. She rips off the sleeves of her white coat, which she later removes entirely to reveal pink undergarments worn over her everyday men's clothes. She pulls on a bright pink wig to match her thigh-highs, and finishes the look with some dainty pink-and-blue pumps. Looks like my kind of doctor!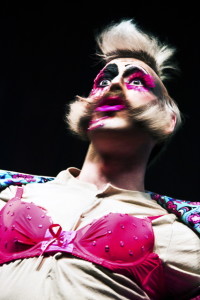 Dr. Flux then begins to strip, but this time moving in ways that are markedly feminine – or I should say, recognizably feminine. Certainly she is no stranger to such burlesque staples as the pointed-toe thigh-high removal, and the sensual movements as she strips down to reveal pink star-shaped pasties.
"Dragtestant" number two is Faux Pas, who is immediately striking in her costume and movements which match the song "I'm a Barbie Girl." Faux Pas moves robotically, jerking her limbs this way and that much like the anatomically impossible Barbie would have to do. She commits to this character thoroughly, from the giant toy pink convertible attached to her blonde wig to the pink tutu around her hips, and right down to the mechanical blink of her eyes. Undoing her bra with her back to the audience, she spins around to release two balloons from underneath, the strings attached to her nipple rings. She quickly butchers the balloons with a knife that seems to come out of nowhere. The song transitions to what is best understood as the "gay version" of "I'm a Barbie Girl," with two men singing the parts of Barbie and Ken: the former's voice pitched high and eager to please; the latter's low, masculine, and commanding.  Once the crowd's initial laughter subsides, the game that's in play becomes clearer to me. While the original version of the song is indeed comical, it is not entirely parodical. This version most certainly is. It is simply because the gender roles do not conform to those of the majority, and therefore they are brought into question. In this case, that question is asked as a parody, and is answered with the audience's laughter.
To round out the act, Faux Pas entertains us with some impressive physical feats – dancing sensuously, doing headstands on a chair while kicking off her shoes, balancing back on the chair as she pulls off her thigh highs. At the act's culmination, she stands before us with a shaved head, feet bare, and a body looking and moving organically – entirely transformed from when she began the act just minutes ago.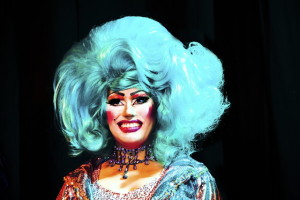 Next up is Sequinette Jaynesfield, who confuses me for a moment. With her back to the audience, I cannot make out what bizarre shape her costume is supposed to achieve. Then she turns around and – ahhh – she's a violin! With bow in hand she playing with herself – er, playing herself, as a violin to a slow, classical piece. Suddenly she barks a violent cough, spitting blood onto her handkerchief before quickly resuming her perfect concert. The coughing reoccurs once, then twice, before this little violin angrily throws the music sheet from its stand. Leaning over, she stops her song and dance to "puke" up a giant pile of gold glitter. Looking as though she's about to faint, she waves goodbye to the audience and collapses to the ground.
Our fourth "dragtestant" is Go-Go Harder in gold and red, looking like a campy version of the Chiquita Banana Girl with a mustache. It is probably no coincidence that she dances to "I'm Going Bananas." About half-way through the act, the song suddenly switches to "Dude Looks Like a Lady," to which Go-Go reacts with a shrug of her shoulders and an instantaneous change in persona. She goes from the peppy Chiquita girl to a sexually assertive and kinky badass, removing her clothes in sync with the music. She pulls out a comb to brush her long hair, switches out her heels for a pair of combat boots, and kicks her legs up in the air as though parodically miming the Rockettes. Removing her panties, then her g-string-turned-whip, she gives herself a couple of smacks before trotting off the stage, giving us a beautifully comprehensive view.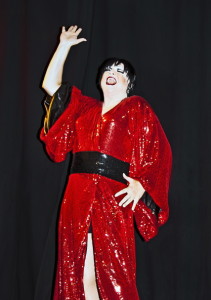 Marg-oh Channing hits the stage as the final performer of the first round of the "pageant," doing an impersonation of Liza Minnelli with smooth black hair and a red v-neck dress flowing down to her ankles. "It's not easy impersonating a drunk," she shares, "but you gotta lip-sync for your life." With this she breaks into a rendition of "New York, New York." From her large lashes to her black peep-toe pumps, every fiber of her being is in on the act. She ends on the ground with her jewelry flung from her body, legs kicking up in the air in pseudo-inebriated revelry.
During the brief intermission, I had a chance to talk with some of the show-goers. They're a lively and largely queer bunch, with several burlesque performers present, including Bea B Heart, Tigger! and Dulche de Leche. Camille Atkinson, the little lady who produces Empire Beats' Juke Joint Burlesque Revue, tells me how she can relate to the drag pageant: "When I was young, my friends and I would get together and put on drag make-up. We were queer and didn't have anything else to do," she says light-heartedly. The crowd here is more than just supportive of this mode of expression; Ms. Atkinson is certainly not the only one who has her own history as a queer individual. Unlike the "real world," this environment provides a safe and supportive place for queer performance art. In an interview with World Famous *BOB*, the hostess expresses her joy in being able to engender such a healthy space: "I'm a big blonde spectacle who the people in the audience can trust, so when I'm on the stage I can tell people how awesome homosexuals are… I want to reach out and pull people up."  While she hopes to keep growing as a talented performer and hostess, *BOB* is every part the passionate shepherd which drag/burlesque shows need.
After the break, we move into the swimsuit section of the "pageant" – or, as our pink go-go suited hostess tells us, "[the performers'] definitions of swimwear.  The first interpretation is indeed a creative stretch, with Dr. Flux hitting the stage in red biohazard bags (not entirely inappropriate for New York City waters). Faux Pas is dressed in a phoenix feather boa with matching heels and g-string – exactly what I wear to the public pool. Sequinette keeps it conservative with a full-bodied frog suit with giant hip-pads, for those who want that much-to-be-desired reptilious look. Go-Go Harder is dressed for the gay S&M  leather beach party with a spiked body harness, pink calf-socks, and her trademark combat boots. Last but not least is Marg-oh Channing, who keeps it classy and classic with a sheer blue cover-up over a one-piece suit and heels.
We segue into the final portion of the drag pageant: the contestant Question and Answer. Our judges shoot some interesting and thought-provoking questions at these ladies:
"What local resources would you use for a show if you were stranded on Coney Island with no make-up"
Contestant: Kelp, for natural embellishments.
"If you could go back, who would be the lucky cherry popper, and what would you be doing"
Contestant: I've lost that six times already… but bungee-jumping in Abu Dhabi with Marg-oh Channing, of course.
"If you were stranded on Coney Island with no money, what would you do to get home?"
Contestant: I would look for a desperate Hassidic Jewish cab driver.
While the judges tally up the scores to determine tonight's winner, World Famous*BOB* holds an audience competition. Shelby, Mike, and Matthew have ninety seconds to put together a drag outfit from an assigned tote bag filled with World Famous *BOB*'s own wardrobe. With wigs and pink things flying everywhere, the racers pull together wonderfully ridiculous looks which they then have to dance and strip out of in an impromptu runway act. Juxtaposing their fun with the performances we've just witnessed, we're shown the true meaning of "professional" drag queen.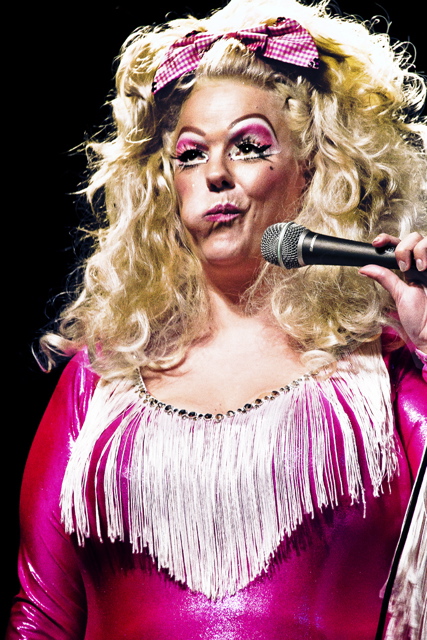 Transgression bound up in sensuality – or perhaps, transgression as sensuality – this is what often gets people scoffing at the subcultural practices of drag and/or burlesque. In the eyes of the mainstream, the queer community is markedly foreign. The juvenile reaction is to automatically assign negative value to those one perceives as "different"; the person making the judgment typically finds many reasons why he or she is in the right, and why the practices and perspectives of the "other" is wrong. In many ways, tonight's show is all about celebrating what mainstream society has marked as dirty, immoral, and even, in extreme cases, insane. We've seen kink held up on a pedestal, homosexuality expressed, and queer performance made palatable. Even if not everyone in the audience can relate to the acts directly, they are certainly here because they can appreciate and honor the differences between themselves and the performers – and that is why burlesque and drag shows rock. In America, and especially in New York City, we do not have to be the same.  This crowd is not a crowd of fools.  Add this to the awareness of performance on the stage, and we have a recipe for real, raw burlesque and some seriously fierce drag.
Finally we've reached the pivotal part of the show. The dragtestants re-enter the stage at once, dressed in some beautiful Do-It-Yourself outfits while the results are announced. We're told that the competition came "down to the seams," where the judges quite literally had to differentiate scores based on the seams of the outfits. Miss Congeniality is Faux Pas, and the winner of tonight's show is the creative and charismatic Sequinette! Needless to say, it wouldn't have been half the show it was without each and every one of these talented performers. *BOB* closes with an entreaty: "Let's keep New York City weird."
—Simone Sanguine, an anthropology nerd and burlesque aficionado, concocts a blend of academia and sexuality to spread the word about gender performance, sex positivity, and NYC's burlesque scene. 
All photos ©Ves Pitts, and used here with permission. Please respect photography copyrights and do not use images without obtaining explicit permission.