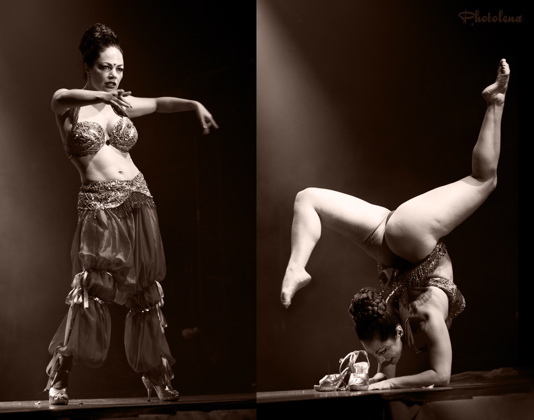 By Photolena
Saturday, July 21
Virgin Mobile MOD Club, Toronto
Previously at the Burlesque Ball…we were regaled by a French cancan by the ladies of Glamour Puss Burlesque, a gender-bending hula act by Toronto's own Olive-or-Oliver, a glitter producing baby with Miss Mitzy Cream, a beautiful love story from St. Stella and James & the Giant Pasty, some Emperor's New Clothes form Dew Lily, a poisonous routine from Maria Bella, Canada's own legend of burlesque Miss Judith Stein, Champagne Sparkles and her naughty muppet, crazy cheezie action with Paco Fish, robotic fun with Lola Martinet, latin dance with Frenchie Fatale & Carlos Caliente, gravity defying pole work from Mahogany Storm, and a group piece by the Harlettes.
Phew! And there was more to come. Let's not wait any longer and move on to highlights from the second half of the Burlesque Ball…
I was truly looking forward to seeing the gals of Rubenesque Burlesque from Oakland. They represent one of the ideals that I love most about burlesque and cabaret – all women are sexy when they're up on stage. If you have the charisma and the talent to strut your stuff in front of the spotlight, you will blow the audience away – and they absolutely did! I loved the comedic irony of the routine – the gals are stuck at a fat camp with an unbelievably chipper and annoying Skinny Minny camp leader who's putting them through some boring cheerleader-style exercise routines that no one would ever really want to do. They band together and overpower the hapless girl. Cannibal-style, they have a lovely feast of her parts – quite fun watching these lovely gals chewing on severed legs and arms. Strong, gorgeous women who show us all you don't have to push yourself to try and fit into society's ideas of beauty.
Coco Framboise always has the most beautiful costumes and this time, she really outdid herself. We waited eagerly as Obskyura and El Toro, dressed as Egyptians, waited with palm fans for their Queen to come on stage. The beautiful Coco emerged in full Egyptian regalia – a titanium-coloured costume that looked straight off the banks of the Nile – and proceeded to Walk Like an Egyptian, much to the pleasure of the audience. As she danced across the stage, she shed pieces of her scant costume and bade her assistants come forward with beautiful huge feathers fans that she not only danced with but also used as a place of rest, suitable for the Queen of Egypt.
Local troupe Les Coquettes joined the festival this year to perform a group number with two parts – a stage act with the majority of the group acting as boxers warming up at the gym, and an aerial piece using ribbons. The stage act was a synchronized choreography piece with all the gals in pink robes and the gents in red robes. After the initial sparring sessions, they rid themselves of the robes and paired up for some sexy stretches in their boxer briefs (which never looked so hot!). It almost made me want to go to the gym again.
As I mentioned in a previous festival article – if it's really different, I love it! This can truly be said about Nasty Canasta – a gal who knows her way around power tools. I didn't know what to expect from the robotic figure that came out on stage, wearing shapeless workman's coveralls. You can't tell from the outfit who's in there – gender, size, or shape. When revealed to be a lovely female form with a sexy metal corset I thought "this is cool, but what's with the weird robot head?" I soon learned that was eye protection for what was to come – using a metal grinder on the corset to create long arcs of sparks across the stage. Awesome! That was the whole act and that's all it needed to be. I would never in my life get a grinding power tool that close to my cleavage – it was scary and amazing at the same time.
I wanted to give a shoutout to Amber Ray – I never get tired of seeing her peacock act. That woman is a true beauty and a master at costuming. Her headpiece in this act is a truly stunning piece of art and the way she moves across the stage is reminiscent of a proud peacock aiming to impress. She would never have to take a stitch of clothing off and I would still be mesmerized by her performance. Of course, she does do a striptease in this piece and we do have the chance to see her get down to her lovely corset and then pasties, but if you have the chance to see her perform watch this gal for her theatrical performance and not just the strip. You won't be disappointed.
Every Dr. Lucky performance is a comedic romp, and sometimes make you think – this time it really resonated with me. In three parts, her act showed the effects of the beauty pageant industry – from annoying toddler pageant diva, to high school cheerleader queen, to oversexualized slut. You could apply this same routine to the movie industry or TV, pretty much any entertainment industry where they start them off young and base their worth on their looks, emphasizing beauty over brains. Dr. Lucky did a fabulous job morphing her character from the wide-eyed innocence of youth to the experience of sexual awakening. Shedding her little girly outfit to expose a cheerleader costume, which eventually was shed for a Frederik's of Hollywood-style red lace lingerie outfit, you had absolutely no confusion about which character you were seeing. Take it any way you wish – as a wonderful entertainment piece or the underlying social statement – it was a great act!
Flexibility, thy name is Kristina Nekyia! Having seen this multi-talented performer in her dark fetish act at the Headliners and Producers Showcase, I was amazed to see her softer side during the Ball when she performed a contortionist act set to a harem theme. This lady can bend like nobody's business. It was a treat to see her perform a slow back bend down to stage, then flip her legs up and over, just so that she could get out of her shoes. As I have no flexibility, I think I'll continue to remove my shoes the old-fashioned way… I cannot wait to see her perform again to see what other tricks she has up her sleeve and I hope she'll come back to Toronto soon.
I know now why Miss Imogen Kelly is the Reigning Queen of Burlesque for 2012. Her act, the last for the evening, was truly spectacular. Walking on stage in Marie Antoinette attire – all reds and pinks with a tall pink wig that housed a sailing ship as a topper – she talked a bit about herself (Ms Antoinette, not Imogen) and the trials and tribulations she had to go through. No one understands her, you see. Life is hard. Of course, the talk eventually led to the famous, and misquoted, "Let them eat cake." After teasing her way through several layers of traditional gown, frilly underwear and bustles to stand there in her pasties and pretty frilly panties, Ms Antoinette had a cake brought out on stage. Instead of eating said cake, she slowly lowered herself down upon it with an elegant split, and then proceeded to play with, rotate on, writhe in, munch on and cover herself with said cake. This truly orgasmic display of food play rivaled the kitchen scene in 9 ½ weeks, and by the grin on her face you knew she was enjoying the cake in more ways than one. Let them eat cake – let me eat cake!
A big thank you to all the other wonderful performers who strutted their stuff at the Ball this year: Burgundy Brixx (what a devilish gal), Skin Tight Outta Sight (Clockwork Orange never looked so sexy), Tanya Cheex (kicking butt in Mars Attacks), Jett Adore (much sexier than Zorro ever was), Michelle L'Amour (too beautiful to be true), and Roxi D'Lite (sex kitten Mrowr!). You made this year's Burlesque Ball the best it's ever been.
Olena Sullivan (Photolena) is a Toronto-based model and performance photographer who specializes in onstage burlesque photography. All photos ©Olena Sullivan-Photolena and used here with permission by Burlesque Beat. Performers may use shots for promotional purposes, but please credit properly with photographer's full name and a link to this piece.