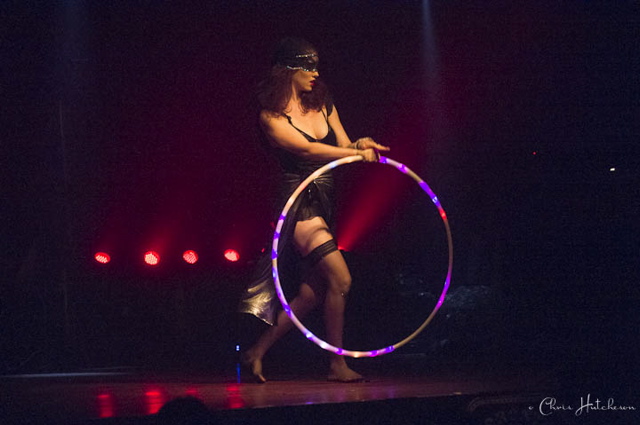 By Photolena
Sunday, July 22
Virgin Mobile MOD Club, Toronto
If you've ever been to a Les Coquette show, then you're probably quite familiar with its beautiful and charming mistress of ceremonies, La Minouche. So devoted is she to all things cabaret, she emceed the Toronto Burlesque Festival's Closing Ceremonies in all her pregnant beauty – attired in the most fashionable of green harem costumes with immaculate hair and makeup, as always. As with the Burlesque Ball coverage, there were so many acts in the Closing Ceremonies that I've cut the article into two parts in order to give the most coverage possible to as many performances as possible.
On to the highlights of the first half of the show…
I've seen some great Elvis impersonators, some good Elvis impersonators, and some that should never be mentioned. When it comes to burlesque, Rouges a Lèvres hits it home in the "Great" category. She really knows how to rock a white sequined satin bellbottom suit and had his moves down pat, from hip gyrations to the twitch to the kung fu chop. As cool and freaky as Elvis was – I've seen the Jungle Room, so awesome – I don't think he'd look as sexy as Rouges during her striptease. She had something I don't think he had – a white satin corset with a black guitar skirt. Talk about air guitar! It was a very erotic – with the trademark Elvis snarl, one eyebrow raised, stroking her… well, you get the idea.
I love to watch Dolly Berlin – she is not only a classic pinup beauty but she has become one of the most engaging burlesque performers Toronto has to offer. I had no idea she had such an amazing sense of humor, having never seen a comic character of hers before. Boy was I in for it! Wearing a pretty yellow retro dress with green trim, her hair in a ponytail, she came out on stage looking so fresh and innocent. That image was soon shattered once she lifted her skirts to tease us with her garter and stockings – shocking! As she stripped down to a gorgeous green corset and bra, matching green stockings, and yellow bustle, she spied with her little eye a huge bottle of Dolly Pop. After taking a big swig of the pop, we got to enjoy the rest of her striptease with the addition of this lovely little minx belching at the top of her lungs. Someone drank a little too quickly, I think. It was a howl! Only Dolly could mix belching and burlesque and make it sexy.
You always know you're going to get a hot and sexy act from Peekaboo Pointe. She has one of the tightest bodies in burlesque and she works hard at it – I've been to one of her workshops and I've seen how grueling just the warmup can be. She's also famous for being the fastest tassel twirler – not just with her cleavage – but also with her butt! For the Closing Ceremonies she was joined on stage with her pal Gal Friday for what I like to call the "No Holds Barred Wild Girls of Burlesque Butt Tassel Throw Down." Picture, if you will, West Side Story meets Burlesque, where the Sharks and the Jets meet up for their rumble under the highway. But instead of drawing switchblades, they pull out pretty tassels, stick them on their nipples and butt cheeks, and try to outdo each other in a procession of harder and more complex twirls that tests their skills and stamina. Whoever's left twirling in the end, wins. That's exactly what happened here. They twirled and whirled their tassels for what seemed like forever – so long I was feeling the burn too. Standing up, crouching, face to face, over and under each other, while catfighting, on the ground, in chairs, doing handstands – there was no position these gals wouldn't try, and couldn't twirl in. It was amazing to watch. I think they could have done an entire burlesque show this way. Come to think of it, I think they should!
One thing you can say about the many faces of Obskyura, they're fierce and in control. Her performances are a bipolar ride of beautiful and fantastical highs, highly dramatic drops into darkness, with occasional coasts of calm peppered in between. She can convey an entire scene and mood through constantly shifting facial expressions that at first glance seem chaotic, but are perfectly in tune with the rhythm of the performance. For the Closing Ceremonies, she blew the audience away with a creative routine that showed how diva and red carpet are truly one and the same through an ingeniously designed – and extremely long – train merged with her stunning red dress. Through her striptease, she not only shed herself of the weight of that long train, but also of her boa and wig before revealing her true beauty. Bared to her pasties, she then gets swallowed back up by her discarded red carpet.
I always look forward to seeing Cherry Typhoon whenever she comes to Toronto or if I can catch her at the annual Montreal Burlesque Festival. She embodies energy, colour, vibrancy, joy, and sensuality. I find her smile infectious, and her mix of traditional Japanese dance and neo-burlesque techniques is so perfect and beautiful, I can't wait until the day when I can put down my camera and just take it all in. The petite ball of energy always comes out on stage wrapped in the most colourful and luxurious of kimonos, inspiring me to shoot her in as much saturated colour as possible. Her routine sways from slow, purposeful movement to poses reminiscent of antique geisha paintings. Her striptease is slow, allowing the audience to savour each miniscule movement and anticipate the mystery beneath the multiple layers of her jade robe. She is a master of tease, working up the crowd for almost the entire routine without having revealed almost any skin. When the kimono is finally shed, it is only for a brief glimpse of her beautiful porcelain skin, as she give us her trademark shimmy shake before exiting the stage.
Lucky Minx is a Toronto performer with a classic pinup beauty and just the right amount of curves in all the right places. Her routines have a soft retro feel to them that I really love and her golden egg routine had her usual comedic flair. Poured into a classic feather trimmed gold corset, she looked elegant with her matching opera gloves, pearls, and feather bustle. Did I say feather bustle? What I meant was feather tail…from which Miss Minx would occasionally pull out a large golden egg – after much grunting, sweating, and squatting, in a very ladylike manner of course. She tried valiantly to pull of a seductive striptease in between egg layings, but it was taking quite a toll on her. In the end, after finally having enough breaks to be able to tease down to a beautiful fringed girdle and pearls, she gave it her all and finally laid the golden Faberge egg.
The last day of the festival was a day for awards and recognition. Since 2010, Great Canadian Burlesque has inducted performers into the Canadian Burlesque Hall of Fame every year, and this year they were recognized during the Closing Ceremonies. Mysterion the Mind Reader presented gorgeous commemorative awards to:
Great Canadian Wolfman – master of ceremonies and long-time burlesque supporter for almost a decade, his one-liners and on-stage witty banter make for more enjoyable shows and I love going to any show that he emcees.
Sauci Calla Horra – founder of the Toronto Burlesque Festival and the Toronto Burlesque and Vaudeville Alliance, she's been influential in uniting and elevating Toronto's burlesque community to a truly international level.
Judith Stein – performing since the age of 16, this Vancouver Legend of Burlesque has performed for over 4 decades, getting standing ovations to this day.
Miss Cadence – founding leader of East Coast Burlesque, she single-handedly brought the scene to the Atlantic provinces.
April March – OK, so she's not Canadian – I hear you! But we love her so much and she's here so often that we gave her a special award. It's not a Canadian Hall of Fame trophy, but it means just as much, if not more. You're a treasure, April March.
These amazing performers join previous inductees Tanya Cheex, Miss Mitzy Cream and Yvonne DeCarlo (yep, she's Canadian).
A big shoutout to the other amazing, gorgeous, and fantastic performers that I didn't have room to mention but have included photos for: Billie Black, Sexy Mark Brown, Carmen Circus, Rubie Laframboise, Aviva the Mirage, Miss Alyssa Kit, and Mena von Fleisch. You're all wonderful performers!
Olena Sullivan (Photolena) is a Toronto-based model and performance photographer who specializes in onstage burlesque photography.
All photos ©Chris Hutcheson and used here with permission by Burlesque Beat. Performers may use shots for promotional purposes, but please credit properly with photographer's full name and a link to this piece.