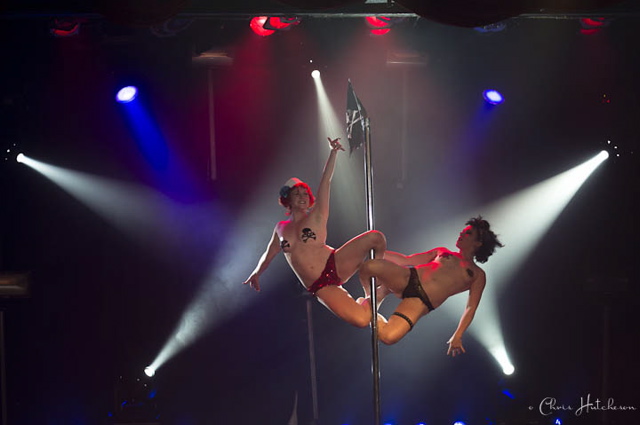 By Photolena
Sunday, July 22
Virgin Mobile MOD Club, Toronto
It's been a glitzy rollercoaster ride through the four day extravaganza that is the Toronto Burlesque Festival, but with this last reportage, we will be saying adieu to all the wonderful and talented performers for another year. I thank each and every one of you for all the time you took creating your costumes – gluing those Swarovski crystals on by hand until you couldn't see anymore – and for putting in the endless hours of rehearsals on your fantastic performances to show Toronto, and the world (thanks to CNON.tv) that our burlesque scene is truly diverse, vibrant, and world-class!
As we close off this year's festival, some final highlights…
One of my favorite rocker girls from Chicago – Viva La Muerte packs a big punch in a demure package. This gal sure knows how to make an entrance, riding on stage on a modified Harley Davidson, clad in leather chaps, matching cap & jacket, and sporting some cool shades. This is one biker mama you don't not want to mess with! The only striptease of the festival performed to heavy rock, Viva's style was all hard edges and attitude as she shed her leather outerwear to reveal a more feminine red frilled bra with matching fringed arm bands and soft leather corset which accentuated her gorgeous tattoos. She didn't let her soft side show for long, and once that frilly bra was ditched for more appropriate pasties, she revved her hog and rode off into the sunset.
Local beauty Fionna Flauntit is a woman of many characters – she can be a mermaid one day and a glamorous Spanish dancer the next. Her final routine of the festival had her channeling a classic comedienne and elegant stage performer, Lucille Ball. With Mysterion the Mind Reader as her Ricky, Fionna's Lucy is reminded that they have an engagement at the club that evening – one that she really doesn't want to go to. After chatting on the phone with gal pal Ethel, they decide instead to sneak out to the local disco. Queue the disco music and drop the glitter disco ball, Lucy's going to let loose a bit. As she tentatively starts to do a little hustle, she begins to shed her horrible housewife dress and pearls to reveal the shiny blue jumpsuit hiding beneath. Things really start to heat up and our little Lucy trades in her trademark red curl updo for a wild red disco 'do, complete with shiny headband. Who knew she had those disco moves in her – the point, the electric slide, the hustle – talk about retro! Too bad Ricky had to show up and ruin it all. As Lucy would say, waaaaaaaaaaaaaaaaa!
I have never had the pleasure of seeing a quick change artist do their stuff on stage before. I've heard of them. I've seen them in the movies. Now, I can finally say that I have seen one with my own eyes – and boy was she beautiful! Vivacious redhead Victoria Romanova joined us at the festival this year all the way from the Netherlands and we were truly lucky to have her. I still don't know how, but within the span of her performance she magically changed in and out of at least 5 completely unique costumes – and performed poses, glove pulls, and reveals with each one! It was out of this world. She'd be spinning around in a glittery black shawls and suddenly – bam! – she'd be wearing a beautiful white evening gown. It takes me an hour just to figure out what I'm going to wear to a burlesque show – and that can involve trying on 4-5 outfits, shoes, hating everything I own… I wish I could change as quickly as the beautiful Victoria. I know it's a long way to go, but I think we need to see more of this talented performer and I hope she can come to next year's festival.
Jett Adore, je t'adore. It's true. How lucky were we to get to savour this eye candy not once, but twice during the festival this year. Am I right, ladies and gents? There's a reason he's called the No-Pantser Romancer. According to his bio, Jett has "headlined in shows and festivals all over the US and Canada, spreading his dreams and charms like sweet, creamy butter on the crusty toasts of the world." Mmmmm, sweet creamy butter. And a charmer he is, slinking out on stage in a top hat and tails with a blinged out cane to complete the ensemble. He looked so debonair, like a young Gene Kelly – except I don't think that Gene had a set of tails that would rise on demand to give us a tease of his perfect butt. The Dancing Cavalier would have been a success for a completely different reason if he had. Watching Jett do his striptease is like watching a beautiful painting unfold. You see the chiseled landscape emerge, each peak and valley revealing itself slowly, beautiful symmetry across a human canvas. Tone and muscle combine into a perfect specimen of lusty elegance and sensuality. When all clothing is finally (finally!) shed, we are left with a gargantuan string of bowties, as befits the manhood of the "Prince of Burlesque."
A big shoutout to the other amazing, gorgeous, and fantastic performers that I didn't have room to mention but have included photos for: Ms Chaos Divine, dd Starr, Mlle Oui Oui Encore, Lou Lou La Duchesse de Reille, Dangrrr Doll, Lady Josephine, Kiss Me Kate, Scarlett James, and Gravity Plays Favorites. Congratulations to all those who worked on the Toronto Burlesque Festival – especially those who received Community Awards for their hard work and dedication to the burly community. You're all appreciated by not only the TBF but by those who come out to see the festival and burlesque performances week after week, and month after month. This was the best Toronto Burlesque Festival I've been to with the most amazing talent to date and I cannot wait to see how you guys are going to top yourselves next year. Thanks for letting me be a part of it.
Olena Sullivan (Photolena) is a Toronto-based model and performance photographer who specializes in onstage burlesque photography.
All photos ©Chris Hutcheson and used here with permission by Burlesque Beat. Performers may use shots for promotional purposes, but please credit properly with photographer's full name and a link to this piece.