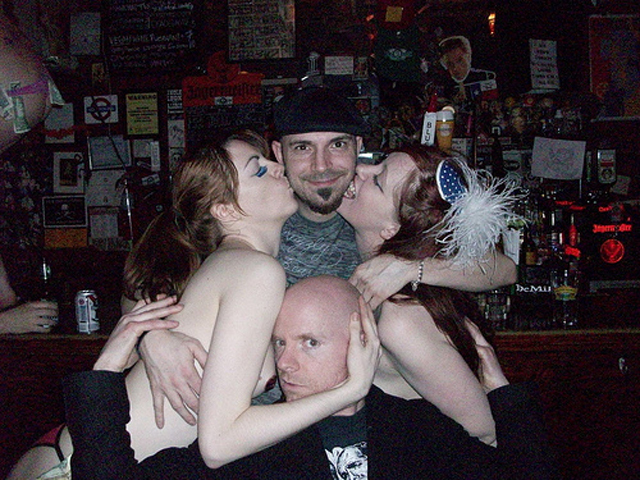 By Simone Sanguine
Monday August 6th, 2012
Lucky 13 Saloon, Brooklyn
Speeding up the hills of Park Slope, I am running late as usual. Tonight is the final installment of the six-year run of Original Cyn Burlesque, which Miss Mary Cyn has been producing and performing in biweekly at the Lucky 13 Saloon. Like the bar, the show is small, but certainly not lacking in character. The tiny stage at the back of the room is surrounded by skeletons, bloodied dolls, a short pole mounted on the bar, posters featuring various metal bands, and headless babies on the walls, to name a few of the bar's idiosyncratic accouterments. A sweet and pretty blonde by the name of Allison makes sure we all have enough alcohol to fuel our cheers and cries for tonight's performers.
It is my third time attending Original Cyn (abbreviated OC), and I'm not surprised to see the place packed wall-to-wall when I arrive. The show has only just begun, but it's hot as hell in here, both literally and figuratively. The regulars in the audience – among them Captain Scorpio (who draws awesome pictures of people in the bar), Peter Aguero, and Emily the Cake Boss (who makes whips out of recycled bicycle tire tubes, raffled off at every show) – have assumed their usual positions. Also here to show her support is New York's burlesque mother herself, Jo Boobs. They're joined by a plethora of OC newbies. Host Nelson Lugo playfully points out that the show might not be ending if they had come out sooner.  Nonetheless, the show has certainly had its run, and with no admission charge, it is commendable that the production has lasted as long as it did. Producer Joe the Shark tells me he has mixed feelings about the show's commencement: While it's been a fun and wild ride and he's sad to get off, there's little to no money in it. The venue will not permit them to charge admission. He and Mary are ready to move on to bigger and better things. "But I will miss it. I will miss it," he adds. Joe also regularly produces Hotsy Totsy Burlesque and the Sharkbite Sideshow; Mary Cyn is a cast member of the production Epic Win Burlesque and is actively involved in a plethora of other burlesque happenings. And while the show's regular attendees tell me that they wish the show would continue, Nelson Lugo corroborates Joe's perspective:  "I'm okay with it [ending]. We're ready to move on."
As part of the finale, each of the four hosts who have regularly performed at OC take turns on the stage. Schaffer the Darklord charms and entertains all with his specially written rap dedicated to OC. It's quite a spectacle to watch this guy ruthlessly tear into his lyrics – definitely a talent one wouldn't expect from a white guy in a suit. Afterwards Nelson Lugo takes the stage and, after ringing in the audience and expressing a few sentiments about Original Cyn, he introduces the first performer to the stage: Miss Mary Cyn herself. This creative dynamo wears a gothic-style black dress, works her way slowly from the front of the bar through the narrow path in the crowd, and takes the little stage to Guns N' Roses' "Sweet Child O' Mine" – no doubt an allusion to the production she birthed and nurtured over these years. From where I stand at the front of the room, all I can see are her toes pointed in the air as she peels off her fishnets. With her legs and feet free, she jumps up on the bar and woos the audience with some impressive pole tricks and some seriously seductive hair whipping. Slowly she takes down her straps and, to the audible delight of her spectators, unzips her dress to reveal a leopard print bra and matching panties. What she doesn't wear on her body, she wears on her face, with an expression which clearly communicates pride and satisfaction on the closing night of her long-running production.
"This," says Nelson Lugo, "is the most debaucherous show you've never seen… because I've never seen this many new faces in the audience. Thank you for coming to the funeral." He jokes, "I've gone through five girlfriends, one marriage and a divorce since this show has started." Yet it remains "the only way to properly fuck up Tuesdays." That's just one fitting tagline. Considering the divey metal bar venue, the nudity, the libations and the go-go dancing afterparty that proceeds every show, I would add another: It's everything your mother told you not to do.
Next on the stage is Bunny Buxom, the Venus incarnate. She's dressed in a white rabbit suit, complete with floppy ears and a bright red nose to match her glittering lips. She hops up on the stage with a huge smile on her face, no doubt with the knowledge that she's the cutest rabbit anyone ever wanted to bring home.  Suggestively fondling her rabbit ears and humping the walls (and some spectators) like any good bunny would, she unzips her suit to "Discovery Channel." By the end of the act, she's got on nothing more than some fuzzy white pasties and matching g-string, delightfully hopping around the room and all over some lucky audience members.
OC veteran Apathy Angel enters very slowly through the crowd. I cannot see much of what happens after, but I don't need to see to know that she's captivated the crowd with her dangerous sensuality as usual. Parts of her outfit become projectiles as she tears them off and launches them into the audience. Seated in a black chair, she strips her thigh highs off to make them into a gag for herself. Every time I have seen her perform at OC, Apathy exudes a serious yet sexy energy, usually incorporating bits of kink into her act that keeps all eyes interested.
The pseudo-pious/Playboy dichotomy that is Reverend Burke Heffner now takes the mic, looking like a combination of Aaron Eckhart and Chris Angel. In pinstripes, red vest and tie, he gives a racy "sermon" about sin and punishment of the regular line-up of OC performers. I watch Mary Cyn laugh at his suggestions of penance, which include Mary on her knees and Apathy on her back. This is the kind of raunchy hosting one could seldom get away with, but at OC, it works. The Reverend introduced the night's only boylesque performer of the night. Hard Corey makes his slow approach to the stage, flirting with everyone he passes while keeping a cool, even expression on his face. He plants a big kiss right on Reverend Burke Heffner's face, much to the latter's discontent, and takes off his velvety brown jacket and red satin gloves. When he takes off his pants, the sight of his junk bulging from beneath his underwear was hard to miss. His expression shifts as he undoes his shirt buttons and rips it off, to the roaring approval of the crowd. He blows a single kiss to the audience and saunters off the stage as the bluesy music fades out.

Next up is Magdalena Fox, who comes up on the stage in a giant pink cocoon. She dances to the beat of "I Want to Break Free" as though she's trying to push and hump her way out, giving us frequent yet fleeting glimpses of her astounding figure from beneath the semi-opaque cocoon. She knows that she's got our attention as she gives us an outlined peak of her nipples, her torso, her ass… finally she unzips the outfit – but only a little, just enough to stick out a pink satin-gloved hand as if to say "come hither." She makes a human cocoon actually look inviting. After a little more teasing from behind the material, she breaks out and strips down to a bejeweled pink g-string. The comedy, the creativity, and the obvious sex appeal this tall, curvy, tattoo-clad woman possesses make for a very successful act.
Princess Sunshine takes the mic as the final host for the evening. Her character is that of a raunchy, potty-mouthed princess. She announces Jo Boobs to the stage, who immediately commands attention with her vibrant red hair, playful eyes, and particularly fragrant black leather stewardess outfit. She sends out a paper airplane which rains glitter in its path and moves right into the strip. Skirt off, classic black thigh highs showing, she brings out and plays with a dildo – first flying it through the air like a toy plane, then rubbing herself down with it, licking the tip, sucking it off and, visibly disgusted, spitting into an airsick bag. Then, handing out her bag of glitter in place of peanuts, she kicks off her shoes, peels off her tights and top, and with wonderfully suggestive eyes, jumps up and down while twirling her tassels in perfect 360 degree circles. Using her teeth, Bunny Buxom helps get the corset off Jo, who then joyously shakes her smooth red hair down to receive the loudest applause yet. The act is just winding up, or better yet, tying up as Jo skillfully puts herself into a Shibari bondage harness. I always enjoy incorporation of kink into an act – once I get past the wobbly feeling in my knees. I certainly was not alone in enjoying the sight of Jo work a rope like she does, then splitting over a chair, leaning back, and rocking her hips back and forth. Today falls near Jo's birthday, and after the act we all sing a very happy birthday to this incredibly ageless red-headed beauty.
Next we have to clear the bar for Mary Cyn's second act. Mary always performs two acts as part of the show, and with a vast array of acts to choose from, you would have to be a die-hard regular to see the same act twice. In a bright red prom-type dress and matching stockings, she climbs the bar and soon strips her jacket and gloves, gracefully slides down the pole, and reveals writing all over her body – signatures from OC's regular spectators and performers, which are quickly added to while Mary is performing her act. In the middle of her sternum there is a big heart with "OC" written in the center. She adeptly pops her bra off and dances for the audience, all eyes on her as she moves around the bar she knows so well.
Mary's commemoration piece comes to a close and she approaches the stage with tears in her eyes. The night's performers come up to take a goodbye bow to the long-running production.  The fun and the community surrounding the show are sure to be missed by performers, producers, and spectators, but as Joe pointed out to me, there simply is not enough money involved. When producers are actually losing money on some weeks, something has to change. They and the performers put so much into making a show possible, into making a show work. It seems absurd that the amount of time, effort, and preparation that goes into creating acts, presenting acts, and making it all into a single functioning unit would literally not pay off. Burlesque is traditionally working-class entertainment, but the spectrum is certainly broadening to include more high-end admission costs. Burlesque performers have to keep up with the costs of their own outfits, at least. And though I had never seen any member of the audience act disrespectfully, the fact remains that a low or no-admission show does has a harder time eliciting the kind of respect which the people on the stage deserve.
Yet it is clear that this show meant a lot to a lot of people, hence the bar being so damn packed for the finale. There is something innately lovable about drinking, dancing, and debauchery; Original Cyn provided an escape into the down and dirty burlesque world to ordinary people on a Monday night. In that sense (and in the sense that everyone walked through the door for free), it was a gift. As the producers and the performers move on to bigger and better things, they surely will not forget their times at Original Cyn. Fighting to keep her voice even, Mary shares a few closing words, "I love you all, thank you for coming out and making this show what it is. Now let's dance!"
Simone Sanguine is an anthropology nerd and burlesque aficionado, concocting a blend of academia and sexuality to spread the word about gender performance, sex positivity, and NYC's burlesque scene.  Check out her Naughty Sessions Blog.
All photos used here with express permission by Original Cyn Burlesque. Please respect photography copyrights and do not use images without obtaining explicit permission.