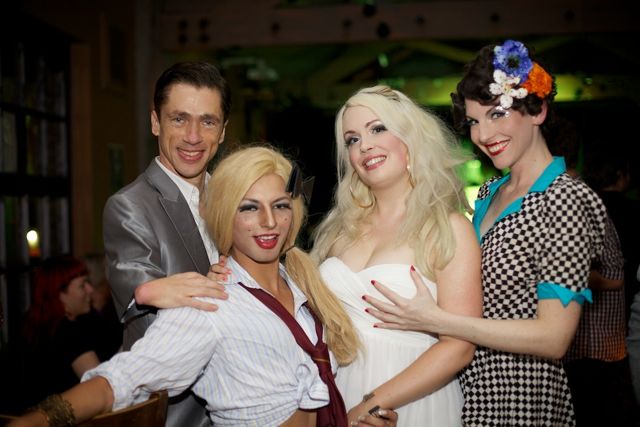 by Rubyyy Jones
Wednesday September 5th, 2012
Lockside Lounge, London
We are very lucky in Londontown, to have a wide range of wonderful Burlesque events and venues – a colourful spectrum of flash and trash – and one of my absolutely favourite nights is the NYC style, twisted romp that is Mat Fraser and Trixie Malicious's SLEAZE. It also happens to be the only show that I go back to over and over, month to month; give me sleazey fun over a stuffy supperclub anyday!
Sooo I was back again for the first Wednesday of the month, at the Lockside Lounge in Camden Market, and the venue was steadily filling with kinky regulars, curious market strollers and Burly babes; Sleaze is one of the few shows where I see an industry loyalty too, as it's cheap, cheerful, chockfull of irresistible international talent and always pushing exciting, innovative and boggling acts – cause London, I love you, but if I see one more girl slowly and passively remove her bra to 'vintage' music I will kill myself by injecting Swarovski dust into my veins.
Kicking off the show was the resident go-go girl Miss Cairo Mascara! Terrifically trannilicious, a gender-bending burlesque artist, she's a Sleaze staple; after a short show hiatus, everyone was digging this lovely lady's moves and whether it's on stage, on a table or on your lap, Miss Cairo delivers a saucy show. With a little back to school theme going on, she was all sweet and schoolie in a uniform consisting of the shortest skirt imaginable, blonde pigtails, knit knee high socks and leopard print, sky high shoes, twirling and pumping to 'Hit Me Baby One More Time'. The night's line up was sizzling; hosted by Trixie (her and Mat take turns hosting and performing) and she was looking demure and devastating in a sparkling white strapless evening gown, cleavage aplenty and her red lips blazing next to her iridescent hair and skin. A fellow Canuck, I love her shock- and saccharine-mixed delivery, almost deadpan in a floaty, airy fairy way, and her infamous bad jokes are the best and baddest bad jokes I've heard.
First onstage was Mat Fraser, warming us up with some raunchy stand up and some of the bluest jokes I've heard in awhile; he works that crowd up and down and all over so even when the jokes aren't landing, we're still laughing cause he keeps pulling us along and into his hurly burly mind with ease, confidence and sex appeal. Next up was the formidable and fabulous Legs Malone, on our side of the pond for the last few weeks making waves at Edinburgh Fringe and with her uplifting, body loving burly workshop. Let me just get this out of the way… NYC, if you do not treat this lady like the Burly Queen and performance artiste she is, you've got a couple dozen people, myself included, who would happily visa-marry her so that we can watch her perform over and over again. A breath of fresh burlesque air. I was thrilled to see her 'Magic Lamp' act in the flesh and her smart, specific and sparkling performance was a pure joy from beginning to end – you're spoiled New York! Soak her up! A sweet Legs stumbles on a magic lamp which makes all her girly dreams come true; I loved the dollar bill petticoat/boa and the final wish comes with a hilarious and horrible price, that had the audience howling – you'll just have to catch the fab Legs Malone in action… Then it was time for a signature Sleaze-y audience game and then a trip to the bar to slurp Sleazetini's and enjoy more strutting and shimmying from Miss Cairo.
The second act started off scorching, thanks to the potent, powerhouse that is Roxy Velvet; wrapped in ripped fishnet, slick and studded leather and topped with dramatic make up and a wicked sexy grin. The Sleaze stage is not a massive one, but Roxy worked and stalked the space, then turned up the heat some more with some fire eating, body burning and flame blowing to Die Antwood. I loved Roxy's cool confidence, soft smile and hard bodied hotness; Burlesque needs as many ferocious femmes as it can muster and she would be Mama Velvet to them all. Time for another Sleaze-y game: Crotch beer guzzling, as classy and fun to watch as it sounds! Followed by the masked naked crooner – does just what it says on the tin – in a Mexican wrestling mask, decked out bolero and nothing else, he gave us a punk original "Bones Of A Dog" and a rendition of the classic "Witchcraft" complete with cock swinging drum hits and high kicks. After the crooner (Shhh – it was Mat Fraser!) a friend and Sleaze newbie in the audience turned to me and said: "you know the idea that when you die, all these key and crazy moments of your life with pass before your eyes – I'm pretty sure that will be one of them for me". The radiant Trixie Malicious sent us off to the bar to refill our 'bladder sacks' and to get excited for the thrilling third act.
Sleazetini in hand, both hands, I chatted with some sleazy regulars, smoked too many cigarettes with some drag queens and then it was time for our final acts to take the stage! Trixie welcomed the beautiful Gypsy Wood on stage and she burst through the curtains, bubbling and gasping in a red hot, full sequin mermaid gown with a 'Miss South Carolina' sash and blonde wig to the max. In a gigglerific monologue, she informed us – in a nearly perfect American accent, masking her Aussie one – that we were about to witness a neo-contemporary, jazz dance routine and slipped out of her fabulous ensemble and into a white leotard. Isn't it always the way ladies? You're accepting your title as Miss South Carolina, performing some all-out Martha Graham madness and Aunt Flo comes to town… but the show must go on, right?! And her show, and her flow, went on and on and on, until the Sleaze stage looked more like the prom dance floor in Carrie, than a neat pub venue in Camden. I had been planning some Burlesque menstruation marvelousness myself in the near future, so a little part of me wanted to kick Gypsy in her bloody box, but the rest, and most, of me, cheered along enthusiastically with the rest of the crowd.
It was time for the final act of the evening and it had to be Legs Malone to take us on home with her filthy and toothyyy striptease. I don't want to give too much away because the surprises and reveals make this act a winner; pure hilarity, pure sex, perfect burlesque… Yes, I'm a little bit in love with Legs Malone, I admit it, I'm comfortable with it, okay?! It's her wit behind every wink, every move, the humour in her hips, the laser focus in her eyes, her sensuality through the unsexiest, the twisted moments; as a neo-burlesque artist I was inspired and entertained like I've never been before – it was thrilling, I might never love again… Massive round of applause for the lovely Legs Malone! And in Sleaze tradition there was a raffle draw and a round of audience Spin The Bottle; methinks Miss Cairo rigged this one to see some of her favourite ladies smash faces, the audience didn't mind, they're converted and now they're Sleazy like that.
Rubyyy Jones is a performer, writer and muse specializing in love lust and light. 
All photos ©Sin Bozkurt and used here with permission. Please respect photography copyrights and do not use images without obtaining explicit permission.