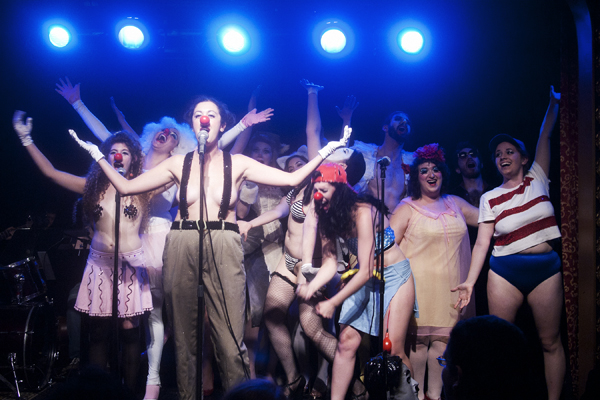 By Glans Shivling
August 19, 2012
The Triad, New York
Hellooo Nurse!
If it's true that the most erotic fantasies are forbidden, then Rhinestone Gorilla Burlesque's Good Idea Bad Idea is the hottest show in town.
The premise of Good Idea Bad Idea is both engorgingly erogenous and utterly inappropriate. The women (and men) of RGB figured the only way to save Farmer Ted's Old Timey Barnyard in Mohonk, NY, was to put on a burlesque tribute show to the kids' cartoon they loved when they were tiny tots: The Animaniacs. (OK, I made that up. But the troop does hail from SUNY New Paltz.) Nubile hotties Angelique A'LaMode, Kinky Demure, and Gemma Stone play Yakko Warner, Dot Warner, and Wakko Warner, three cartoon MCs, hosting a show at the Triad Theater featuring burlesque superstar Jo Boobs. Their manager, Deuce Velvet III, is a scumbag (natch), and their live band is accompanied by a live foley operator (sound effects, that is), code named "Amplexus Attack." Will the Warners be able to pull it off? Spoiler alert! They pull it all off.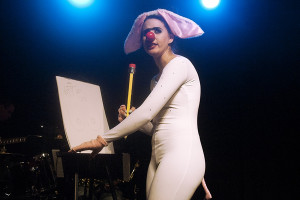 The Animaniacs' framing device fits the burlesque protocol perfectly. Avian Rush (who isn't old enough to drink in the club where she shows her D-cup ta-tas to perfect strangers) plays Hello Nurse; Billie Shakes strips as Slappy the Squirrel; and Lucida Sans, the evil genius behind the show, does double duty as both Runt in "Rita and Runt" and Pinky in "Pinky and The Brain" sketches. Miss Cherry Delight is delightful in mime sketches that recall Little Brooklyn in their comedic sophistication. Spartacus Rising shows off his cock in a barnyard boylesque, Charlotte Pines croons the toons and plays Rita, and Debra Delorean does a rousing rendition of "Colin, The Randy Beaman Kid."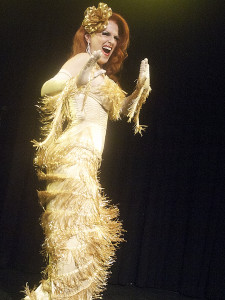 Why is this show so hot and so, so inappropriate you ask? The opening taste of prepubescent porn is stage kitten Fancy Feast's strip tease, wherein she plays Monica Lewinsky trying to catch the attention of a creeper in a Bill Clinton mask. Deuce Velvet misreads this as lame political satire with low erection value — eighty-six the puns and potty humor! More boobs! That's what people pay to see! — when in fact Fancy Feast's skit represents that most taboo of all kinks: a girl child's first memory of illicit sex. You see, when Prez Clinton was wetting his cigar between Ms. Lewdinsky's lips, the cast of RGB was between 8- and 10- years-old. And what impression was made on these tender minds? Obviously, old married dudes are hot. And wrong. Which is, in and of itself, hot.
And let's face it, The Animaniacs was an "adult-oriented kids show," which is to say its two target demographic audiences were a) forcing their parents to watch them pretend to be Britney Spears as they danced in the living room, and b) wearing London Fog trench coats over white boxers, wingtips, and sock garters. If you don't believe me, check out this reel of dirty jokes from the show's 90s run. I particularly like the one about Beethoven's pianist. Fifteen years on, those kids are young adults, exposing their supple, beglittered breasts and taut, glistening buttocks; and the guys with the sock garters are sitting in the audience, chuckling to themselves and writing blog posts.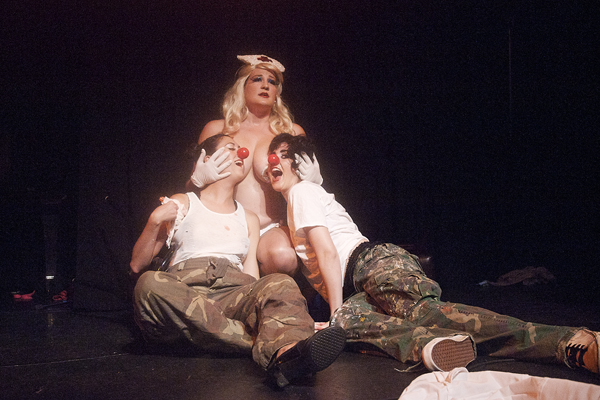 These cerebral ladies, cast in the Lena Dunham mold of young, smart, sexy, nerdy, nerdy-sexy women, reprise the countries-of-the-world song and do a Parade of International Cheeses — all in titillating, sparkly, see-through costumes. Just to show off their high culture cred and low culture spread they did a rendition of Shakespeare's Hell Gate Porter scene from Macbeth, in which every time the porter says "knock, knock" Yakko responds with a knock-knock joke. But for my money the most entertaining part of the show was Amplexus Attack's live foley effects. I nearly peed myself when, during Miss Cherry Delight's mime of an "Imaginary First Date," Amplexus made the mouth sounds of three types of sloppy cunnilingus. Effing awesome. You can't get much more maniacal than that.
Good Idea/Bad Idea returns on Friday, October 12th at 9pm at the Helen Mills Theater (137 West 26th Street).  Rhinestone Gorilla will be joined onstage by voice actor Rob Paulsen—the original voice of Yakko and Pinky.
Get your tickets here.
Glans Shivling is a freelance massage therapist and reporter for Burlesque Beat. People have called both his journalism and his massages "touching" and not in a nice way.
All photos ©Peter Marquez and used with express permission by Burlesque Beat. Performers may use shots for promotional purposes, but please credit properly with photographer's full name and a link to this piece in all instances.