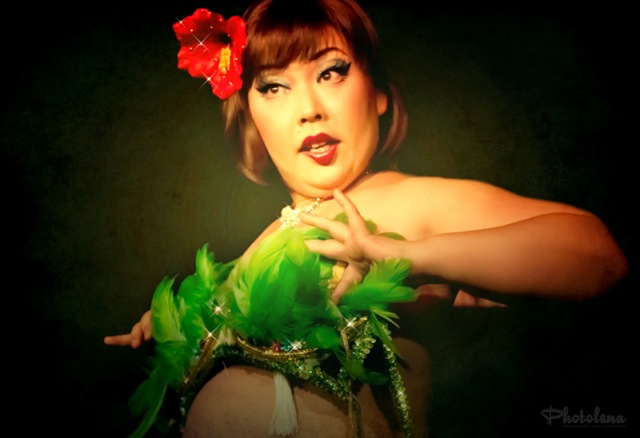 by Photolena
August 23, 2012
The Comedy Bar, Toronto
The message spread like wildfire through social media channels – Facebook, Twitter and blogs – spreading the call for help from Las Vegas to cities all over the world. Like a big glittery bat signal, it rallied performers, producers, and the myriad creatives that make the community such a diverse and supportive group, propelling them into immediate action.
Toronto was one of at least four benefit shows being thrown, joining Los Angeles, Chicago, and Calgary in the effort to raise enough funds to preserve the legacy of burlesque. The collection of burlyq ephemera numbers in the thousands with everything from stage props to costumes associated with some of the industry's most influential legends such as April March, Satan's Angel and Tempest Storm, as well as those whose influence and fame will never fade away such as Gypsy Rose Lee, Sally Rand, and Tura Satana among hundreds of others. We knew that these were important pieces of history that should not – could not – be lost.
So Toronto did what it does best – we threw a big burlesque show! Through the great (and very rushed) production talents of the Great Canadian Burlesque and with Dr. Mysterion at the helm, twenty performers descended on The Comedy Bar in the west end and donated their talents and time to this worthwhile cause. Along with a silent auction and proceeds from the show, we were able to donate a nice big chunk of green to the Indiegogo campaign.
The big announcement came down the wire this past week that with everyone's efforts, both big and small, individual donations and those from fundraisers such as ours, the museum met its target. Hell, they surpassed their target! The 4000+ pieces in storage are safe now, relocation and storage costs should be covered while a newer, bigger, more permanent location is found for an ever-growing collection that spans over 100 years.
A huge heartfelt thank you goes out to Bella Muerte, Esther DeVille, Ab Horrence, Liv Vicariously, Gigi Vanilla, Delicia Pastiche, Karen the Swan, Kenickie Street, Aviva the Mirage, Obskyura, Coco Framboise, the Harlettes, Dolly Berlin, Bianca Boom Boom, St. Stella, James & the Giant Pasty, Mitzy Cream, Rubie Laframboise, Sauci Calla Horra, Cherry Typhoon, Tanya Cheex, Dr. Mysterion and our emcee Canadian Wolfman for putting on an amazing performance for such a worthy cause.
Check out the gallery of some of the awesome performers that made Toronto's fundraising evening sparkle…
Olena Sullivan (Photolena) is a Toronto-based model and performance photographer who specializes in onstage burlesque photography. All photos ©Olena Sullivan-Photolena and used here with permission by Burlesque Beat. Performers may use shots for promotional purposes, but please credit properly with photographer's full name and a link to this piece.