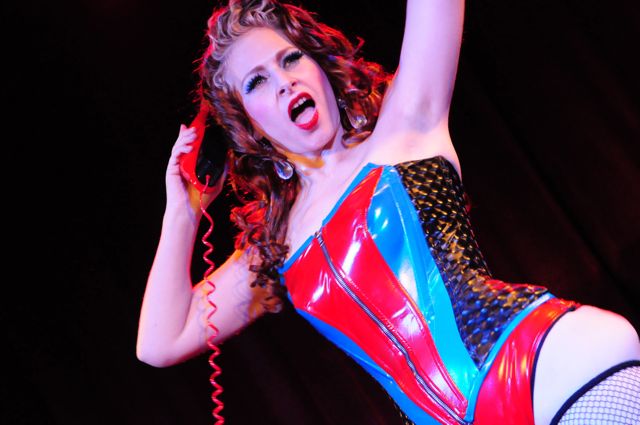 by J.D. Oxblood
Thursday, September 27th, 2012
The Bell House, Gowanus, Brooklyn
The crowd LOVES The Hot Sardines, the skiffle-soufflé jazz band that features a washboard-popping front woman with a melting alto; a trumpet player who does more with a plastic cup than many with a rack of mutes; a bow-tied reed player swapping sax for clarinet; and a rhythm section of standup bass and the skin-tight combo of a minimalist drum kit and a tapdancer they call "Fast Eddie" (not-for-nothin'), all held together by the ivory-poaching bandleader. Quite possibly the best warmup band possible for this venue, for this dingy, rain-soaked Gowanus night, for this ornery gotta-go-to-work-tomorrow crowd, for this, the opening night of the TENTH annual New York Burlesque Festival, brought to us as always by the gorgeous Angie Pontani and her partner, Jen Gapay, who—I've learned—inspires as many sexual fantasies as Angie herself. It's a Thursday, the weather sucks, and we're all hootin' and hollerin' as the band does their signature barnraising by taking a tour around the venue. Don Spiro turns to us to joke, "that wasn't even the show"—just the warmup, and the proverbial shit has yet to hit the fans.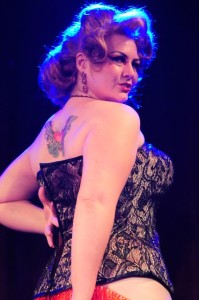 Albert Cadabra is a performer who's been quietly simmering on the back burner for years, honing his craft at workaday gigs like barking at Ripley's, and has emerged as one of the best hosts the worldwide community has at its disposal. He's high-energy, he's genuinely wowed by the talent he introduces, his own moments of performance are executed with brio (tonight we got the balloon swallow), he has enough corny canned jokes to appear "just folks," and yet he's quick on the draw (e.g., announcing he's moved in with a girl, a heckler calls him "stupid," and 'Bert responds—without pause—"Thanks, Single Guy").
Big shout out to New York's Darlinda Just Darlinda, who drew the difficult post of opening the Fest—it's never an easy task, and she took it head-on with her "Year in Rainbow" showstopper featuring rainbow-flavored everything. Our stage kittens for the evening: the delightful Foxy Vermouth—a tall drink of redhead who's a veteran of Francine's Pink Room—and the new-to-me Bunny Buxom, a disarmingly cute (and shockingly young) brunette working the Betty Page angle.  Yes, she's got a supercute pooper, but it's that coy look she tosses out to the audience after every pickup that makes you really want to see more of her.
The evening, taken as a whole, was a big sloppy tub of popcorn, overflowing with tasty nuggets coated in butter-flavored grease. Or something. Let's just say there was all kinds of action, and in many ways gave some of the best surprises of the NYBF.  Just on the front end we had Australia's Alyssa Kitt scrunching her cute face and flashing a crooked grin, Delysia La Chatte's strange silver robot, and Colorado's Bunny Bee in Zoot suit. Was that a stethoscope? Is that a safe cracking tool?  And Nona Narcisse, from New Orleans—who must've made the trek up to Baltimore to win the NYBF Star Search—turned in a steam punk number in a leather vest decorated with watch parts, which was a huge hit with the wall of photographers.
I was digging NOLA's Little Luna, playing the wolf in a granny costume, ripping off her wolf's head to reveal a pixie-cut brunette, six kinds of cute, and strangely wonderful costume additions—odd rubber appendages?—and swinging a rope with sheer Louisiana nastiness.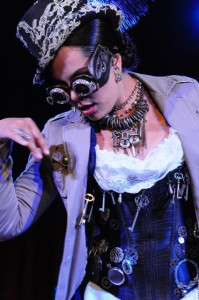 I love New Orleans, I miss it, and I was happy to see so much NOLA in NYC, leading up to Slow Burn Burlesque, who came to town with 2 brunettes, a blonde and a redhead led confidently by the caramel Nona Narcisse, taking the point with pride in a classic showgirl act with peacock headdresses. Simple synchronized choreography, barefoot, no less, and done right.
It looks like New Jersey Star Search winner is already booking herself around town, the truly stunning Poison Ivory, a lovely black girl—I've said it before, I'll say it again; there's a lot of white on the NY burlesque stage, so it's goddamn nice to see some color—who started simply by rubbing her body by hands wrapped in kid gloves.  Shudder. Her able strut is equal parts confident and innocent, and the slow push of the skirt over her ass was quietly explosive—well assisted by a clever song choice, "Girl with One Eye" by Florence and the Machine.  It doesn't hurt to find some new music, people.
And yet, that old Hollywood feel can still work magic, as Truvy Trollop proves in a gossamer blue robe to standard jazzy fare; very simple, but she SELLS it, rocking that triangle Cali-style bikini, positively adorable.
At intermission, Albert gets a costume change—takin' it SERIOUS—and we get a blistering gogo set from the always-sexy Evelyn Vinyl and relative newcomer (and obvious ballet training addict) Aurora Black, a tight little blonde.  The two manage to both acknowledge each other (key) AND the audience (duh), and turn it out.
We get off to a nice start with Dangrrr Doll in black feathers—her ass is truly a New York treasure—Boston's Miss Mina Murray doing a straight-up traditional stocking peel, lying on a bench, legs up, the whole bit; and New York's own (now that she's ditched Virginia) Boo Boo Darlin, who always knocks me over with her FACE. That wide open mouth, that open flirtation with hilarity—just so much character.  And not that she doesn't have a rockin' bod and skills—after ditching her dia de los muertos mask and stripping to skull pasties, she did the perfect pastie pull, a twirl, and a backbend twirl, by the book.  And the book I'm reading is Jo Weldon's.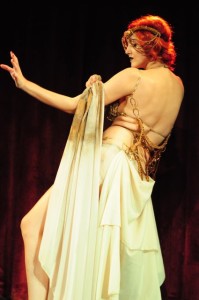 I've seen more than a few Italian performers and, I'll admit it, I don't get it.  I really don't know what the fuck they're doing.  So imagine my surprise when Milan's Albadoro Gala works a big table with a big steaming stock pot—FOOD!  I totally get this act!  To Rosemary Cloony's "Mambo Italiano," she struts in looking cute as a bug's ear, big floppy hat, red coat over dress, all polka-dot trim, and quickly ditches all of it down to a white corset with garters, slaps on an apron and shows us that sweet caboose. She's cute, son, super cute, and now she's cookin'—tossin' stuff in the pot, working it, bending a leg back to nix a stox, strutting, setting her ass on the table, now slurping a strand of spaghetti from the pot—why is that so hot?  It all ends with a nice bounce twirl and a coda of a bounce and squeal—happy, cute, girly. That's nice.
Essence Revealed brings new life to the overused Prince chestnut "Darling Nikki," in a bizarre full-body cape with a lite-up hood.  When she drops it, she's in a wax paper-like see-thru hood, bra, panties (over others), and boot tops (like knee boots)—great contrast against her dark skin—with an intense face glaring from behind straight black hair. When she grinds, she grinds like a tornado, quite literally tearing shit off of her body, and exercising a loud QUIET loud aesthetic any Pixies fan would dig.  And that coda, the tail end of that song that no one ever knows what to do with—this girl goes to a chair upstage, resets, applies assels, and puts one leg up to show us: one cheek at a time, and both cheeks together.  This addendum is a master class on how to spin assels, and people were losing their shit.
It's a long slow climax now.  Brewster enters as Dr. Livingston in safari gear with chaps  and a big codpiece, tossing diamonds into the crowd. "Diamonds Are a Girl's Best Friend" segues into hip hop as he shows some ass, then he gets all shot up—blood in the face—and rubs blood all over himself to "Welcome to the Jungle."  I don't think this is a commentary about blood diamonds, more like an "inspired by," and it doesn't matter.  By the time this sexy hunk of manmeat is dumping diamond glitter all over his naked, bloodsoaked body, the entire crowd is going apeshit.
APESHIT, by the way, is a technical term, and you only ever get it from an audience with a male performer*. That's irony for ya.
Minnie Tonka's right behind Brewster with her ridiculous "Hello"/"Hello Again" act, winding herself up in telephone cord and skillfully posturing in those "Minnie moments," moving from a smile to a grimace to a smile… and holding a pose so long you suspect she's just hamming for the wall of shutters.
And to put the button on the evening, the recently-married—CONGRATULATIONS!– Trixie Little, posing as a mermaid on a big trunk and then cutting herself out of her fish half. Yep, big knife, self-filet.  I personally wanted to see more of the very Frida Kahlo fish skeleton she had on under the meat, but maybe another time. Trixie was busy leading up to her "climax."  What did you think?  Oyster pussy?  Is that a thing?  Am I supposed to be this aroused?
Welcome to the NYBF.
Kiss kiss,
JDX
*With one exception.
J.D. Oxblood is co-founder and Editor-in-Tease of BurlesqueBeat, and an occasional contributor. His burlesque writing has also been seen in Burlesque Magazine, 21st Century Burlesque and Zelda. His academic work is forthcoming in Borrowers & Lenders.
All photos ©2012 Melody Mudd for Burlesque Beat. Please respect copyrights and contact melodymudd@gmail.com for permissions. Performers may use shots for promotional purposes, but please credit properly with photographer's full name and a link to this piece in all instances. Performers who would like hi-rez images, get in touch.