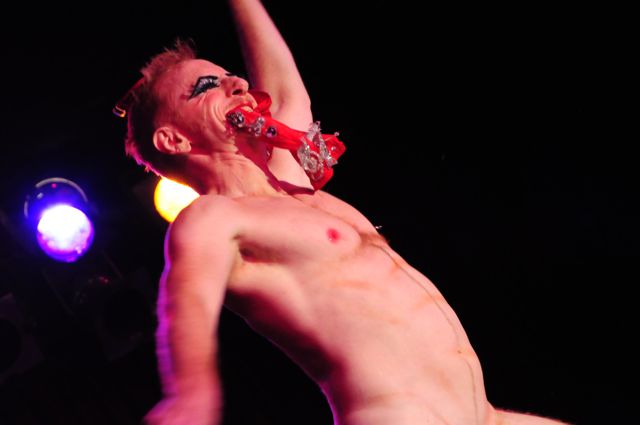 by J.D. Oxblood
Saturday, September 29, 2012
B.B. Kings, Times Square, Manhattan
If you can judge your age by how many times you've been at the same place at the same time year after year, we're all getting old. But if you can judge your youth by how much time you've spent screaming at the scantily clad in a basement under Times Square, then we all have a long way to go. I love a good night at the Saturday Spectacular, the headliner's ballyhoo of the New York Burlesque Festival, and nostalgia was running deep as Murray Hill took the stage—well-set by Brian Newman and his band, who socked it to us with a killer trumpet/sax battle of licks on "Cheek to Cheek." Murray had a little help himself, opening it up with a gaggle of superfine hotties doing that "Gangham Style" dance move, namely Francine, Bettina May and Tansy. Now that's an entourage.
Major shoutout to our waitress Emily, who took great care of us despite the sold-out house. But the drag about BB Kings is the early cut-off, which means arriving well before 6 and standing in line if you want a seat with a view to go with that pricey VIP ticket.
But having done so, we were up front and center when the Warrior of the Duwamish River strode onto the stage and shook it like a netted sockeye. That's right, Sydni Deveraux of Seattle is in town, and she's opening up this can of whup-ass in a glitter of red to a slow bang of jazz, slowly displaying the wares.  Yes, she's really, really tall, but that's not it with Syd.  It's the slow intensity in every move, the way she looks out at the audience members as if she might just pick one of 'em off like a berry and eat it.  Three quick pumps and she walks it, open mouth; a deliberate dress drop; three steps with stops; it's that easy. A firm tassel fix, and a big twirl to a screaming trumpet.
BB heart cracks it with her team of dancers—Boo Bess, Kaitlin Hines, and Diane Hutchinson—the Senor Coconut cover of "Sweet Dreams," doing the fish face in an orange swim cap. When the dancers come out from behind their rollicking waves, it's synchronized swimming and fish mouths all around.
Harvest Moon—who's setting tongues a-wagging with her latest body mod—turns in a silhouette act behind a spandex moon (which looked great after the lighting guys remembered to turn off the backlights), climbing up on it and striking poses, later bursting right through it. The Schlep Sisters, in robin's egg blue jumpsuits, give us their "Love Will Keep Us Together" act, Helen Pontani taps to rap in a drum major outfit, and the Maine Attraction climbs into the audience—natch—doing the upside down splits on a cocktail table; back onstage, finishes with a headstand, a splits pump, and a shimmy out. Angie Pontani takes us to school in a master class on pelvic thrusts, and Cherry Typhoon drops in from Montreal.
And Amber Ray does CUTE—new to me, but ask the real old-timers and they'll tell you that this is classic Amber, wrapped in a green cloak and black feather headdress, bursting out as a monarch butterfly. Trixie Little and the Evil Hate Monkey, now fully established as New Yorkers (and well-known everywhere), celebrate their recent marriage with a "just married" act to the classic "Tiny Bubbles."  The always-clever acrobatic holds built up to an over-the-back champagne pour, as Monkey filled his flute from the small of her back, and one last hold—Trixie standing on the soles of Monkey's feet, flaunting her enormous merkin.
And then there's Bridget Everett, who brought down the house with her raucous brand of downtown humor, and quite clearly scared the bejeezus out of our Legend guest Tempest Storm and her friends. You kinda had to be there.
But if you weren't, you missed the wonderful act by London's Kitty Bang Bang that I so enjoyed in Vegas, and enjoyed even more here seeing it from closer up. That kitty looks cranky when she climbs out of that can, and so slinky in every moment thereafter. And love the drop-in by Australia's Bella Du Jac, who isn't afraid to bring the heavy metal—yes, kids, AC/DC is an Ozzie band—and "She Got the Jack" got Jac moving in her mask and red wig. Her eyes and her smile—she HAS the crowd and she knows it. Snaps garter, working her corset ties and showing us that back, cracking out her corset spilling playing cards, and those delightful lower back dimples. The music changes and the wig flies off, her long black hair out in gale force, a quick twirl and she's done. So cute—and sexy as… what's Australian for "sexy as fuck?"
I don't know, but Jo Boobs does. Someone heard my prayers, and here's another AC/DC track, "Soul Stripper." But leave it to Jo to take an opportunity to hog center stage and SHARE IT—with Lefty Lucy, Boo Boo Darling and Bunny Buxom, backing her up as she struts with her book, "How to Be Bad." Y'know, one thing I've always loved about Jo is that when she takes off her corset, you can always see the lines marking her skin. Is she really that fair? Or does she just like to put it on real tight.
From here on in, it's a steady accelerando & crescendo to the climax: Dirty Martini in purple to "Foxy Lady," gently strumming her clit; Miss Saturn and lightup hula hoops; THE ORIGINAL WORLD FAMOUS PONTANI SISTERS— No shit, Tara out of retirement, unquestionably MILFy with a capital L, the 3 original ladies all together again—ya gotta love the impact of it!
And our reigning queen Imogen Kelly… I took no notes. I had a great seat, and just wanted to watch. I wrote all about it when I saw it in Vegas… It was even better up close. So fucking cute and so fucking clever, and a perfect 3-act structure with a boa coda.
And ditto for Gravity Plays Favorites, who might be consistently my favorite act in burlesque, but words totally fail. I dunno… try this at home: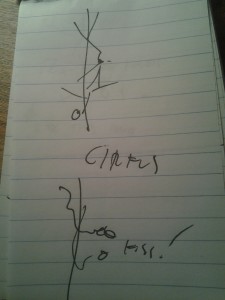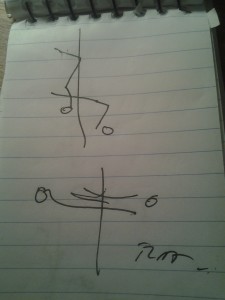 And boom boom boom Julie Atlas Muz as a frenetic wolf in a red hood, attacking the audience, and then snaps out of it and in true werewolf fashion asks, "What happened?" Followed as always by the one and only Tigger!, smoking, speaking in a French accent, wearing black leather, going on about a Harley, and finally stripping to the Ramones. Oh, and doing "the Tigger!," without which it would be an even more incomplete night than if we missed out on Murray Hill once again blowing the lyrics to "New York, New York."
I love this fucking town.
Kiss kiss,
JDX
All photos ©2012 Melody Mudd for Burlesque Beat. Please respect copyrights and contact melodymudd@gmail.com for permissions. Performers may use shots for promotional purposes, but please credit properly with photographer's full name and a link to this piece in all instances. Performers who would like hi-rez images, get in touch.