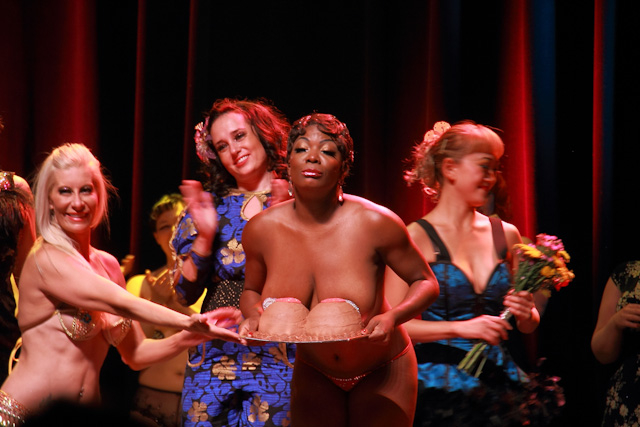 by Anthony Graham
July 12-15th, 2012
Lannie's Clocktower & The Paramount Theater, Denver, CO
It's about 100 miles from my home base and comfy confines of Colorado Springs (our motto..when in doubt, build a church) to the site on the 3rd Annual Colorado Burlesque Festival. And even though I had an inkling of what awaited me, I still found myself wrapped up in nerves, trepidation and a slight tinge of fear.  The Colorado Burlesque Festival is a beast; four days of performances, classes, chances to buy cool swag, and the parties. Oh my God the parties.  And I was given the very fortunate stance of shooting this bad boy.  So, you can perhaps understand my nervousness about what was about to transpire.  So with a gulp of a frosty energy drink and a hearty rebel yell I hit the road late in a way-too-warm afternoon to get my photography on.  Sure, CBF 2012 is destined to test mind, body and soul, but it's also a labor of unrelenting dedication and love by some of the most amazing folks ever to bounce across a stage.  Queen of the air Midnite Martini, MC of the Gods Naughty Pierre, the incredible Honey Touche', the magical Ruby Sparkle, the stunning Bunny Bee and the magnificent Lola Spitfire have been working their tassels off to get this years show off the ground, and all signs point to it being a mind-blowing and liver-damaging affair.
I arrived at my hotel on 16th Street in Denver and wandered down to Lannie's Clocktower for two, count 'em, two Friday night shows.  It was my first time at Lannies; a spot which plays host to many of the Denver shows and is Naughty Pierre's base of operations.  Damn what a cool club.  The vibe of a cabaret with incredibly beautiful lighting and ridiculously beautiful staff.   It's a nice intimate little spot for a nice intimate little show.  The first half, hosted by the almost illegally gorgeous Nadine DuBois, was a monster.  Seriously standout performances by the headliners of the entire shindig Roxi D'Lite and Perle Noire were outstanding as you would expect, but I gotta give love to Sammich the Tramp (whose homage to Charlie Chaplin and old school comedic melodrama never disappoint) and the unreal fun and hilarious Whiskey Darling's ode to drunkenness. So far, so good.  Lots of talent on parade and they truly did not disappoint.   Then, after a short break we were treated to a fantastic second show.  Late night.  Very late night.  But damn if the energy still wasn't hyped up. Hosted by Denver's own MC Naughty Pierre (who I have seen dozens of times and always laugh my ass off at… in a good way) nailed the hosting, and performances by a trio of tulips (aka Lola Spitfire, Bunny Bee and Ruby Sparkle), a Rainbow Brite-inspired bit of awesome from Peggy Tulane, a simply fab ode to criminality and handcuffs (you really can't go wrong with handcuffs) from Bitsy Bittersweet, and one of my personal faves, the incredible Gentleman King (Minneapolis proud!), who laid a beautiful bit on genre-twisting sexiness that made more than a few folks nearby gasp out loud.  Any time you can get an audience to gasp out loud means that you done got into someone's head and loins.  Oh, and Nadine Dubois motorboats Perle Noire 'cause it was Perle's birthday.  I got to see that.  That's reason number 10242 why burlesque is a damn fine thing.  It was a long sweaty sexified night, and one hell of a way to jump off CBF.  Liver is still intact, and so far all is well.
Friday Night
Oh, wow.
For those that don't know, if you put a bunch of burlesque performers in a hotel and give them access to, well, everything, then you will find that the wheels tend to get very lubricated very, VERY quickly.  Things tend to go by in pieces; some are remembered more clearly than others.  So, let's see if I can remember these bits with some sense of something or other.
1. At any moment, a routine can break out, as the members of Peaks and Pasties did a version of Bombshell in the middle of the dance floor.
2. A photoshoot can break out at any moment as well.  As I discovered.  That's damn cool.
3. Mr. Valdez can get you pregnant by looking at you.
4. "Dubstep is Life" – Browen Spitfire
5. Lola Spitfire's bed can fit lots of people.  And can support a healthy bit of pillowfighting, nekkidness, rough sexy time, and often results in me having to delete the photo I took because… well… just because.
I don't remember making it to my room.  Doesn't matter.  Didn't need the liver anyway.
Saturday CBF main event
Oh my word.  Awoke very early still feeling the effects of last night's shenanigans.  But, as it was, I had no time to dwell on such things as the Day of Days was upon us.  The Paramount Theater was the location of the main event, and it was promising to be a mind bendingly amazing event.  But first?  First I had to make it to the hotel lobby.  As soon as I find my liver.
Okay, with coffee in hand I met up with a few of the Peaks and Pasties troupe, who all wore sunglasses and those nifty little Zena patches that apparently worked like a charm and kept livers from rejecting bodies (they were smart…I was not).  Had to hustle over to one of the many conference rooms to check out the vendors and classes.  The vendors were well-represented with all manner of pasties and retro clothing and general burlesque-related goodies from here to there.  The economy of burlesque is driven by a lot of the performers offering a little bit of everything, so getting a chance to buy some swag from your favorite is your duty.  And that goes double for the classes.  And CBF had no shortage of those either…I got to check into the tail end of one being offered by Roxi D'Lite and got to chat with her briefly on photography and her approach to the craft.  It was a freaking eye opening look into what a burlesque performer looks for in presentation and how to achieve that look. Completely fab.
Oh, and I chatted briefly with September Smith & Jo Redline about a topic I have long been interested in; namely, how a performer deals with injury.  See, burlesque on its face can be very sexy and very entertaining and very athletic, but there's a toll that is exacted on the body that's right in line with what pro athletes go through.  And with the grind of touring, rehearsals and such, you gotta take good care of yourself and keep yourself in as good a shape as possible.  Jo mentioned that she was in fact working with an injury so subsequently had to adjust the routine…the show must go on.  Wow.
Evening
Hanging out backstage chatting with the performers.  Everyone is loose and ready to kick ass.  Nervous? Probably.  But these folks are pros…it's all about getting into a zone and getting ready to slay the audience.  The Paramount was packed, and everyone was in a heightened state of READY.
The lights hit…Pierre got the crowd up and going, and with an intro of steamy Samba dancing and a blessing from the Bishop (David Bishop), we were off! And the hits just roared on!  I've been privy to many a show, and have been privy to more than a few festivals, but what happened on the stage that night for the main event of CBF 2012 lifted the crowd, the performers, and yup even me into a whole new realm of legendary freaking awesome!
The performances?  Spot on.  So many amazing things happened on that stage.  From the ginormous routines of the Peaks and Pasties troupe to the terrifying and sexy and did I mention terrifying aerial routine from Midnite Martini to the poignant ode to equality from Victoria Deville (fucking Iowa!?) to Perle Noire's STUNNING ode to Josephine Baker and I could go on and on.  No matter what you were into performance wise, you got your monies worth.  If you dig cabaret, you had the Bons Bons. You dig more traditional burlesque? Orchid Mei and Amber Ray served that up classic style. You wanted something that just went right to your funny bone?  Sammich the Tramp, yo. Something creepily sexy??  Kitty Crimson. Something tingly sexy? Lola Spitfire and Lola Von Ella took care of that for ya.  And top that off with hands down the sexiest hoop act in the history of hoop acts?  Your headliner Roxi  D'Lite tore that up for you.  There was so much sheer unadulterated badass talent on that stage that one would need more than mere words to adequately describe how fantastic it truly was.
And to top it off?  See, it was Perle's birthday.  And during curtain call after the finale, she was presented with a very nice birthday cake in the shape of an impressive set of boobs. And in the midst of the celebration from stage left came a very very very fast moving Roxi D'Lite who, for lack of a better word, tackled the bejeebus out of Perle and ended up covered in cake.  That…right there….was the perfect topping to a perfect night.
In closing?  Well…the thing about burlesque is that it's something that drives you.  The performers push themselves to their limits when they are on that stage, and as soon as they come off, they are already thinking about the next performance.  It doesn't end.  Ideas come fast and furious and there is always a desire to not only entertain, but to top yourself each and every time.  Colorado Burlesque Festival 2012 bore witness to that desire, and you absolutely owe it to yourself to get out here for the next one in 2013.
My God.  It was Full of Stars.
Anthony Graham IS Broken Glass Photography. 
All photos ©Anthony Graham, and used here with permission. Please respect photography copyrights and do not use images without obtaining explicit permission.