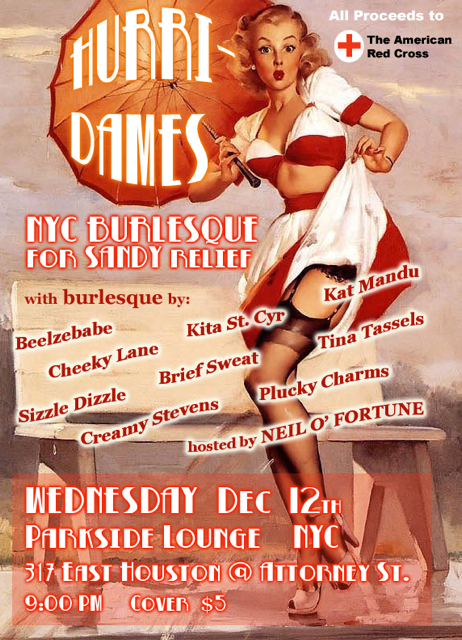 Busy on the night of December 12th? Well, you might want to change your plans. HurriDAMES: NYC Burlesque for Sandy Relief hits the Lower East Side that night at the Parkside Lounge at 9:00 pm. Hot performances by some of NYC's fave burlesque start, AND it's for a good cause? What more can a girl ask for.
Seriously, this thrilling show features some of Gotham's best movers and shakers: Beelzebabe, Brief Sweat, Cheeky Lane, Creamy Stevens, Kat Mandu, Kita St. Cyr, Plucky Charms, Sizzle Dizzle and Vikki Likkerish with gogo stylings of Bunny Buxom, Celia Foxglove charming you at the door and host Neil O'Fortune, all proceeds going to The American Red Cross.
Beelzebabe, co-producer of The Rhinestone Follies, and Sizzle Dizzle, co-producer of Drive Thru Burlesque, witnessed firsthand the devastation of Hurricane Sandy and felt compelled to help the aid efforts. "Sure, Mother Nature is fierce," they state, "but can she tassel twirl?"
$5 at the door, fabulous raffle prizes.
HurriDAMES. Do it.