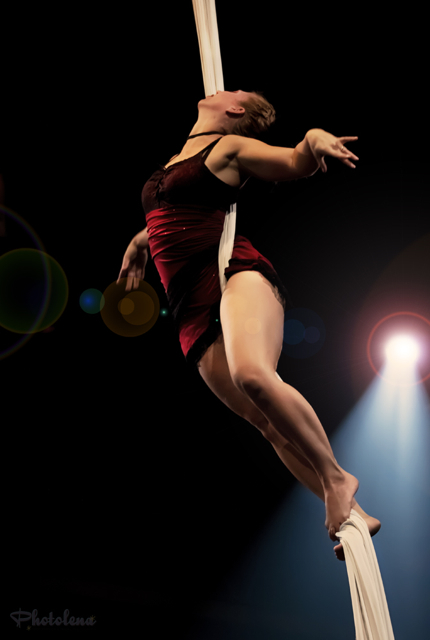 By Photolena
September 28, 2012
Club Soda, Montréal, Québec
As I sit here at my laptop looking through my photos of the second night of the festival, Frankie Goes to Hollywood's Pleasuredome is playing in the background (hoo-ha  hoo-HA) and it strikes me how perfect this little scene is to do a write-up about this celebration of sensuality and seduction.
So many fantastic performances again on the second night of the festival so it's going to be a challenge to tell you about as many as possible unless I take out all the adjectives. But what would a burlesque article be without words like glittery, sparkly, statuesque, rippled, manly, and hot? An eye-witness statement – meh!

There's not a lot of info out there on Tigerrr Lily, but you can trust me when I tell you that she is one dramatic and eclectic burlesque performer. I had the opportunity to see her for the first time at the festival a couple of years back when she did an awesome Clockwork Orange routine and I've been eager to see her perform ever since. In this first of two sets at the festival, she went all out Jesus-freak on us as a hyper-religious nun with a secret kinky side. Announcing her adoration via an oversized plush red heart emblazoned with sparkly gold "Jesus," our little postulant was so filled with the Holy Spirit that she just had to share her joy with all of us. She cast away her shapeless shift to reveal (appropriately) a black mini adorned (not so appropriately) with red flames on her posterior. In a religious fervour, this too was shed to reveal to us the sexy sister in a black vinyl bra and garter – emblazoned with a big white cross – fishnets, and her cowl. Tossing off her bra, her arms out in supplication, we finally got to see her sin pillows adorned with flame pasties.
All the way from Texas, Jigglewatts Burlesque headliner and co-founder Ruby Joule is the epitome of lush glamour. Her classic burlesque style is slow and seductive, pairing perfectly with some of the most elegant costumes I've seen gracing the stage. This first of two weekend performances, I can best describe as the Dazzling Snow Queen (probably not her name for it). Draped in a glittery white cape and crowned in regal jewels and wispy white feathers, she delicately flittered across the stage. Working her cape, she gave a bewitching floor show, her lithe body adorned in a white feather bra and white fringed bottoms with long sheer panels. She paused often to strike poses worthy of an Elvgren pinup, and my camera just went click, click, click. Swirl after swirl the sheer material came off until her final reveal to sparkly white pasties. She surprised us with an extra little flag routine using some beautiful sheer blue/green fabric which clung to all the right curves and just like that it was over. I truly wished I could see it again.
I am thrilled to have been able to see Montreal's own Lavender May perform. An accomplished pinup model, makeup artist and burlesque dancer, this beautiful pixie with the teal hair (for tonight) throws a bucket full of sass into her routines. Sneaking onto the stage in a dreamy lavender, teal, and pink costume so light and airy, she looked like a colourful candy wrapper caught on a light breeze. After a couple of years of shooting burlesque shows, I can usually tell a performer's style by the music they pick – classic burlesque, circus/acrobatic, dark, or eclectic. When Miss May's choice – It's Oh So Quiet by Björk –  started up, I knew I would be in for something very different. Such a chaotic song, yet so cute – a perfect description of our little bipolar princess. During the calm and quiet we got to see her sweet side as she tossed candies into the audience and posed like a doll but during the chaos (zing! boom!) out came the party diva. That one wanted nothing to do with the poofy skirt or the candies, tossing both into the air to get down into her hot little pastel corset and white thigh-high stockings. She was ready to party. And what a final reveal it was! As she spun, and spun, and spun across the stage her corset just magically came off, revealing little feather pasties and tassels, which she twirled quite well.
Originally from the UK, Aurora Natrix's style pays homage to the classic burlesque of old. A popular pinup model and costume designer, you could see that creativity in the gorgeous Old Hollywood blue floor-length gown she wore in her routine. With a sheer feather lining, white opera gloves, feather fascinator, and the largest white feather boa I've ever seen – it had gigantic tassels at each end – she was a vision of beauty floating across the stage. I loved her classic glove pulls, both with her teeth and behind her back. Her slow and sensual striptease had everyone on the edge of their seat just waiting for that dress to come off. It revealed a dazzling blue bra set with long, long fringe. Attached at her waist via bejeweled chain was the sheer feathered dress liner, now revealed to be a half skirt that she used to coyly cover herself as she slipped off her bra and finished her set in sparkly blue pasties.
I love watching aerialists do their thing. Being scared of heights – pretty much anything above balcony level – I admire them not only for their acrobatic skill but also for doing their craft way up in the air using only silks, rope, or hoops. Isabelle Provencher is just such an aerialist and she's damn good too. Her silk routine was rather haunting, and I was really impressed when she used the silks like angel wings in some of her poses. I would love to see more of her work so I guess I have an excuse to come to Montreal more often.
One third of the Stage Door Johnnies, Ray Gunn isn't just a pretty piece of burlesque man-candy, he's a multi-talented performer who incorporates acrobatics and modern dance into his acts. I haven't seen him perform in quite a long time so I got to fall in love with his work all over again. His Steampunk-inspired Cellist act is so original, so beautiful, and so… mrowr! This was one of the few times that I truly contemplated putting down the camera and just immersing myself in the stage experience. I love a man with tattoos, and that love is only enhanced by a nice tight corset. There's something so sensual about watching a beautiful buff man unlace a corset. But back to the performance. In the Cellist, the body is the instrument, and his clothing came apart as he used his bow to play the very beautiful classical cello piece using every inch of that body. As his clothes came off, not only did he reveal mountains of finely chiseled muscle, but also the strings of the cello that went from his collar down, down, down. As the tempo escalated, his clothes fully shed and we watched in eager anticipation as he writhed upon the stage as the bow continued to play his flesh.
The incredible talent that put this all together not only produces but also performs each and every night and this finale was hot! Like a living pop art painting, Miss Scarlett James emerged from behind a hot pink lip-shaped couch in a perfectly matched teal and pink corset outfit. The colour scheme was just beautiful and so photogenic, I was happily snapping away. Using the couch as a perfect prop, Miss James gave us quite a sizzling run-through of sexy pinup poses that accentuated that teeny-tiny waist of hers and those long legs that go for miles. Getting down to a stunning teal bra and garter set, she lay down on those big lips and peeled off her stockings using her toes, scissoring her legs for maximum effect. With her long blonde locks, it was awesome to see her whip that beautiful mane around, and extremely sexy to boot. At long last the final reveal and Miss Scarlett's beautiful body (and rather impressive cleavage) was bared to all. Now that's a sexy way to end a night.
A big shoutout to the other performers this evening: Fionna Flauntit, Pink Chardonnays, Cyrano des Bergerac, Lulu Les Belles Mirettes, Champagne Sparkles, Jazz Dance Factory, and Sebastien Louis XVI.
Kudos go out to those that made the Festival such a big success: founder and producer Miss Scarlett James, stage manager Domenic Castelli, emcee Benjamin Marquis, and stage kittens Audrey Ivory and Annabelle.
Olena Sullivan (Photolena) is a Toronto-based model and performance photographer who specializes in onstage burlesque photography. All photos ©Olena Sullivan-Photolena and used here with permission by Burlesque Beat. Performers may use shots for promotional purposes, but please credit properly with photographer's full name and a link to this piece.