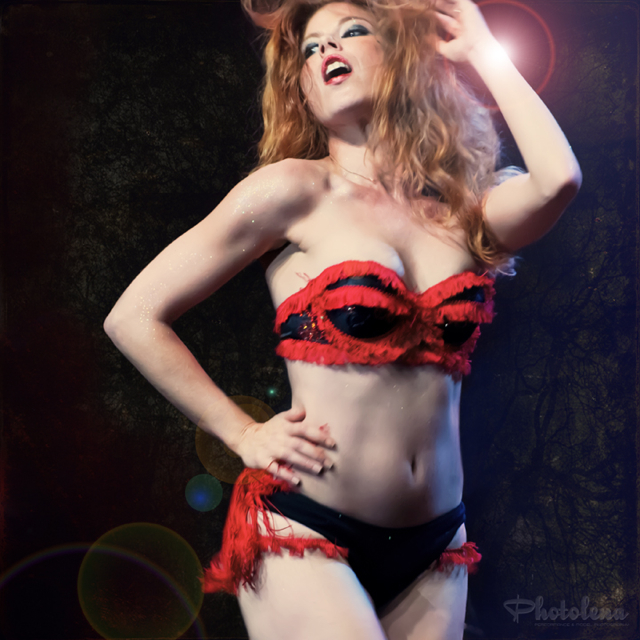 By Photolena
Saturday, September 29th, 2012
Club Soda, Montréal, Québec
The last night of the Montreal Burlesque Festival was not one, but TWO unbelievable events, with a raunchy, no-holds-barred Midnight Show that included a live rock band. The only thing that could have made this festival more memorable for me would have been the traditional souvenir program – that nice glossy booklet of memories that you get people to sign once they've had their 6th or 7th drink.
So let's reminisce about the final night of the festival…
Coming all the way from my home town, troupe Skin Tight Outta Sight put on a performance that brought me back to my early 20s, when at the local alternative nightclub du jour, the dance floor would go insane when they'd hear that fast drumbeat rhythm to Boney M's Rasputin (Russia's greatest love machine!). With the infectious tune thumping in the background, we were treated to a proper Soviet dance from a pair buxom blonde Communists. Things have obviously changed since the fall of the Iron Curtain, and for the better. The gals are helping each other out of their clothes and getting all hot and heavy, touchy-feely. Once they were suitably disrobed and in some sparkly corsets and fishnets – which oddly enough looked quite sexy with combat boots – their fearless leader came out. The crazy-eyed, bearded, and black-robed lover of the Russian Queen gestured to the audience. It was Rasputin! He looked one potato short of a perogi, and I kept looking for the telltale psychotic eye twitch. Then the whole cuh-razy image was gone in an instant when he ripped off his trench coat to reveal sparkly red hot shorts.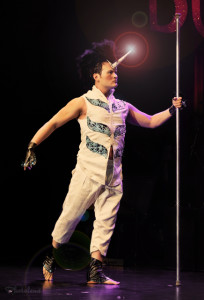 I haven't seen Bazuka Joe perform since the first Montreal Burlesque Festival I went to 3 years ago. I'm so glad he returned to do his unicorn act. If you haven't seen him do this one, it's both sweet and hot in an "oh my!" sort of way. Sporting a dazzling horn on his forehead, he made his striptease even more unique by adding a prop that he made fantastic use of – a tall pole. Get all those naughty images out of your head – he used it to propel himself into the air as he made his way across the stage. Grabbing it with his strong hands, it helped him vault and spin through the air, all while performing his sexy striptease. He continued his mesmerizing equine dance, shedding fabric until he was clad in the skimpiest of costumes, with tail, hoofs (gloves) and horn completing the look.
Although I've seen the three members of the Stage Door Johnnies perform solo, this was the first time I had the absolute pleasure of seeing Ray Gunn, Jett Adore, and Bazuka Joe perform as a troupe. I just never realized what I had been missing – how incomplete my life had been until this night. Individually they're phenomenal performers with unique characters, but together they're a tight syncopated unit. Each brings their little eccentricities to the performance, but they come together under one theme. Their performance was a fun, poppy coordinated dance that had them stripping in unison. The big move of the night was when they each took one of Ray Gunn's arms and flipped him over using brute strength.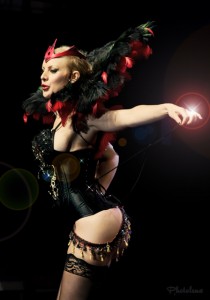 The lady who put this whole festival together, Miss Scarlett James, gave us a treat with a new act that had her coming down from the ceiling while riding a huge sparkly crescent moon. All in black, she was draped in an ebony robe fringed with deep red and green feathers, and wore a blood-red crown. She looked like an enchanting queen of the night, so elegant in her dark silky attire. Beneath her beautiful robe she wore a stunning black and red corset and floor-length skirt, her milky skin and platinum locks standing out in stark contrast. Handling a long shiny chain, she used it to pull up the zipper on her long skirt. Getting down to a gorgeous pastie set, she climbed back onto the moon, which pulled up into the air. She gave us quite the aerial show as she posed in sensual positions – a fantastic way to end the official festival.
Although it was a separate ticket, the Midnight Show was well worth staying for to check out the different format and the live band – Timmy Playzwell, a rock cover band whose playlist includes everything from Golden Earring to Billy Idol. They did a fantastic job of accompanying all the burlesque performers through their sets. As the band has a set repertoire, each of the performers had to create a routine that worked with a song the band could cover. This made for some truly creative and fun performances…
LouLou La Duchesse de Rière unleashed her inner Ziggy Stardust and gave us a perfectly sensual burly-q rendition of the tune that would have made the cult of Bowie proud. Draped in flamboyant glam rock garb clinging to all the right curves and trademark lightning bolt striking down over one eye, she owned that stage. She slinked from stage left to stage right, slowly peeling off layer after layer of shiny metallic material all while sporting the tallest stripper-heel thigh-highs I've ever seen. My dogs were howling just watching her strut in those gorgeous gigantor boots. Now don't get me wrong, I think that Bowie has a certain je ne sais quoi but I much prefer watching LouLou do a glamtastic striptease – she's got curves like an Alpine highway and ultra-smooth skin.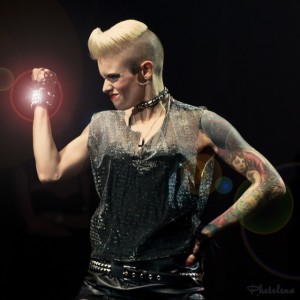 I've mentioned Tigerrr Lily before, but she surprised us with yet another awesome performance for the finale. There's just something about an artist that can do that sexy lip curl – when I try to do it I look like I have some kind of facial tick – you know the one, where just one side of the upper lip pulls up. Elvis mastered it and so did one of my favourite rockers of the 80s, Billy Idol. He was the king of the sexy lip curl – and Tigerrr Lily brought it on in spades for her Rebel Yell routine. I don't think she so much channelled her inner Billy Idol as was possessed by the famed rocker – the emphasis punches, signature leather jacket, and peroxide spiked hair were perfect! First to come off was that gorgeous leather jacket which revealed a sparkly mesh top, paired with an oh-so-tight leather skirt. You knew that mesh was made for ripping apart – which it was! – to give us the full leather ensemble of skirt and corset.
What do you call a stage full of dozens of dancers that look like they stepped out of the Rocky Horror Picture Show, a gorgeous Amazon redhead drag queen with legs that just keep going for mile and miles, and a circus ringmaster? Well it's the Ballroom Blitz, baby. Yeah, yeah, yeah, yeah, yeah! When the man in the back said "everyone attack," this motley crew burst into riotous dance that looked like the most amazing fun. That song is so damn infectious, I find it hard to not want to join in, tap my feet, start dancing, going crazy even. I was amazed that I had any photos of the performance at all, I was having such a good time singing along. BonBon Bombay picked the absolute best song for the most energetic set of the whole evening! And lordy can that statuesque redhead dance – stripping down to heels and a sexy cincher set. There must have been 2 dozen people on stage, all in a sexual frenzy – clothes were flying everywhere! It was a burlesque orgy of dramatic proportions and at one point I swear I saw BonBon showing that gorgeous redhead how the missionaries do it. Oh my!
A big shoutout to the other performers this evening: Juliette Coeur de Lyon, Miss Rouge a Lèvres, Lavender May, Dot Mitzvah, the Harlettes, Mylene Pelletier, Marie Pier Maurice, and Michelle L'Amour.
Kudos go out to those that made the Festival such a big success: founder and producer Miss Scarlett James, stage manager Domenic Castelli, emcee Benjamin Marquis, and stage kittens Audrey Ivory and Annabelle.
Olena Sullivan (Photolena) is a Toronto-based model and performance photographer who specializes in onstage burlesque photography. All photos ©Olena Sullivan-Photolena and used here with permission by Burlesque Beat. Performers may use shots for promotional purposes, but please credit properly with photographer's full name and a link to this piece.