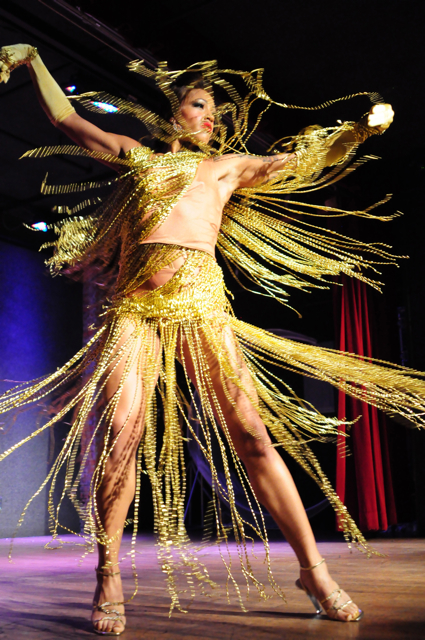 by J.D. Oxblood
Friday, November 9th
City Winery,  Manhattan, New York
I love a good ambience, and I love it when producers make a preshow interesting—and I love Matthew Holtzclaw, who was working the room at City Winery doing close-up magic for astounded guests. I invited myself to join a table full of single ladies just so I could watch him work, and he skillfully set up a card trick and bade a lady hold a card that WASN'T hers, only to turn it into her card without his hands ever leaving the table. Close-up magic is by far the more intimate variety, and watching Holtzclaw blow minds close-up was a thrill.
The man of the weekend, heavy-hitting NYC producer Doc Wasabassco, welcomes us aboard (in fantastic striped pants), first act MC Bastard Keith sings "Kiss" (was that the Tom Jones version?) and Bettina May brings us her new Scot act, featuring a lot of plaid and a large bagpipe set piece, and the Wasabassco weekend is well under way.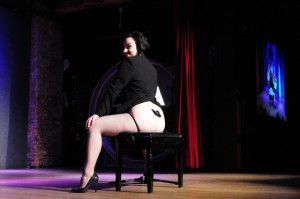 Boo Bess is a performer whom I'd like to see more of, a genuine statuesque beauty, who turns in a take on the Persephone myth in a long red coat that goes reversible—to grey—when the uptempo version of "Summertime" gives way to one more abstract. She builds to a rise from the floor, revealing her face and dropping the long wig to expose her short-cropped do—a move that gets a rise out of the crowd.
Giving the first act a solid bottom… er, ending the first act—ok, there's no winning here. And what can I really say about Michelle L'Amour's legendary "Butthoven" act, which is sweeping Europe's television shows and blowing up on YouTube? Michelle comes out in conductor attire, readies her music, and conducts herself with aplomb while "playing" Beethoven with the pulse of her butt. That's it. And it's hilarious—perhaps more so simply by the look on her face when she turns to give the crowd a placid look while her butt is doing high-impact Pilates.
Gigi LaFEmme—visiting from Nashville—hosts the second act, and I'm excited to see Jenny C'est Quoi's brilliant scarecrow act. The last time I saw it, the ending was a little shaken by the fact that there was no curtain, and someone had to take her down, killing the effect. Jenny begins hanging still from her post, and then begins moving her arms, stiff yet fluid. Her hands creep down her body and give it a shake; then her legs lift… a magical, transcendent moment as the crowd realizes she's hanging suspended from her pole. She runs in place, begins to "wake up," and, of course, starts stripping. Really fun and mildly haunting, and ends with hanging dead weight—curtain closes.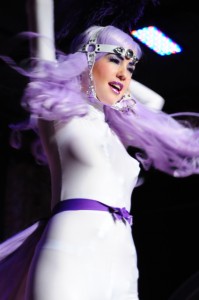 Hazel Honeysuckle swings for the fences with an act quite unlike anything else I've seen her do—and I have to applaud the effort. Boo Bess introduces her—in tophat with whip—and Hazel prances in as a circus pony with a little "My Little" thown in, trotting on hooves, with a lavender tail, headdress, and a bit in her mouth, to Kasey Chambers' "Pony." Boo splits, and Hazel ditches her hooves. With a music change—rather abrupt—she quickly strips out of her white body stocking to reveal full-body harnesses—trading lace for leather, so to speak—with metallic pasties and gstring, ending in a quick pastie twirl. I can't wait to see this act again—it has potential for greatness.
Magdalena Fox does a slave girl ending in a strongarm pose; Boston's Vikki Lickerish sports a Hello Kitty robe (which I love, natch, as it matches my belt buckle), and new-to-me Penny Wren slinks on in a satin dress. But bringing more cowboy music (Big & Rich's "Save a Horse (Ride a Cowboy)" and representing his home town of Minot, North Dakota—look, maybe you don't care, but it's a little-known fact that I was born in Minot, and it's a well-known obviate that most people have never fucking heard of it—ANYhoo, New York's randiest boy, GoGo Harder, does "Rhinestone Cowboy" as, you guessed it, a rhinestone cowboy (see pics). And no one ever rode a hobby horse more convincingly. The strip gets us quickly into his chaps, and the hobby horse's head pops off to reveal a Miller tall boy—a nice touch—and he winds it up to taking it ALL off, but his cowboy hat sticks to his crotch, and when it finally comes off he's rocking a codpiece with a light-up "H." H, I assume, is for Howdy.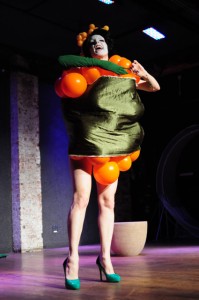 But the sheer stealing-the-night prize must be shared. In the host department, give it up for Sapphire Jones, who seems to have really discovered her oevre with a flat, defeated attitude towards her genuinely fucked-up situation—she lives in Flood Zone A, and that Sandy was a bitch. She told true sad stories and made us laugh—Lenny Bruce, only tall, slender, and gorgeous—but, yeah, still Jewish. And she did it all with immaculate concision.
In the performer department, give it up for Kobayashi Maru, backed up by Setsuna Unagi, doing an act that, the second you see it, you wish you'd thought of it: salon roe sushi—as a balloon act. She runs out wrapped in roe and a seaweed sheath, takes her gloves off—a serious production—unwraps the seaweed, grabs the ever-present chopsticks from her hair, and begins with a POP POP POP. The smaller balloons are hard to get, and she makes no effort to hide it, letting us see the effort—grabbing them, tracking them down, and popping them. Afterwards, she steps into a jumbo sake cup, and the lovely Setsuna brings her a bowl—which she pours over herself, like hand-washing—and then is brought a roe roll, which she eats. And takes a bow.
Breathtaking.
Ending the show with style is our ringer from Seattle, Sydni Deveraux, who strides onto the stage wearing nothing but gold beads, totally audible, sounding like a Mardi Gras attendee on the second weekend of carnival—that "shoosh, shoosh" bead sound that screams carnival. Sydni's arms are expressive and dynamic, and always scream control. Her right arm bears a tattoo of hexagram 26—mountain over heaven, which, according to my trusty book, means "the time is favourable for carrying out bold public schemes…personal integrity will enable even the most difficult tasks to be completed." Words to live by.  Sydni is quite simply an amazing performer, who can do more with a simple strut and pose than some can with a box full of props, making the easy look hard, and the hard easy. After losing her beads, she's revealed in all her glory, in just a tiny gstring strung up and over her shoulders, criss-crossing into a star just below her navel. Pinches her own ass as she exits—just to leave us wanting more.
Kiss kiss,
JDX
J.D. Oxblood is co-founder and Editor-in-Tease of BurlesqueBeat, and an occasional contributor. His burlesque writing has also been seen in Burlesque Magazine, 21st Century Burlesque and Zelda. His academic work is forthcoming in Borrowers & Lenders.
All photos ©2012 Melody Mudd for Burlesque Beat. Please respect copyrights and contact melodymudd@gmail.com for permissions. Performers may use shots for promotional purposes, but please credit properly with photographer's full name and a link to this piece in all instances. Performers who would like hi-rez images, get in touch.