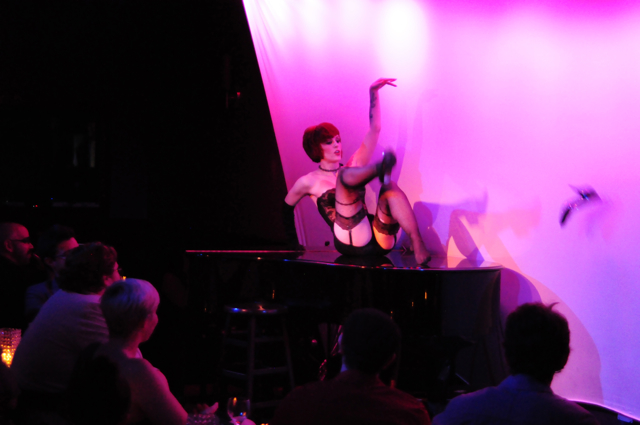 by JDX
September 15, 2012
The Metropolitan Room, Chelsea, Manhattan
The current run of "The Sophisticates" at the Metropolitan Room is everything you've come to expect from producers Bastard Keith and Madame Rosebud, even if you never saw the previous incarnation at the Oak Room—which they were kicked out of, which they'll forever proudly boast of, no matter how many prepositions I dangle. By now, if you haven't judged BK's hosting chops or RB's stripping skills, you're not really interested in burlesque and I don't know why you're reading this. The pair made names for themselves as individual performers onstage and as a couple backstage, and if you wonder why they became producers, let's just say that pretty much everyone in the "burlesque community" is tired of being broke.
More after the jump, but first, a pull quote, or as I like to call it, a stroke quote:*
If "The Sophisticates" isn't setting a new standard for New York burlesque, it's because it's so perfectly resurrecting a time-tested classic. This is quality burlesque, performed by professionals, with an attention to detail in curation, performance, hosting, and overall ambience that delivers a meta-theatrical experience often sought-after, but seldom found.
*(Not that they need it, what with TONY all up they g-strings).
I showed up halfway through the show and blisteringly drunk. Being part Irish, I don't need an excuse, but after going upstate to put a friend in the ground that day, I had an excuse.  That I have no moral issue with writing about a show I attended shitfaced is another story, but a single show is less important than my perspective of watching Bastard Keith's evolution as Artiste over the past 5 years.
I like Bastard Keith, and yet I've probably written more negative words about him than anyone else on the scene.  Why?  Because he asks for it.  In pursuing this stupid profession (and, really, considering what burlesque performers make, you'd have to be stupid to think you could make a dime writing about them), I'm constantly bulldozered by the question of "criticism."  I can "cover" shows, sure, and some people even ask me to "review" their shows, but very few ask for "critique," and more often, scribblers like me are FORBIDDEN from critique.  "Seriously, J.D.?"  Um, yeah.  Try saying someone sucks (even if he/she really does suck) and dig the Facebook/Twitter fallout—it can jeopardize your invitation to other shows.  Not that a critic is in the business of making friends—at best, a critic is in the business of making art better.  I've argued that it's different in burlesque—the line between performer and audience being more blurry—but I stand fast that burlesque will remain a small-scale phenomenon as long as it insists on doing so.  I recently heard about a blogger who was refused tickets to a festival because said blogger had previously criticized the venue.  I know this one: "if you can't say anything nice, don't say anything at all." Which has become my guideline if not exactly a mantra.
But Bastard Keith kept asking for real feedback—good or bad—and I let him have it, in person and on the page.  And for all his pricklyness—he is performer, y'all—BK has taken criticism from all givers and taken it into the wood shop.  I've seen his performance suffer in a wild crowd that wouldn't pay attention, a flower easily wilted.  One of BK's issues is that he seems to have a "mathematical" viewpoint on cultural values.   The question "What is 2 plus 2?" has a correct answer. Questions like "Did you like the movie?" or "Who would make a better President?" or even "How should you behave at a burlesque show?" do not have correct answers, no matter how we might wish they did. (BK's Twitter feed is full of "wrong" accusations on such topics.)
But he's never stopped working on the character "Bastard Keith," and developing strength depends on knowing your weakness. BK's epistemological confusions aside, he has learned—empirically—that the best way to control people's reactions to you is to control your own performance at all times: work in venues where everyone can see you, never give them a reason to look away, and fill every moment with the potential for the unpredictable.  BK is doing this.  He is—to put it mildly—pulling it off.
In a recent Times Talks interview, director Mike Nichols spoke of the need to stay "scared" to stay good, and I think BK has managed to keep that part of his aesthetic real.  If you've ever seen him before a show, he's a mess before a show, and it comes out on stage.  This is a very good thing.
On the night I saw The Sophisticates, BK conducted a scripted theatrical game with volunteers from the audience—a little more risky than a game of Chug-a-lug Donna.  We also got the Maine Attraction's stutter pump action, and her favorite trick of throwing her body into the lap of a punter.  Bettina May rocked a new big red wig and worked her way through the house with black fans—this is half floor show, half stage show, which keeps the crowd guessing—and LA's own New York-y freak Kristina Nekyia once again showed her versatility.  Co-producer Madame Rosebud is no less able to channel-change between fetish and Victoria's Secret, and ended out the evening by flipping upside-down against the backstage wall and bicycle kicking.  But not before Bastard Keith sang the theme song from "The Jeffersons" as if possessed.  Rising action, climax, falling action, denouement.  This is classic entertainment, with tits and cocktails.
Bastard Keith was finally invited to host the Sunday night show of this year's Burlesque Hall of Fame Weekend, after recovering from an illness, and delivered one of the most remarkable performances of the weekend.  Not just a remarkable hosting performance, but a remarkable performance overall, from off-the-cuff jokes to prepared righteous monologues to singing "Try a Little Tenderness" with such intensity, you'd think he was in that plane crash that killed Otis.
If I seem to be paying too much attention to the host, and not enough to the girls, remember that this host—and this room—are giving structure, in time and space, to what you came to see, and are sculpting the experience for you.  You can see these girls at any number of other shows across town, or across the country.  You could also go see naked girls somewhere else entirely, like—perish the thought—a mainstream strip club (which may yet be termed art, and therefore tax free), or one of the few remaining B-girl spots hidden around the city, or a private underground lap dance club, or somewhere even more intimate, with a higher admission fee and more (cough) personal service.
The Sophisticates is also a proud part of a movement trying desperately to pay burlesque performers a living wage—which raises some eyebrows, like the e-conversation I got into with some other local producers who wondered about The Sophisticates charging so much for a show with "no live music."  But people will never pay MORE than what you ask them, and if you deliver a quality product you can run counter to the school of thought that thinks providing free shows is a good idea.  And not to repeat myself, but in the complete absence of a reliable media commentary on what ARE the good shows, perhaps charging more is the best way to prove that you're worth it.
So ignore the copywriting-impaired "Sophisticates" flyer ("Strip as it was meant to be teased"? Huh?) with the misleading Klimt/Schiele sticky tryst visual—and just get on down and see the show.  Because sooner or later, this show will move to a bigger venue with a higher ticket price, and you'll be able to say, "I saw them when."
Kiss kiss,
JDX
J.D. Oxblood is co-founder and Editor-in-Tease of BurlesqueBeat, and an occasional contributor. His burlesque writing has also been seen in Burlesque Magazine, 21st Century Burlesque and Zelda. His academic work is forthcoming in Borrowers & Lenders.
All photos ©2012 Melody Mudd for Burlesque Beat. Please respect copyrights and contact melodymudd@gmail.com for permissions. Performers may use shots for promotional purposes, but please credit properly with photographer's full name and a link to this piece in all instances. Performers who would like hi-rez images, get in touch.