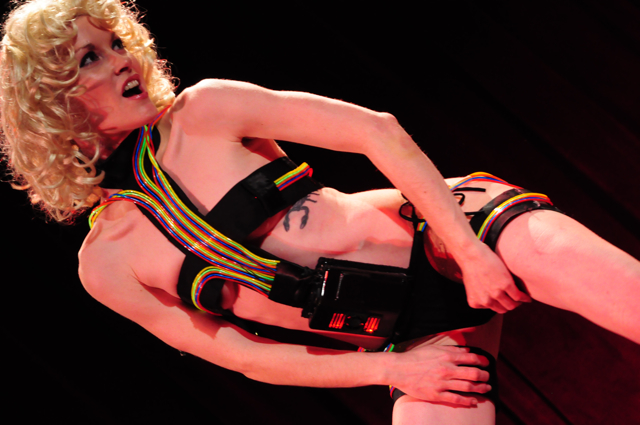 by J.D. Oxblood
Friday, November 9th
The Bell House, Gowanus, Brooklyn, New York
The Bell House has grown on me; it's become the de facto home of Wasabassco Burlesque, and the barn-like space that I once poo-pooed has become a welcome and warming place to me, once the ugly walk from the G is over, of course. And you really have to hand it to Doc for his dedication to a bit: pointedly against a "wall of photographers" at DSC (that's downstage center, to the uninitiated), he installed a row of VIP couches at the foot of the stage, providing a buffer zone between performer and audience, and making it easier for the tightly-packed crowd in the back to see what was happening on stage. Wasabassco-licensed photographers were still on hand to capture the scene, as was yours truly, for this is one of the most exciting nights on the NYC Bq Calendar—Night Two of the Wasabassco Anniversary Fiasco.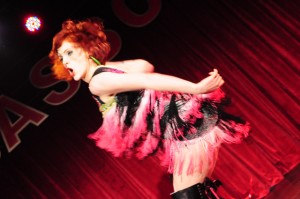 Opening the show was Aera, a troupe of gorgeous girls all done up identically pale—even tattoos faded with base—like a sepia-toned Robert Palmer video.  Group choreo quickly goes scattershot, as two ladies take to the two aerial rings suspended above the house, and the other three perform stacked tricks on the floor-to-ceiling pole. This has less to do with "stripper pole" work and more to do with Chinese poles, and the girls skillfully execute several standard circus holds on the pole—strong, steady, and hot. As "Cherry Bomb" blasts the Bell House, one girl does a long slide to a splits landing, and at the climax, all three ladies to a triple-scissor hold more than reminiscent of Gravity Plays Favorites. Now THAT'S a mothafuckin' opening.  (And feel free to look these girls up—I also met Lian from bodyandpole.com out in the lobby, and you can learn this stuff yourself.)
Host Albert Cadabra gives us his classic balloon-swallowing act in carnival barker style—make that carnival barker deluxe, with bacon and extra cheese. Not quite as lovely as Act II hostess, Nasty Canasta, in a giant tiara and gossamer see-thru gown—but who is?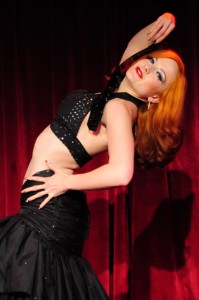 Madame Rosebud, whom I've long missed from the gogo scene, gives us her answer to missing a-gogo, high-stepping in a pink and white fringe outfit with her kewpie red bob bouncing, moving into a twist with an open O mouth, tongue out for a side unzip, and as the Party Ben mashup moves from Janelle Monae's "Tightrope" and into Nancy's "These Boots Are Made for Walkin,'" she strips down to a slingshot bikini and gives us all a "c'mon" beckon, her moves getting more agro and her face fierce. Jump splits; present; bow. Exit. Coda: ass-slap, jiggle. Sweating yet?
According to legend, Legend Tempest Storm told our own Gal Friday, "You embody burlesque," and while that is empirically true, I still hope it made Gal's soul swell. Tonight Gal gave us her Spanish number, and look at this serious backbend to bite her glove, a curved comma of gorgeousness with bared teeth. The second glove she simply holds above her head, and slowly draws her hand out of it. Why this sends shivers down the crowd's collective spine I can't really guess. As the music gets taken over by the sleazy baritone sax, she gives us some ass play and uses her fringe as a tail, flipping under her legs to tap that button; she smells it, and makes a face—and that's my Gal, always able to sneak in a little humor no matter how straight-ahead sexy the aact in progress. When she removes her top she displays giant, multi-tasseled pasties, and then peeeels them off to show tiny silver thangs, and twirls those tassels while stepping; gives us a textbook bounce twirl; and jumps to her knees. Finger-lickin' good.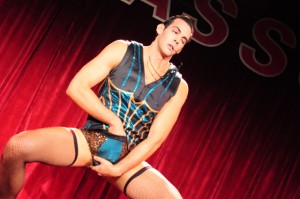 And nipping at her heels on the flip side of "burlesque embodiment," is the fuck-you-by-storm whippersnapper they call Mr. Gorgeous, a name I would shit on—um, modest much?—if it weren't so fucking apt. A tall, gorgeous drink of man-meat milkshake, Gorgeous has you the minute he steps on stage in his Frank-n-Furter drag, has you giggling the second you see his teeny-tiny chair, and has you in his pocket when he pulls a glasses case out of his jock to, ahem, take off and put away his glasses. This is an act built on the clown-comedy of scale—large man, tiny chair—but it's delicious because of his delivery. When he stands on one leg (on heels), extending the other up next to his head, it isn't the prowess, it's the little "can I do it?" face that has us charmed into submission. A look; a batted paw. Slay me. And yes, it's boylesque, so you know the lady-laden crowd is going APESHIT.
Not that we're wrapping up. Albert Cadabra does his "Transcendental Transportation Card of Mystery"—and I love how he always feigns surprise as the audience pluck—in this case, our "sexy cowgirl"—goes for his crotch to find the card. But they always do! I'd still like to know what a stuffed gopher was doing in Albert's pants… but we all enjoy the shared vicarious view, as sexy cowgirl gets a for-reals look at Albert's junk. (Vicarious? Um, I'm pretty sure we've all seen it.)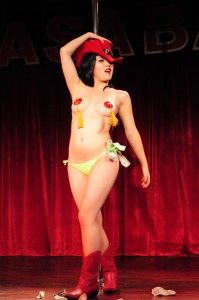 And Stormy Leather is up, with a new-and-improved version of the Cylon that took the world by storm at last year's anniversary—I think the flip-up lasers are new, and dig the finger pop-up on the fingers, or the 5th Element-style straps she's sporting under the robot gear—and the ending is as soul-destroying as ever. But damnit, if we're going to keep billing this act as the knock-down drag-out that it is, I want a little more time with the ROBOT. Can we get a longer song?
Let's not forget that between acts, we keep getting "logo gogo"—the amazeballs gogo talents of Stella Chuu—the best gogo in town, now that Rosebud and Gal never gogo—who's wearing a hat and looks exactly like the bq logo that Wasabassco drew for his shows eight years ago. Chuu mixes sexy with cute, randy with cutesy, and over-the-top sexuality with straight-up hilarity, and most importantly, is never bored or boring. Bring it.
Act III, and Evelyn Vinyl—who did a terrific gogo set last night at City Winery, btw—brings the head AS a drum set, with tops to either side and a bass drum caboose, and performs to a live drum set, her steps evolving as the beat does. Sapphire Jones get us all singing along to Foreigner's "Feels Like the First Time," in a straight-ahead strip both classic and firmly delivered. I love the way she grunts at us, pulling up her lip.  And Heather Holliday does a killer-diller fire act—this is clearly a women who spent a great deal of time doing her act ten times a day in—oh, I dunno—maybe Coney Island?—and has the shit down to a motherfucking science. She's lovely, caramel skin and hipster-tatted up, and starts with sticks spun poi-style before moving into the arm drag, lighting up her skin. She eats it, and expertly holds the flame in her moth to blow it a few inches to catch another torch. It's just so cool when it's so well-done, and this is center-ring worthy fire. For her finale, she blows a giant ball of flame that bursts all the way to the grid.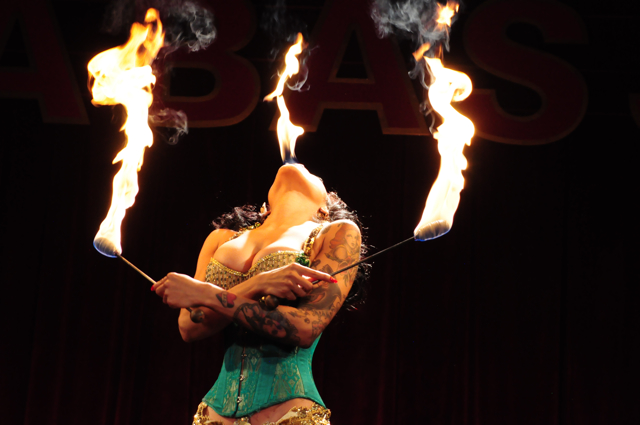 Michelle L'Amour enters to recorded heel-steps, eating up the stage in a green scale dress and fishnets.  She strikes a pose, turning PROFILE, which we rarely see in burlesque (at least, if you're used to watching from DSC, you rarely see it). The music drops, and it's Led Zeppelin's "Whole Lotta Love," which you've heard enough to call it a snooze until you see Michelle doing it JUSTICE—pointing at us, beckoning, with that raw animal look in her eyes. As Plant growls, she sidesteps, and as he howls, she holds up her stole and freezes. Into the crazy part of the song, she nixes the dress, goes upstage to show us her smooth ass, spins with her panels and grinds. And you know that, "Waaaayy dowwwn" part? Slow splits, rubs her face. Leans forward—still in splits, arms on the stage—looks up, brings her ass up; suddenly her feet are above her head in a shoulders stand—and now back on the floor, wiggling in a move that somehow starts from her knees, pulling her up in a full-Bell House wiggle, and almost as an afterthought, pulls off her bra.  The music is over by the time she turns downstage, lifts her tits, and throws her arms up.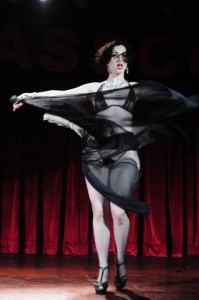 W
Ow.
Nasty Canasta, devastating as always in harlequin green and purple; and Peekaboo Pointe, in a dress made of purple, green, and gold Mardi Gras beads—seriously, are you two just trying to make us all pine for New Orleans in Spring? This is a stellar act from Peekaboo, very slow, and Gal Friday leans over to me to whisper, "It's the line of her leg I love," and it is nice, extended, dancerlike, and still, drawing a clear line from pointed stiletto up, drawing the eye magnetically.  What I love is that very Peekaboo move, drawing a hand up the side of her body, slowly caressing herself with a face that says, "Dare me?" After shaking off the dress, she spins with her boa, and climaxes—of course—with a loooooong tassel twirl into a backbend. Arms up; bow. Blows a little kiss.
And bringing us home, with what Doc calls "Brill-tarded," is the grand reunion of the Kissing Cousins, Gigi Lafemme and cousin Scarlet Sinclair. Scarlet spins in white to that awful love song from "The Titanic," beckoning afar, until finally her love arrives—Gigi, wearing the Titanic, and dig the army men and other little people studding the decks. Scarlet strips; Gigi's boat flaps open, and we got boobies. As my notebook tells me, "So dumb. Awesome."
Doc, see you next year?
XX
JDX
J.D. Oxblood is co-founder and Editor-in-Tease of BurlesqueBeat, and an occasional contributor. His burlesque writing has also been seen in Burlesque Magazine, 21st Century Burlesque and Zelda. His academic work is forthcoming in Borrowers & Lenders.
All photos ©2012 Melody Mudd for Burlesque Beat. Performers may use shots for promotional purposes, but please credit properly with photographer's full name and a link to this piece in all instances. Performers who would like hi-rez images, get in touch.