by J.D. Oxblood et al.
Patrick Soluri and The Salon
Friday, July 13th, 2012, Rebel NYC, Manhattan, New York
UPCOMING: December 30, 2012—5th Annual New Year's Eve Eve (Venue TBA)
View #1: J.D. Oxblood
A sax player wails in the hallway as we climb the stairs and navigate the hallway.  Patrick will tell us later that he opened the house a little late, so sent an accordion player out onto the street to play French songs (it's Bastille Day). I remember another party I'd attended in the same space, and forget it just as quickly.  The Hot Sardines are on the stage, Sydney Sunrise gogo-ing on a raised sidestage, a small group of enthusiastic young men and women dancing up a storm on the floor.  I spot one in particular, a cute brunette, dancing quickly, crazy but controlled, what someone in another era would call "jumping."
We belly up to the bar and Fredo pours me a Boulevardier, a seductively smooth libation of bourbon, Campari and sweet vermouth with an orange twist.  It's utterly delightful, in the way that only a drink made with time, care, and love can be.  Admittedly, I'm a fucking snob about these things, and I relish it.  Out of nowhere, Michael Ingbar appears and "radishes" me—pins a radish to my lapel.  I've joined some kind of exclusive club.
The Hot Sardines are well into it, the bass walking up and sliding down, a slightly sleazy version of "Summertime," and the lead vocals are like butter melting on a Victrola.
Dandy Wellington, in checked pants and a top hat, introduces the burlesque portion, and Hazel Honeysuckle, as lovely and timeless as ever, takes the stage with white gossamer fans, in jeweled hose and a suggestive negligee, working in the round on the dance floor, small bumps and come-hither reveals, seducing the crowd from close-up.
When the band comes back in, the trumpet is blaring from another decade… now laughing, chortling over a clarinet counter-melody.  By the time the girl comes in singing, we're ready for that cracked a.m. sound, for another dance from a woman who talks with a smirk, from a drink made from bathtub gin and made by a slinger in stays.
Welcome to The Salon.
View #2: Patrick Soluri, Creator and Host
(as told to JDX)
Live music has always been the center of The Salon, which started as a small party in my apartment during Grad school; I'd invite my musician friends to come over and play. As an avid swing dancer, I naturally gravitated towards music that was good for dancing. But I also enjoy lounging—dressing up or vintage, and having a well-made cocktail while listening to music. Going back further, to about the time I started dancing, my twin brother Andre was running the infamous Piano Store Speakeasy (now Pianos on Ludlow street) that had a dance floor upstairs and a tiki bar and lounge downstarirs. It served as an inspiration of how to combine different music and scenes.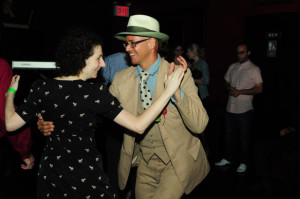 As I moved the party from my apartment into public venues around NYC, I had to change the format. Currently, my favorite setup is having at least two rooms with multiple performances happening simultaneously that guests can go between. It's an art trying to find the right balance and mix in programming that also makes business sense. While there are people that come to all of our parties, different bands and their respective styles certainly shape the party and pull different people.  My ideal is having an event that aficionados can appreciate (be it music, burlesque, cocktails or dancing), along with anyone attending.
In an odd way I've found the Salon acts as a "gateway" vintage event; our regulars tend to invite people that haven't been to a vintage event, or experienced burlesque live. For this reason, I tend to go with more traditional burlesque. Plus there are so many other producers in town that do such great burlesque-focused events, I don't really feel the need to compete— we all have our own niche. Once people get hooked into some aspect of the music or burlesque, it's great, as we are in essence building the scene.
I tend to hire performers who posses a great movement quality, beautiful costumes and create spectacular numbers… not to mention that are sexy!  As a composer who writes for ballet, opera and film/TV, I am aware of the overall picture— theatricality and movement quality really stand out to me. Also, reliable performers who are without drama is critical, as we simply don't have time to babysit anyone or deal with diva fits. I don't get out nearly enough, so I tend to go with the girls I know and trust. A lot of the "hot" performers now are girls that I worked with when they were starting out. For example, Hazel Honeysuckle & the Rhinestone Follies did some of their first shows at the Liberty Belle Spectacular, which I co-produce. Even Angie Pontani I first met when she did the Piano Store back in 2000! Today my main pre-requisite is that before booking, I must see both burlesque performers and bands perform live.  You can see how they interact with audiences, get a sense of their stage presence and the 'big picture', which video doesn't really capture.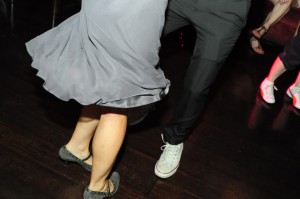 In the future, I would love to find a regular "home" with a great old New York vibe… finding a good venue is by far the biggest challenge in doing this. With a solid venue, I'd love to be able to consistently produce 6 events a year.  It would also allow me to really work and explore more performers, and play with new concepts and themes. I don't believe in cutting corners as an event becomes successful just to make a couple extra bucks. Even if they are smaller parties, I want to be able to deliver a great experience that make guests want to return every time… to grow the reputation and simply be known as one of the best parties in town, vintage or otherwise.
I've always wanted to do a "Black and White Ball" at the Plaza, in honor of Truman Capote's party of the century! But that is another kind of party, maybe after I get an Oscar or Pulitzer.
My dream Salon would actually still use many of the same talent I already work with, but we'd add some heavyweight artists to the roster. For years, my dream was to do a Salon at the old Supper Club (now the Edison Ballroom), but I did our 'Celebrating Sinatra' there last year with over 60 performers, including music legends like Bucky Pizzarelli!  For the bar, Fredo would still be the head mixologist, but every barman in the venue would be a mixologist of his choosing. I think we already use some of the best burlesque performers around, but maybe Dita von Teese would also do a number. For music we already have some amazing talent (trombonist J Walter Hawkes, who plays with us regularly, has 3 Emmy's, plays with Nora Jones and is one of coolest guys I know), but it would be killer to have Harry Connick Jr and his big band play a few sets and then some late night blues sets with a legend like BB King.  Would love to have icons like Tony Bennett or younger performers like Nora Jones drop in a do a few with the band.
View #3: Elyse Sparks, Salon regular and lindy enthusiast
(as told to JDX)
I initially learned to dance from my grandmother.  She loved social dancing, jazz music of the swing era, and she was one AMAZING lead.  My interest was piqued again with the popularity of neo-swing and the swing revival of the late 90's, but it wasn't until about three years ago when I took a performance class at Dance Manhattan that I fully immersed myself in the Lindy hop community.
The Salon creates an 'experience' rather than just a 'dance'.  I like that you can dance, you can listen to live music, you can watch burlesque, you can drink specialty cocktails, you can socialize with a broad range of people.  It's entertaining, energetic, alive!
I honestly don't know exactly why I'm drawn to these specific dances and vintage-y things. (Someone once told me it has to do with my past lives.  Maybe!?!). I would say I'm more obsessed with the lindy hop itself over other vintage/jazz age things, but I've always felt connected to the fashion, the sociopolitical history, the visual art, and the dances of the 1920s-40s.  I feel pure joy when I'm lindy hopping and I feel like it fits me 200 percent.  It's creative, athletic, social, and just plain FUN. I also think it's pretty rad that the lindy hop is an authentic American dance form created right here in NYC.
View #4: Fredo Ceraso, Head Bartender
(as told to JDX)
The crew I used to hang with used to go to an underground party in an old Piano Store on the LES, which eventually became the bar called Piano Store. So Patrick began holding these parties in his apartment with live jazz bands, artist's work, and a focus on period cocktails. Then the parties got too big for the apartment so the Soluris and their former Piano Store partners began hosting the parties in bars and lounges. This was 2002-2006 and I was on the guest side of the bar. What attracted me to The Salon's vision was that it put the importance of getting the cocktails right in the same league as the music, the art, the dancing, and performances. In my view, it was the first of the retro/vintage parties to have that worldview.  In 2008, I signed on as Salon's head cocktailian. Quality cocktails have continued to be a pillar of the Salon parties for over ten years.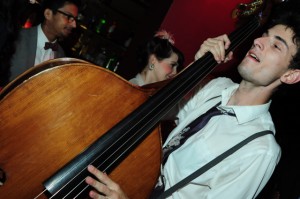 The Salon gives me the freedom to experiment, and full creative control over the menus. I work with what the venues have or engage brands so I can showcase their spirits. I focus on classic cocktails, because this is what the guests who attend vintage events want. No one is showing up in a vintage cream dinner jacket and tuxedo attire to order a vodka soda. They want a Daiquiri or a Manhattan or a Gibson. They want their drinks the way The Thin Man's Nick Charles would have had it: stiff, made in the traditional manner, and with ingredients that were available during the original period of a cocktail's popularity. Harry Craddock's Savoy Cocktail Book, David Embry's The Fine Art of Mixing Drinks, and Charles H. Baker, Jr.'s Jigger, Beaker, and Glass: Drinking Around The World are my inspiration.
There are three main challenges in being a guest bartender, especially in a "club setting" which is where many of The Salon events have been held lately.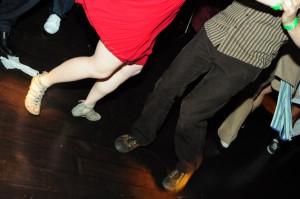 First, you are in someone's house. So there is a time period where you need to gain acceptance from the bartenders who work there on a daily basis. I give respect to the barbacks and bartenders who are in-house by not being difficult. Transparency and sincerity go a long to helping everyone become comfortable with the situation.
Secondly, one needs to be flexible. I have worked in many clubs where the ice is not great or they don't carry a specific type or brand of liquor. These establishments are used to high volume beverage services where the crowd is not that particular about things like fresh juice or what kind of vermouth one uses. So I request their liquor inventories and work with the management to get what I need, but still keep my menu flexible to what they can provide. I will bring my own fresh juice and syrups if need be.
Finally, many of the events have 250+ attendees and the lion's share want to try one of our specialty tipples. At the same time they want their cocktails fast. So I try to come up with recipes that are easy to execute in a timely manner, yet still focus on quality and originality. That is the challenge – quality AND quantity! Making a potent punch is always an easy way to dish out high volumes of tasty cocktails and can be a conversation piece. Who doesn't love a good spiked punch at a party?
If I could have my fantasy gig come true, I'd love to be mixing drinks at that crazy cocktail party from Breakfast at Tiffany's!
J.D. Oxblood is co-founder and Editor-in-Tease of BurlesqueBeat, and an occasional contributor. His burlesque writing has also been seen in Burlesque Magazine, 21st Century Burlesque and Zelda. His academic work is forthcoming in Borrowers & Lenders.
All photos ©2012 Melody Mudd for Burlesque Beat. If using, please credit properly with photographer's full name and a link to this piece in all instances.