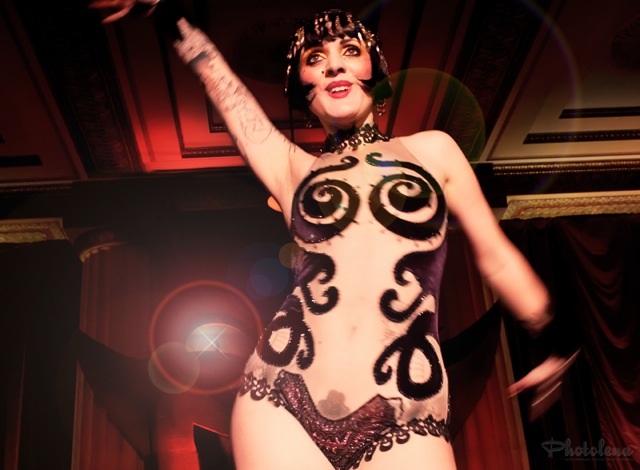 By Photolena
Masonic Temple, Detroit, Michigan
October 15, 2012
Sometimes you hear about an amazing, totally cool, unique and strange event through the Facebook grapevine that's just too delicious to ignore. And you just know that if you don't do everything to get your ass down there, you'll hear all your friends talking about how fantastic it was afterwards and you'll be kicking yourself for not going. That's how I heard about Theatre Bizarre's The Summoning.
Originally created by John Dunivant as an outdoor carnival – complete with Ferris wheel and roller coaster – in the ghetto of Detroit across from the abandoned Old State Fairgrounds, it was shut down by the city in 2010 for permit violations. The following year, Theatre Bizarre found its new home at the Masonic Temple – a fabulous gothic 7-storey structure in downtown Detroit that is regularly rented out for concerts, comedy shows, and other large events.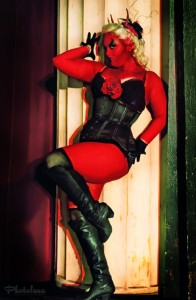 Just picture 7 floors packed to the seams with costumed revelers enjoying all manner of freak show, burlesque, and music, and of course drinking themselves into oblivion. The big themes in costumes seemed to be Victorian vampires, romantic vampires, True Blood vampires, with a bit of steampunk and dia de los muertos thrown in for variety. Preferring to swim against the tide, I was happy to see that I was the only one there in a blue flannel rubber ducky-patterned onesy, complete with footies and baby bonnet. Sexy!
Lit up with carnival signage and decorated with old freak show painted canvases, there was so much to see that we just walked around like kids in a candy shop. Luckily the whole shebang ran from 7pm to 3am, giving us more than enough time to check out all the wonderful creativity on hand:
Floor 1 – Ballroom
All-night burlesque, circus, sideshow and musical acts – we only saw this floor from the balcony but the act at the time, a skeletal figure stroking his "boner" until he spurted confetti was quite a bit of fun.
Floor 2 – Dance Hall, Ice Screams and Treat Dreams
An awesome round hall reminiscent of the old big band days, it was full of tables with gorgeous Halloween centerpieces of Jack-o-Lanterns, gigantic dripping candles, and jars full of gumballs, candies, and candy corn for the chewing. A DJ was spinning the best '80s music and a pretty Victorian gal (on costume theme apparently) got me up and dancing for a bit.
Floor 3 – Entrance & Zombo's Emporium of Souvenirs
This being the Masonic Temple, the best souvenir was the burgundy fez. Oh, yeah!
Floor 4 – The Sinema
Naughty retro-looking (but methinks maybe reproduction or homage) movies all night long. A nice place to rest the tired footsies.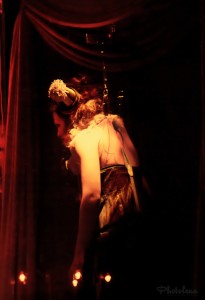 Floor 6 – The Asylum & The Odditorium & Marvin's Marvelous Mechanical Museum
If you like painted devil men hanging on meat hooks, this was the floor for you. Two rooms full of freak show with suspensions and people walking (and lying on) broken glass and the like as well as some heavy metal music. I really liked Marvin's – a local museum of old machines from carnivals – which brought some great old nickel peepshows, mechanical fortune tellers, and old horror-themed pinball machines.
Floor 7 – Ghost Train
I have to admit that we didn't really get this floor – but from what I gather the lineup in the big smoke machine-filled room was to get on a small train that went around the room in some creepy way.
You probably noticed that I missed the 5th floor. That's because my favourite room was on the 5th floor, where I have to admit I spent most of my time. Produced by the lovely Roxi DLite, the Dirty Devil's Peepshow ran a continuous burlesque show from 8pm to 1am – with breaks of course, when the throngs of happily buzzed oglers would shuffle off to the closest bar for another round before squeezing back.
Roxi was the perfect producer for the burlesque show – she's been with Theatre Bizarre since 2007 as their main burlesque attraction, so she knows the ropes. It's no small task putting together a 5-hour show, and she did it beautifully. Last year's peepshow had 7 performers rotating acts all night. This year, she worked hard to bring in a large variety of some of the best international acts burlesque has to offer – 20 performers who only performed 2 acts each, so there was always something new going on in the room and the performers had a chance to go out and enjoy the event as well.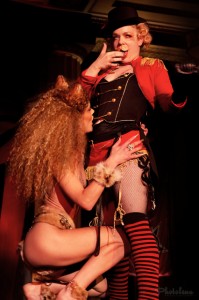 Host Eric Shack (The Dirty Devil) was crazy, naughty, high energy and perfect for keeping the throngs of revelers entertained between acts. He was an act on his own and I enjoyed watching his schtick just as much as the burlesque performances.
When I asked Roxi how she thought the big night went, she was really happy to see everyone enjoying the show. "Detroit has never seen this much of a variety of burlesque, and world-class burlesque at that!" we chatted via Facebook. "I also think it was their first real encounter with that much boylesque and I am so thrilled they enjoyed it." I wholeheartedly agree – that much Tigger! can only be a good thing.
With 7 floors of acts, sometimes you miss great performances. Alas, that's what happened to me – every year Roxi DLite creates a special act for Theatre Bizarre. I had to use my imagination to pretend I was there for the big reveal since….I….missed it (hangs head in shame). Thanks to Facebook, Roxi was able to describe it for me… just picture Roxi in a Nichole Davila costume, being summoned out of a giant Baphomet, performing her striptease after coming out from behind its ribcage, then being carried out through the crowd by 4 men in robes as she's covered in blood. Yeah, I missed that!
Needless to say I'll be back in Detroit for Theatre Bizarre in 2013. I'm already planning my costume…
Olena Sullivan (Photolena) is a Toronto-based model and performance photographer who specializes in onstage burlesque photography. All photos ©Olena Sullivan-Photolena and used here with permission by Burlesque Beat. Performers may use shots for promotional purposes, but please credit properly with photographer's full name and a link to this piece.