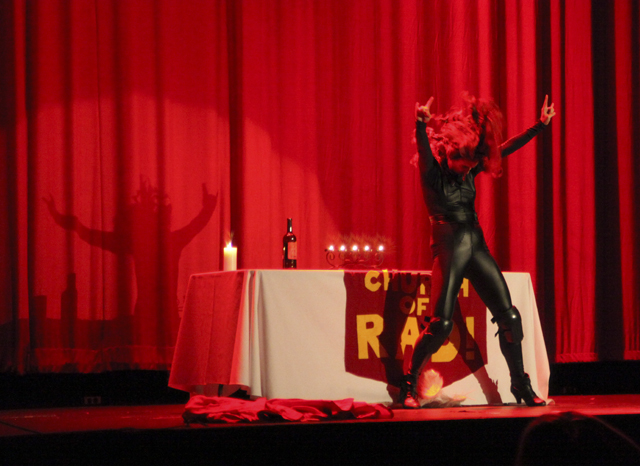 by Sandra O'Connell
November 10, 2012

Rio Theatre, Vancouver, BC, Canada
Part of the great allure of seduction is the sense of anticipation.
Anticipation is what feeds desire. Grabs your attention. Seduction must be drawn out. Allowed to roll around in your being. Given the time to bring you to the brink of satisfaction and back down again. Up and down like a rollercoaster of lust.
Last month, Vancouver was treated to six acts of seduction that hailed from the glory days of burlesque. A time when dancers stayed on stage for more than ten minutes rather than the three to six minute modern standard.
Burlesque Long Form, held at the Rio Theatre, hosted by Violet Femme and produced by April O'Peel, captured eyes, hearts and libidos as guests were entranced by stories told by Lydia DeCarllo, April O'Peel, Lola Frost, Cherry OnTop, Nicky Ninedoors and Melody Mangler.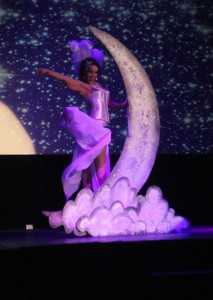 The mistress of glamour, Lydia DeCarllo opened the evening with an adage to the moon. Her jet ink hair cascaded down her back in soft curls, and the swoosh of her dress moved as though it were waves influenced by the moon. The diamonds on her bra top sparkled like the stars in the sky as she slinked across the stage – sashaying as though it were the most natural thing in the world to do.
The act that followed was one of beautiful folly as April O'Peel danced a lovely nymph dance to Beirut's "Penalty" in the hopes of wooing a (blow-up) swan.  She danced the kinds of dizzying and free spins we all practice on linoleum yet with a grace we never achieve. Her feather fans played with our imagination as she concealed and revealed her alabaster skin.
After an encouragement to scream as though the louder we trilled, the higher the likelihood she would sleep with us, Lola Frost appeared on stage. She was sprawled enticingly across the floorboards reading a book of poems with a luxurious robe draped not so decently around her body. Poetry complete, she beguiled us by slowly putting clothes on – an act one would never believe could be so enthralling. Of course, she later removed them for us in such a way that left our hearts pounding.
Throughout the first set it were as though ants were crawling along my vertebrae, their little feet leaving large impressions.
Things got a touch sacred as the second set came to a start with "Reverend," Cherry OnTop lustfully preaching her Church of Rad. If her church includes red wine, sparkles, and leather, sign me up. She writhed on stage in a catsuit that displayed every square inch of her lithe body. Her transformation from devilish minx to flirtatious carnival queen had our eyes fastened to her every feline move.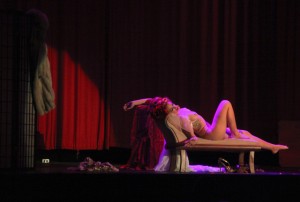 Nicky Ninedoors took a break from her usual songbird numbers, retiring the microphone in favour of a lush blue boa. Her body reverberated with vibrations as she shook and slinked to various soul numbers.
The final act took us to the boudoir of Melody Mangler, who gave us some insight into how a burlesque dancer winds down her evening at home. She fused comedy with sexuality while undressing, drinking and lolling on a chaise longue we all pined to perch on. The deliciously drawn out vignette came to an end too quickly as she washed away her sins in the tub – we would have all stayed awake just to see her rise in the morning.
Captivated by the world of burlesque, experiential writer Sandra O'Connell is no stranger to the Vancouver scene. In addition to weaving burlesque into words, she is founder of Tales from a Bar Stool and writes for a variety of publications. Find Sandra on Twitter or on her website.
All photos ©Baron S. Cameron, and used here with permission. Please respect photography copyrights and do not use images without obtaining explicit permission.