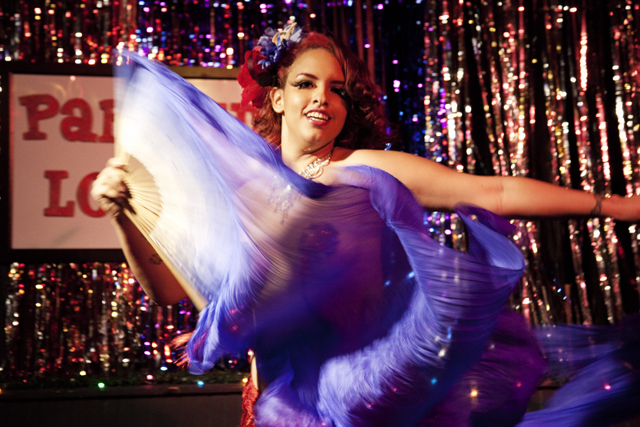 HurriDAMES: NYC Burlesque for Sandy Relief
December 12th
Parkside Lounge, Manhattan
A big broad named Sandy blew into town at the end of October and
shook the Big Apple down to its core. Not to be outdone by a force of Mother Nature,
burlesque starlets, Beelzebabe and Sizzle Dizzle firmly believe bumps & grinds and
shimmies & shakes should only be performed by glitterfied professionals and proudly
present an evening of earth-shattering, mind-blowing, jaw-dropping entertainment:
Hurri-dames: NYC Burlesque for Sandy Relief. This thrilling show featured some of
Gotham's best movers and shakers: Beelzebabe, Brief Sweat, Cheeky Lane, Creamy
Stevens, Kat Mandu, Kita St.Cyr, Neil O'Fortune, Plucky Charms and Sizzle Dizzle,
with all proceeds going to the American Red Cross.
Beelzebabe, co-producer of The Rhinestone Follies, and Sizzle Dizzle, co-producer of
Drive Thru Burlesque, witnessed first-hand the devastation of Hurricane Sandy and felt
compelled to help the aid efforts in their unique, special way. "Sure, Mother Nature is
fierce," they state, "but can she tassel twirl?"
Our photographer hit this fabulous fundraiser on the Lower East Side last month. In his own words, here's what happened…
All photos ©Peter Marquez and used with express permission by Burlesque Beat. Performers may use shots for promotional purposes, but please credit properly with photographer's full name and a link to this piece in all instances.